France continues to suffer aftershocks from the Polanski case, as culture minister Frédéric Mitterand
clings
, in a climate of "ethical turbulence", to his job. After Mitterand (the gay nephew of the former socialist president, better known as a presenter of cultural TV before Sarkozy catapulted him into his current post) protested the Polanski arrest particularly vehemently, right-wingers including Le Pen's daughter Marine pointed out that in a memoir published in 2005 Mitterand had volunteered the information that he'd paid for sex with "kids" in Thailand. This wasn't confessed happily; Mitterand presents it as part of his "bad life", and has since clarified that the "kids" were all over the age of consent.
Now the spotlight is being shone on Mitterand's appearance -- reading a passage from Camus'
Noces
-- at the beginning of
a short film
about underage gay (and multi-cultural) sex, La Bite de Rachid (click the second picture from the left to watch it). "There are words which I never understood," says Camus, as read by Mitterand, "like the word 'sin'. I believe I know, however, that these men have not sinned against life, because if there is such a thing as 'sin against life' it consists in trying to turn one's back on life's implacable grandeur."
Bernard Henri-Levy, supporting Mitterand as he supported Polanski a couple of weeks ago (this time against an unholy alliance of the Front National and the French Socialists), published
a piece
in yesterday's Libération which pointed out that many of France's most-cherished cultural figures would fail by the standards of this "new moral brigade": André Malraux, Leon Blum, André Gide, Jean-Jacques Rousseau, they'd all be out of a job in the current climate. As for Jean Genet's Thief's Journal, says Levy, it wouldn't find a publisher.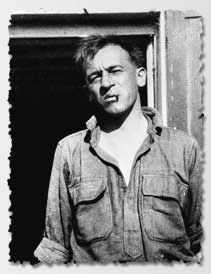 One writer who went far, far further beyond the pale than any of the names on Levy's list -- further even than Bataille in his Story of the Eye -- is Blaise Cendrars, the one-armed half-Scottish, half-French poet who wrote the fabulously transgressive, terrifying novel
Moravagine
, described on the cover of the 1970 Doubleday translation as "a raw, stinking, crawling hunk of fantasy" (just in case we thought it was clean, and just in case we thought it was real).
Moravagine
, like Apollinaire's
Les Onze Mille Verges
, Diderot's
Les Bijoux Indiscrets
, and the works of the divine Marquis, falls into a particularly french tradition of aristocratic, libertine disdain for bourgeois morality, with its insistence on the normality of normality and the lawfulness of law. The book was certainly an influence on my own Book of Jokes, in which little girls are snuffed out as often as Kenny in South Park: "On our way back to the harbour we passed the flattened corpse of the little girl, lying on the roadway. A car must have passed over her in some kind of roadkill episode. Wolves had then, said my father, probably licked dry the juiciest parts of her remains."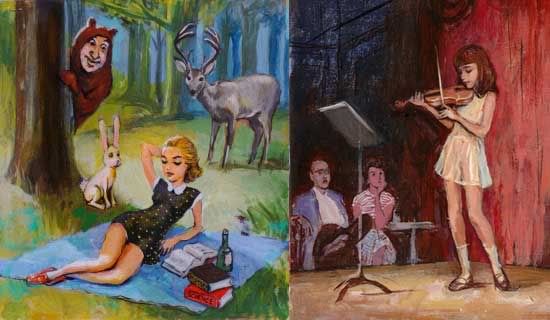 Writing about my novel, one
french blogger
mentioned a painter I hadn't heard of before, but whose work catches this element of the novel well. He's called Stu Mead, and he's a disabled American, born in 1955, currently living in Berlin. His paintings take up where Balthus left off, and as such they're either deeply unfashionable in the current climate, or totally relevant. Take your pick.
Here a few of the images (not at all safe for work) a Google image search threw up when I typed Mead's name in. A
penetrating devil assisted by three handmaidens
. Some little girls at a party
shooting a clown
. A devil
being fellated by two girls
.
Something here reminds me of Tomomi Adachi's perverse "edible girls" images. This
pissing girl
has something of Yoshitomo Nara's grumpy, demonic girls in it, too.
Happy Meal
sees Ronald McDonald about to enjoy a different kind of lunchbox. Here's
an interview
with Mead in which he says "I do think I am a pervert".
This Mead image of
a dog sniffing a girl's skirt up
reminds me of PUFF!, a new iPhone app which allows users to blow women's skirts up, eliciting a series of delightful squeals. Okay, it's not quite Blaise Cendrars. It's not even the french culture minister on holiday. But no doubt someone out there will find -- or make -- these girls' thighs a slippery slope.