The New York Times
reports
the continuing ascent of Peckham as the hub and crucible of London's youngest, most interesting art scene. The racial coding of the reporting is interesting; without saying Peckham is a black area, the Times describes it as the place with "the capital's highest concentration of knife crime, hairdressers and gospel churches". The young artists and gallerists interviewed in the piece, for their part, call Peckham "a mini-Lagos, with hectic street markets, joyful evangelical churches and burnt-out pubs that once housed witch doctors."
The new Peckham art scene -- revolving around galleries like
Auto Italia South East
-- is largely a white one, though, as witnessed by this video featuring one of the artists mentioned in the Times piece, Nazareno Crea:
Perhaps to stay out of the way of knife-wielding ex-witch-doctors, the art kids make bars on the roofs of buildings, like Frank's Cafe and Campari Bar at the Hannah Barry Gallery parking garage:
"Making art outside a market driven system" -- a stated aim of the Peckham crowd, and one which ties them, notionally, to Berlin -- seems to involve making art inside the driving system, or remnants of it; the galleries discussed all seem to use ex-car showrooms and parking garages as art production and presentation spaces. And that's because what you mostly see in Peckham -- apart from trees and ugly housing blocks -- is cars.
Another band these kids are listening to is The Fair Ohs, who are slightly corpulent beardo men making a sort of thrashy blend of early Wire and African Hi-Life. Here's their Hi-Life side
in an mp3
, and here's a live show that gives you the feel:
Here's their early Wire side:
Let's give the last word on this subject to 26 year-old gallerist Hannah Barry: "Peckham is the land of the free. It's like a blank canvas."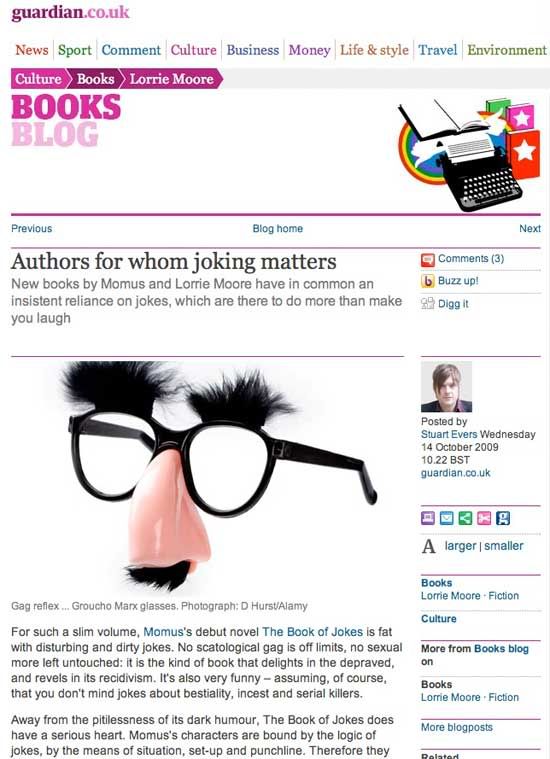 Today sees the official British release of my novel
The Book of Jokes
, and yesterday The Guardian's Books Blog ran
a very nice article
comparing my novel with joke-oriented books by Lorrie Moore and David Mitchell. I was particularly impressed that the journalist, Stuart Evers, didn't confuse Sebastian and Peter Skeleton, the father and son in the book, as many of the other reviews have (the novel alternates chapters narrated by Sebastian Skeleton with chapters narrated by his son).
It's also great that, since I'm compared to Flann O'Brien in the review, the
real
contemporary Flann O'Brien -- my Berlin friend, the Irish writer Julian Gough -- pops up in the comments with a mini-review.
There's also a commenter telling the reviewer -- who calls the book "postmodern" -- that "Momus believes postmodernism to be dead". That, at least, puts me on the same page as the Peckham gang. To quote again from that New York Times piece:
"There was a huge agenda in postmodernism, that people today don't necessarily want to follow," Mr. Mündner said. "The idea of a big movement or a revolution is gone, but there is definitely something after postmodernism. We just don't need to find a term for it."
I'll end today with
a soothing film
from the 0300 architecture TV site of the Tama Art University, the famous Tokyo art school, and its restful library designed by Toyo Ito and opened in 2007. The only thing I wonder, watching this film, is whether interesting creative work can come out of such a peaceful environment. Would the Tama campus be improved by a few knife-wielding ex-witch-doctors? Not sure.