It's a beautiful -- but
beautiful
-- autumn day in Paris, and I'm walking across the city from the 17th arrondissement down to the Palais de Tokyo. Later I'll do a reading / signing on the Avenue Daumesnil ( full details in Sunday's entry). But for now I'm just going to walk through the city, compiling an entry I'll post when I can.
• First thought: I'd walk a lot more if I lived in Paris. The city's density (which, in some cases, can bring it to the brink of the hellish) packs a lot of interest into a short distance. The Rue Legendre, for instance, completely changes its nature depending on which side of the Avenue de Clichy you're on. I've just crossed from an African block to a bourgeois white block.
• The event-second: every city has its own characteristc events per street second. Here in Paris these will typically involve underpowered motorbikes revving aggressively and small cars beeping in narrow, highly echo-reflective streets.
• Have now crossed the railway tracks that lead to the Gare St Lazare -- a station which stinks of piss and homeless people's clothes.
La misere
is very visible in this city, and under Sarko-Crony it's getting worse; Gini-ends are slipping further apart. That doesn't stop me preferring, selfishly, the down-at-heel areas. The street signs are so much more interesting. Now on the Rue Legendre it's shabby again, there are Chinese shops and a fantastic droguerie-menages which I must photograph and insert here one day.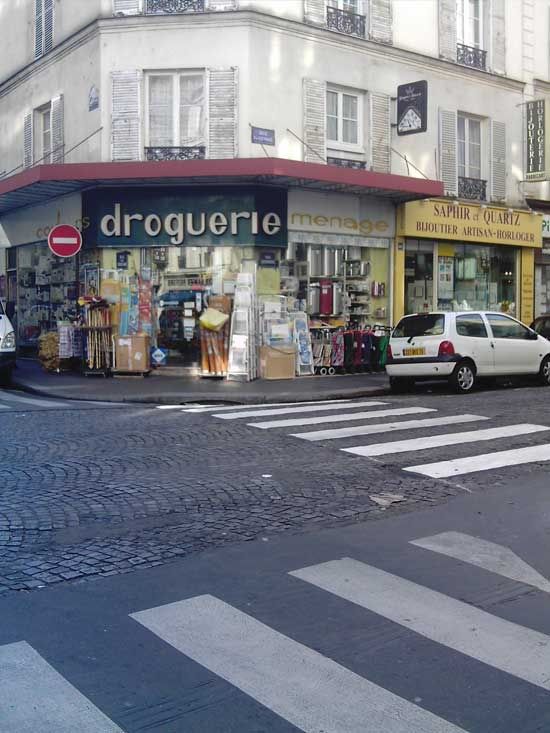 • A beautiful market on the Rue de Levis, and a yellow-leafed square with benches which could be in a kitschy hotel Paris painting anywhere in the world. Nearby there's a
traiteur asiatique
, one of the Vietnamese hot plate joints I often use in Paris, and call "Asian traitors". There's invariably an old man and his beautiful, dutiful young daughter, and I can't help wondering whether the daughter ever wants to be an Asian traitor herself, and refuse to work in the
traiteur asiatique
alongside her dad?
• Beyond the Boulevard Malsherbes the Rue Legendre gets bourgeois-fusty and dull, with gold-handled dentists' offices instead of shops. Eventually it peters out in the Parc Monceau, but before the street and my entry end, I have time to tell you that the orality of the Parisians has scattered ash in my face and over the screen of my iPod Touch. Parisians smoke and chatter and gesture on the street. They also have a different sense of personal space than residents of other cities. So this crash-helmet-carrying woman was just walking in front of me, explaining to her laughing friend how she'd smashed someone in the face (I didn't catch why), and her gesticulations, cigarette in hand, ensured that she was simultaneously ashing me in the face.
• I shall now bid you adieu as I step into the sunny-golden Parc Monceau.