"I Love
Yu
" is perhaps the most interesting thing I saw in the thoroughly interesting exhibition in the Paris Palais de Tokyo's mezzanine exhibition about
Naoshima
, the "art island" in Japan's Seto Inland Sea.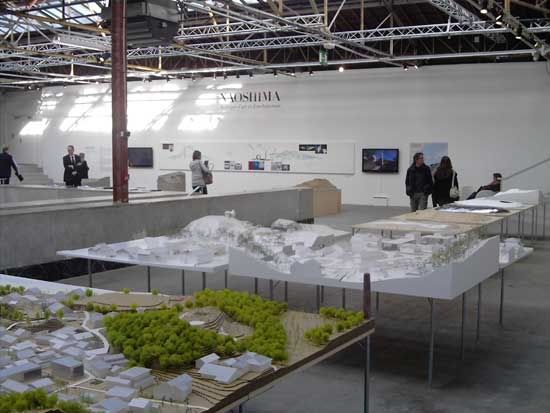 Yu
in this case means hot water; I♥湯, a project on Naoshima, is a bathhouse. Conceived by the artist Shinro Ohtake and built over the period of a year or so with the help of graf, the Osaka-based designers who often work with Yoshitomo Nara, the whole thing was financed by beneficent
Benesse
, a corporation dedicated to language-learning, nursing, birth control and pregnancy, and education, and whose CEO, Soichiro Fukutake, takes a particular interest in developing the Seto archipelago with art museums and installations.
The Paris exhibition, which continues into November, is a development of a show that opened in Venice in June. It was particularly evocative; near the section dedicated to Ohtake's bathhouse a distinct smell of temple incense had somehow been conjured, and in the video box dedicated to Rei Naito's restoration of the Kinza House there was a comforting smell of clay and wattle. As a result I will definitely try and make a trip to Naoshima this winter during my Japan trip. The propaganda worked!
The
Shinro Ohtake sento project
is particularly interesting because it does something very Japanese, erasing the distinction between art and practical daily life (the bathhouse can be used by locals, who pay just 300 yen rather than the standard 500 yen entrance fee to use it), between private corporations and public works, and between inside and outside.

Speaking to
The Japan Times
when the bathhouse
opened in July
, Ohtake said he put mirrors and tiles on the outside of the building to make it look like an inside, and allusions to the outside -- including a stuffed elephant from a closed-down
hihokan
or sex museum -- inside.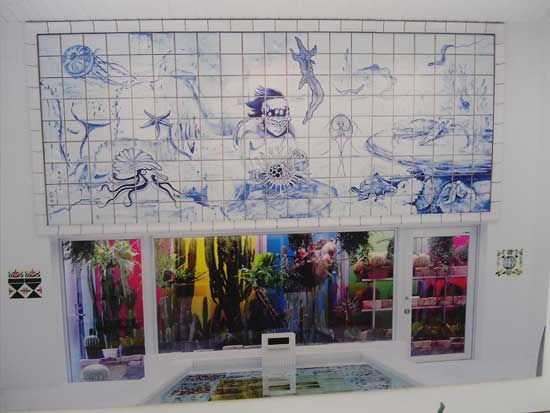 I find the fantasy-collage clutter on display inside and outside the bathhouse particularly inspiring; left to its own devices, architecture tends to the sterile, but Ohtake's artist's eye brings exactly the sort of eccentricity and personality most architecture lacks. One Ohtake
biography
traces his eureka moment to an encounter in London in the late 1970s. Ohtake was doing painting and sculpture until, one day, he met an old man who obsessively collected matchbooks and glued them into the pages of a notebook. Ohtake bought the collection and began making his own books of ephemera collected on his travels.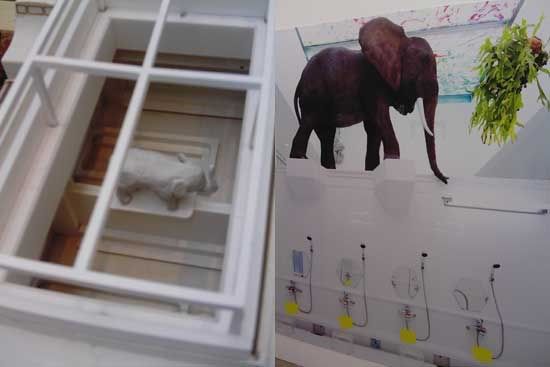 The "collage" Ohtake has stuffed into the bathhouse (which already has a Showa-era nostalgic feel to most Japanese, because sentos were at their peak during the Showa years when people were less likely to have their own baths at home) includes an aircraft cockpit, the bottom of a ship, the stuffed elephant surmounting the division between the male and female bathing areas, pine trees planted on the rooftop,
shunga
erotic prints, stills from 1960s Roman Porno movies, vintage Thai record sleeves, a cactus-filled greenhouse, a jukebox, milk-vending machines, and stained-glass on the sliding doors.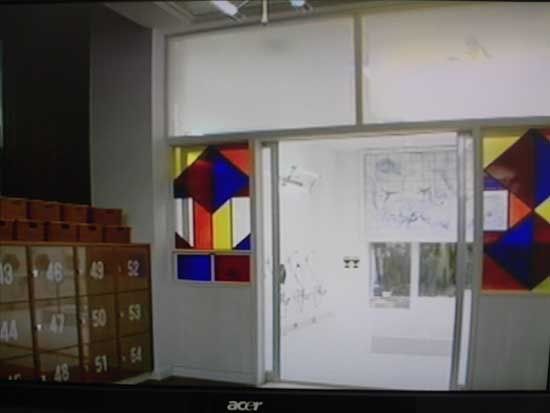 The magnificently cluttered structure, which stands on a 326 square meter site, boasts a pellet boiler fuelled with wooden pellets, a smokeless biomass fuel that doesn't pollute.

The bathhouse will take its place in the
Setouchi Art Festival
, which begins in earnest in 2010, and covers several islands in the Seto archipelago. I feel it beckoning me; I too love
yu
.