These are hard times indeed for the magazine industry, as a quick visit to the cheery reaper who presides over the
Magazine Death Pool
will confirm. The hooded skeleton (Death lives, obviously, on the far side of the Atlantic) has this month been rattling chains around Urb, Gourmet, Cookie, Modern Bride, Elegant Bride, Ebony, Entertainment Weekly and Fortune.
On my recent travels I did a bit of newsstand browsing and couldn't help noticing a new phenomenon, which is probably not so much a danger sign as a condition of survival in bleak times: the magazine written by a sole contributor. I exaggerate slightly, but it seems to me that
i-D magazine
is written these days pretty much
entirely
by editor Ben Reardon, and
Chronic'Art magazine
by the indefatigable Olivier Lamm (who's written a lengthy Momus feature for the mag, due in a week or so). Meanwhile Modern Painters magazine had its entire editorial team replaced recently by one new editor, apparently a former copywriter from Ralph Lauren. And let's not talk about the other ID, which saw its entire editorial team axed earlier in the year.
Mags I've read over the last couple of weeks: The Wire, Palais (the Palais de Tokyo's magazine, which is more like a handbook to their exhibitions, and whose texts tend toward the zero-degree of curatorial cliché), Chronic'Art (great for a long train journey, if you read french), The New Statesman (because they sent me a copy of the edition my Brel piece appeared in) and, online, The London Review of Books, which is priceless and free (great
article on The Spirit Level
recently, and a strong article
on Rape-Rape
by Jenny Diski in the current one). I think I also leafed through Vice, though I'm not really feeling Vice these days, either because I'm getting old or because Vice is; perhaps both. I noticed, though, that The Evening Standard has just gone free in London, and that Vice pioneered that particular pricing model. And I think that Vice did, in some ways, become a, if not
the
, defining mag of the 00s, in terms of a certain look and sensibility.
The saddest tale I heard recently was of the demise (or is it just cryogenically frozen?) of Art World magazine. Now, I go back decades with the editor of Art World, and remember when she was a Royal College of Art graduate working in the 1980s at Smash Hits, and dreaming of editing a title called Art Hits, which would bring the Smash Hits sensibility (accessible yet cunning culture writing) to art world subjects. This dream was eventually realised thanks to links with another Smash Hits colleague who went to Australia and became a multi-millionaire thanks to successful publishing ventures there. And so Art World magazine was born two years ago, and could afford to give away 250,000 copies at the time of the 2007 Frieze art fair -- at the peak, in other words, of the money-art bubble.
The Guardian has some good art critics, but Jonathan Jones isn't one of them, so when he
ran a piece about Art World's closure
last month it was completely inaccurate, both factually and contextually. Art World is on hiatus simply because the Australian millionaire's wife has frozen his assets during an acrimonious divorce. It's not because the mag was struggling in terms of subscriptions, or because the art-money-celebrity bubble burst and the mag was all about glitz. It wasn't; other art mags fit that bill much better. And other mags -- I'm thinking of
Modern Painters
, which clings to life by the merest of threads -- were floundering editorially while Art World had a clear, strong identity.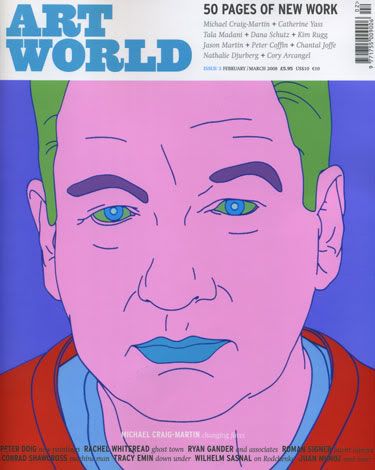 Basically, Art World told you about artists, showed you their work, and talked to them, as if making art mattered. There was no fluff, no theory or curatorial cant. Just the chance to read about people making visual art. "This is Art World's straightforward aim," said Ben Luke in response to Jones' article, "to talk to artists in depth, explore their work in an entirely un-star-struck way, and to present it meticulously and beautifully. The idea that we might be debasing art by doing so is bizarre."
Despite being so close to the founders of Art World, I somehow never wrote a feature for them. We discussed three, but they were all ill-starred. In the first, I was going to interview a female Japanese artist managed by a well-known stable. I entered negotiations with an American press person-slash-gatekeeper, who so annoyed me with his persistent micro-managing questions about what I was going to ask in the interview, how much Art World would pay for the right to reproduce images of the artist's work, and, again, what I planned to say, that I abandoned the whole thing. Then I proposed an interview with a British artist doing a residency in Gaza, only to discover that the artist didn't want a feature headlined "Artist X in Gaza", presumably for fear of alienating his Jewish gallerist if I said anything too political in the piece. (It later turned out that the artist himself was Jewish too.) The third ill-fated Art World feature was going to be an "in the studio" feature about an artist known for meticulous cardboard reconstructions, until it emerged that the artist in question didn't want any photos taken in his studio, which rather defeated the purpose of the whole piece. Unless, of course, we'd done the whole thing as a cut-out-and-keep, fold-along-the-dotted-line, do-it-yourself 3D construction kit of his studio.
Anyway, I must get back to work. I'm writing a piece -- I kid you not -- about a 100-year-old femininst-communist furniture designer for a Viennese art magazine. Both she and the mag are hale, hearty and as healthy as can be expected in the circumstances.