Visiting the Palais de Tokyo in Paris earlier this week, I saw an interesting group show called
Chasing Napoleon
. The theme was escape from society, the idea of living in self-sufficiency on the margins. There was quite a lot about the Unabomber. The centrepiece of the whole show is Robert Kusmirowski's recreation of the Unabomber's hut.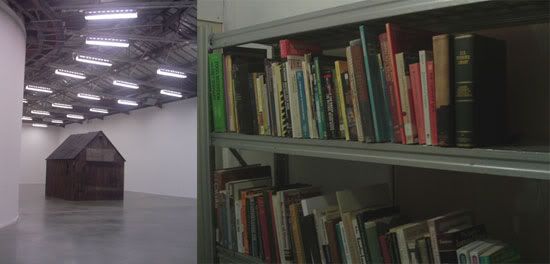 Kusmirowski also happens to have made an excellent
recreation at The Barbican's Curve gallery
of a World War II bunker -- really the best and most evocative use of The Curve I've seen in years; you can get lost in the musty rooms. In Paris, you couldn't go into his Unabomber hut, but another installation gave a glimpse of its contents: Dora Winter had put together a shelf of the books the Unabomber had at the time of his arrest. You can see a full list of the books
here
, but suffice to say the titles were pretty much what you'd expect an asocial, pessimistic misanthrope libertarian to be reading:
The Wasteland
The Decline of the West
Civilization and Its Discontents
The Outsider
The Basics of Rifle Shooting
To Purge This Land With Blood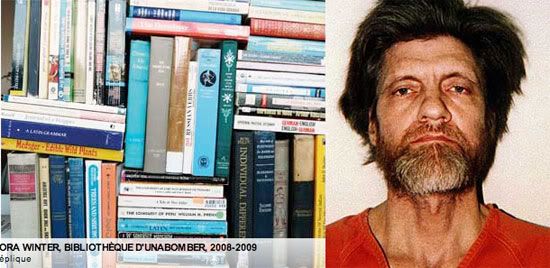 I was also intrigued to see Toward a New Psychology of Women in there, as if Theo's outsiderdom had partly been sealed by his failure to understand the fair sex, or make himself attractive to them.
The reassembled library has become a bit of a meme in the art world -- we saw the Palestinian-American artist Emily Jacir, for instance, win a prize at the 2007 Venice Biennale for her recreation of assassinated Palestinian intellectual Wael Zuaiter's library, amongst other things, in her installation
Material for a Film
. I read in some art mag an essay rather critical of that piece, saying that just because Zuaiter had humanistic, pro-European books it didn't mean that he wasn't a Palestinian agent, or murderous, or a terrorist.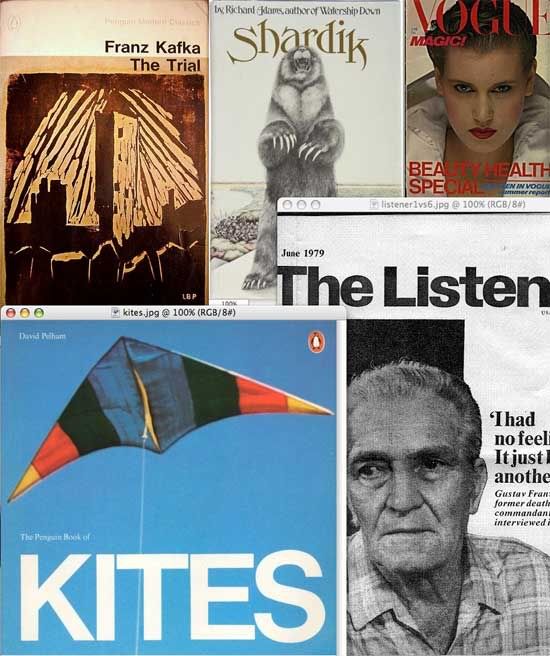 Just for fun I started image-googling the books I would have had in my own library at 9 Drummond Place, Edinburgh, at the age of 18. I came up with these before I got bored trying to find the cover of Biorhythms and The David Bowie Songbook. I think it's fairly clear, at least, that I'm not going to grow up to be the kind of person who sends bombs through the mail.