1. At any given point I'm paying attention to perhaps just one area of cultural movement, and that one area sums up "the contemporary" sufficiently well to justify the metonymic power I've awarded it. This area becomes an index of indices, the exemplary production of the moment.
2. In the 1970s, for example, this was -- for me -- David Bowie. I exaggerate (but this is the unique privilege of the metonym, to be an omnivore, an omnispore), but in the 70s anything of any creative significance was going to turn up in the work of David Bowie, so all you needed to follow, to be entirely calibrated to your times and their ch-ch-ch-changes, was Bowie's latest album.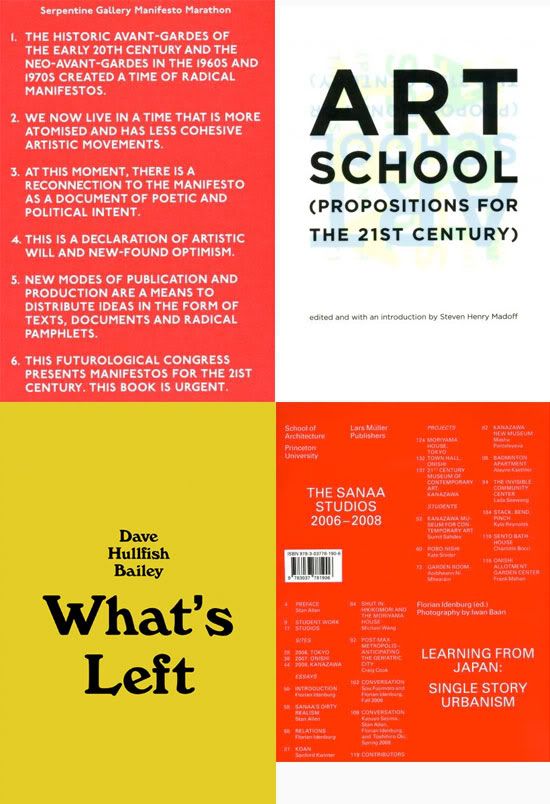 3. Records, and perhaps the press that covered them, continued to be the exemplary creative culture of the late 1970s and early 1980s. You would go to a record shop like Rough Trade and look at the New Releases section, or flip through a magazine like Zigzag, and that was pretty much all you needed to do to reset your style clock.
4. I still want there to be something like this out there, but records have long since ceased to be it. Perhaps five years ago a trip to a Berlin record store like Dense or Neurotitan would have felt vital and exciting to me, but it no longer does. CDs feel fusty and neglected now, they wilt slowly in fusty racks. If you have some at home and hope to sell them... well, don't set your hopes too high. Nobody wants them.
5. As a creator of culture, you sometimes do "stock-checking", which is an
existential
activity, not a commercial one. "Where do I exist?" you ask yourself. There needs to be a shop you can go into and find wares you've authored. Recently, stock-checking in Waterstone's on Piccadilly, I looked through various encyclopedias of rock and realised that, as a music artist, I really no longer exist. I could only find a Momus reference in one, titled something like "Off The Beaten Track", which mentioned that I'd worked with medieval instruments in 1999. However, in the bookshop of the Palais de Tokyo it was easy to find evidence that I exist, in magazines like the new 032c, or the paperback edition of the Phaidon Ice Cream book, which has a report on my performance art career.
6. What I'm trying to say, I suppose, is that if I think the rock world is "fusty", it thinks I'm "fusty" too.
7. The place I currently designate as the metonymic source of all freshness is a certain kind of art and design bookstore. It's a place that's both local and international: although it contains publications from "all over the world", I couldn't really say this kind of bookstore exists outside Berlin. Sure, there are places in Paris, London and New York that resemble it (Ofr, Magma, Printed Matter), but they're not quite there. They ruin things by being too much oriented to fashion, or commercial graphic design, or skateboarding, or character goods. Subtly, somehow, these bookstores only feel right in Berlin. Only here do they have the necessary gravitas and exciting sobriety.
8. There are four such stores in Berlin.
Pro-qm
,
Do You Read Me
,
Walther König
, and
Motto
. My partner and I -- and this is very much a "my partner and I" thing -- might visit them once every two to three weeks. We buy very little, but draw a huge amount of inspiration from them. They're sufficiently far from our house that they require a dedicated trip "uptown". We're in agreement about the importance of these shops in recalibrating our sense of now, but we're also constantly anxious that these places might stop inspiring us, and become fusty. Hisae will ask me, on leaving one of these stores, "Did you see anything interesting?" In her voice I can detect an edge of anxiety, and the implication: "One day we might get bored with this stuff." Yes, I answer, I saw a few interesting things today.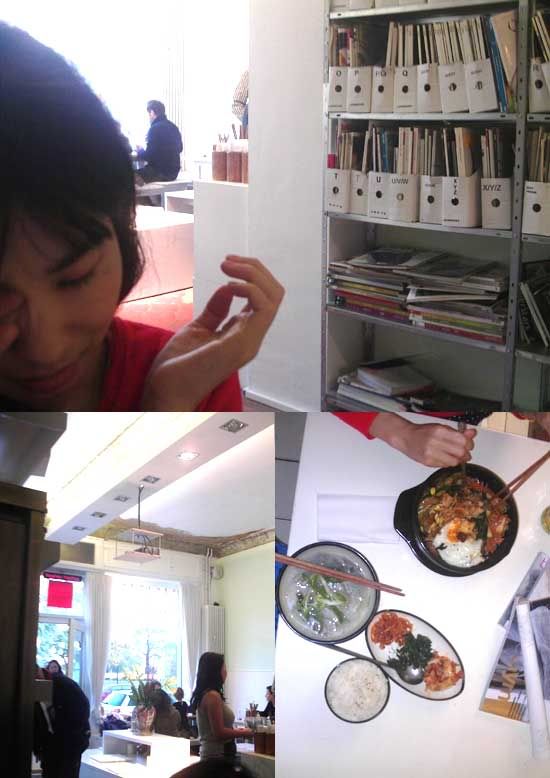 9. Our visit yesterday took in Pro-qm, Do You Read Me and König. We were put into a very good mood by eating at a new and excellent Korean self-service eatery on Alte Schonhauser Strasse before beginning our browsing.
Yam Yam
occupies the site of the Best Shop, a former fashion outlet, and is run by the same people, fashion retailers who decided (in a recessionary gesture) to make food instead. You can still read their Look Book magazine files as you eat their delicious Korean canteen food at the white tables. Great!
10. The books that impressed me on our visit to "the places that matter"?
Art School: Propositions for the 21st Century
(seriously would like to have bought this),
Learning from Japan: Single Story Urbanism
, a magazine-style publication in the Zak Kyes style (restrained, didactic, sans serif) featuring photos of various SANAA projects, schools, museums and the like. Why does Ryue Nishizawa's architecture fill me with such calm optimism? When a Nishizawa structure sprouts somewhere, all seems right with the world.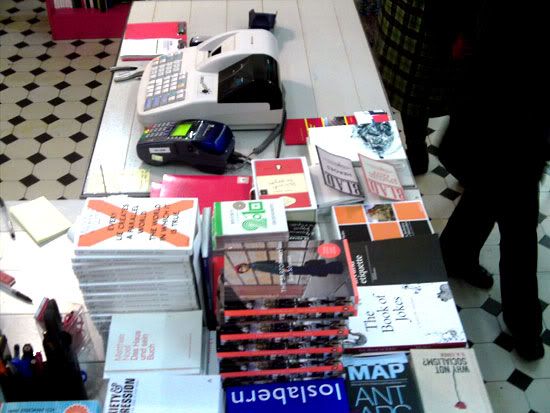 11. I just want to interject here that I really, really exist in Pro-qm; at the till they have stacks of both The Book of Scotlands
and
The Book of Jokes. It's probably the most densely-packed "Momus exists" area in the entire world! So obviously I walk on air as I walk around the store. It's nice to exist!
12. And I just want to interject here that by no means can computers, blogs, Facebook pages or websites supply the thrill that being in one of these bookshops does. The internet is new every day, and yet somehow fusty in a way these print publications aren't, although they're obviously all made on computers. I think the edge the bookshops -- these particular bookshops -- have over the internet is that they're curated by extremely intelligent people. Sure, sure, you can easily move within tight circles of reference and relationship when you get inside them -- Utrecht Nieves AA Casco Dexter Sinister Merve -- but they're intelligent circles. Your Friends List may be talking about Halloween, but these people will be talking about art. (Funny moment at Konig: gibbering shrieks of Halloween zombies passing the door drowned out -- if that's the right phrase -- by quiet, intelligent art conversation amongst shop staff.)
13. Of
course
it's incestuous. When I'm drawn to a publication it's only a matter of time before I see Stuart Bailey's name, or Zak Kyes' name, or James Goggin's name, in it. This
What's Left?
book by
Dave Hullfish Bailey
grabbed my attention for the typeface, the sobriety of the yellow cover, and the heavy-duty plastic material it's wrapped in (like a manual designed to be kicked around by carpenters on a building site). It turns out to be designed by Stuart Bailey, for whom I'm working over the next weeks as contributor of The Ghost Materialist to his
free Performa newspaper
.
14. Sometimes you'll be pulled up by an art title that grabs your attention. A DVD of a Chris Marker film about Alexander Medvedkin. A book of photographs called
Not Niigata
by Andrew Phelps, in which you admire the way the old people live, and wish you could move into their wooden houses when they die, without changing a thing. A book of August Sander's portraits, and the impossibly German, wonderfully Weimar-Republic-looking characters within it.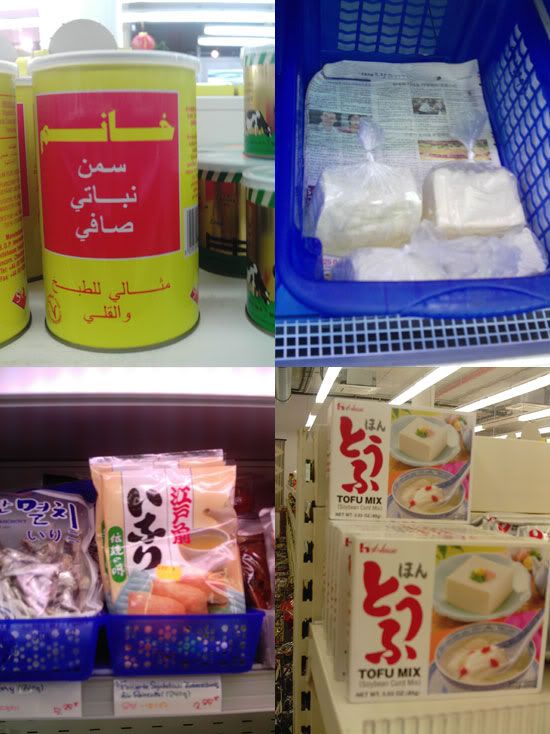 15. And then you do actually go to a shop where you not only marvel at the design, but buy things. The
Asia Mekong supermarket
.