Hisae and I will be spending six weeks in Japan soon, from early December until mid-January. We'll probably be staying in one of those rental apartments in Tokyo, but if you have a better idea,
drop me a line
. The trip this time is subsidised by my curation job; to recap, I've been asked to put a Japanese art / performance / video exhibition together for the Radar Arts Centre at the University of Loughborough. The show, which I'm calling
Aftergold
, will happen while the Japanese team is in the Midlands training for the Olympics.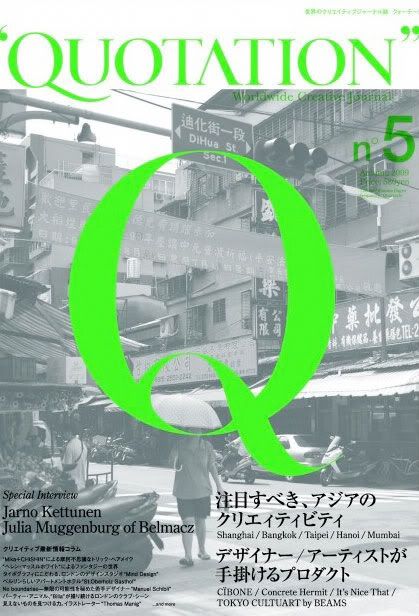 Performing as Momus isn't the reason I'll be in Japan this time, but I'm hoping to put some kind of event together in collaboration with the
Utrecht reading room
in Aoyama.
Apartamento magazine
last week launched their fourth edition at Utrecht during Tokyo Design Week, and cooked people some free lunches in the reading room. Hisae and I have a feature in the new Apartamento, a study of our neighbour Jan Lindenberg's apartment in Berlin. Jan is also in Japan right now (hello Jan, drop us a postcard!).
The fifth edition of
Quotation
, the "worldwide creative journal", has just been released in Japan, and features interviews with both me and Hisae; I'm there as Momus, and Hisae as one half of Penquo, her
mysterious performance unit
with Kyoka. It's available through Amazon Japan
here
.
There's also a big Momus interview (by Olivier Lamm) in the new edition of french culture mag
Chronic'art
, which hit the streets yesterday. The magazine's website says: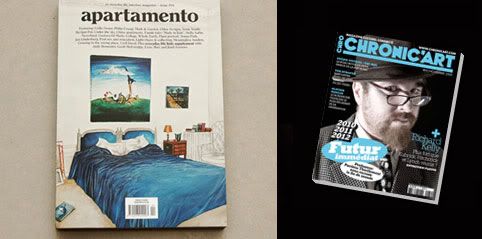 MOMUS
"Musician, connected journalist, web pioneer: at 50, the American Nick Currie (aka Momus) adds a string to his bow by publishing his first novel, "Le Livre des blagues", a post-modern family chronicle to make you scream with laughter. Encounter with an authentic polycultural mutant. Plus Chrono-Momus: key moments in a career as dense as a novel."
I rather enjoy being represented as "a 50 year-old American"; there's something almost Cindy Shermanesque about the idea that you're a completely different person in every press profile. And speaking of the ghostly morphing of fact into fiction, this week sees the launch in New York of Dexter Sinister's guerilla broadsheet
THE FIRST / LAST NEWSPAPER
, which will feature my Ghost-Materialist column, an unreliable revisit of the Post-Materialist column I used to write for the New York Times. More details
here
.