I used to do travelogue podcasts fairly regularly. They're collected
here
, but there hasn't been a new one since January 2007, because the recorder I used to use stopped working. But in Warsaw I made a nice big juicy long one in which I rave about the city's Stalinist architecture, interview my fellow artistes at the Song Is You festival, look at some art, throw some bouncy balls down a street, get a headache, eat cold herring in apple sauce, and run into members of design group Åbäke.
Warsaw Podcast
(mp3 file, 67 mins 22 secs, 33MB)
Above you see some of the details referred to in the walky-talk -- a decorated communist-era building (now a Pizza Hut) near the Central Square, some funerary patisserie (that's what the window looked like to me, anyway). Below you see the forecurl style I was sporting as a tribute to
Kantor
(excellent video of The Dead Class under that link), and a local Victorian-style dandy.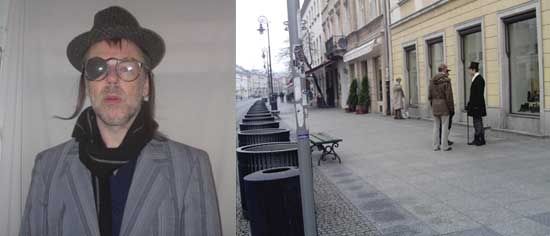 And finally some of the pretty, Disneyfied architecture of the old town, and Kajsa and Benjamin from Åbäke.