It's hardly going to be headline-grabbing news for readers of this blog that I love Tokyo more than any other place on the planet. Re-immersing myself in this city gives me a chance to count the ways and the whys, though.
In the brief time I've been here I've done a ton of stuff. I went to
Vege Shokudo
in Koenji to eat old friend Yoyo's excellent vegetable curry, and found a posse of
Tokyo Art Beat
writers assembled there, including Cameron McKean and Darryl Jingwen Wee.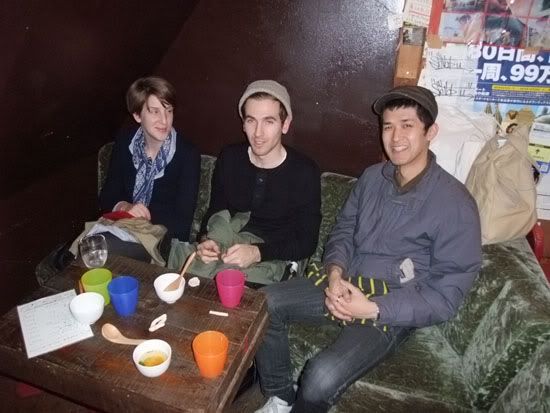 After the meal Yoyo took me out onto the narrow alley to meet the Shiroto No Ran storekeepers, including Hajime Matsumoto, who gave a talk about the collective in Berlin in October.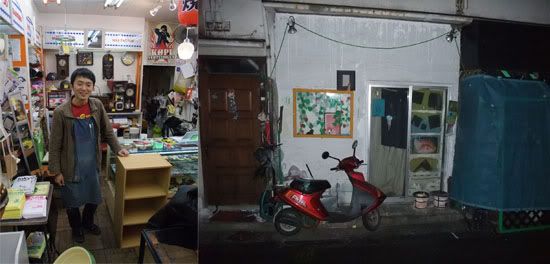 The man in the red-framed glasses below (he remakes secondhand clothes by stitching on playful motifs borrowed from cigarette packets, combini uniforms, and so on, a bit like Andrea Crews in Paris) then guided us to the legendary
Asoko
clubhouse, up a side-street. Nobody was there, but it was a thrill to locate it.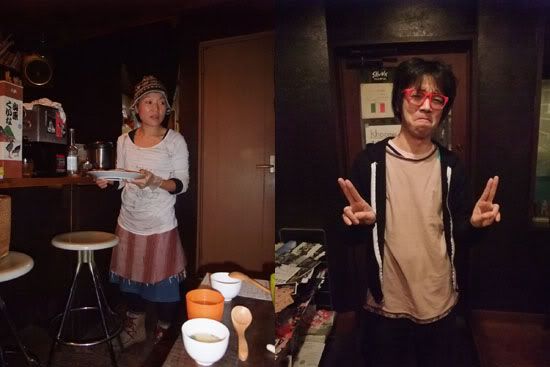 The next day I had lunch with Yukiko Sawabe, whose work I wrote about recently on my
Art-It
blog. We went to organic food basement Crayon House, then dropped into Gallery 360 (showing Yoko Ono's pistol-cracked glass plates) and Utrecht reading room, which is a pleasingly understated but immaculately-curated gallery and art bookshop on Omote Sando.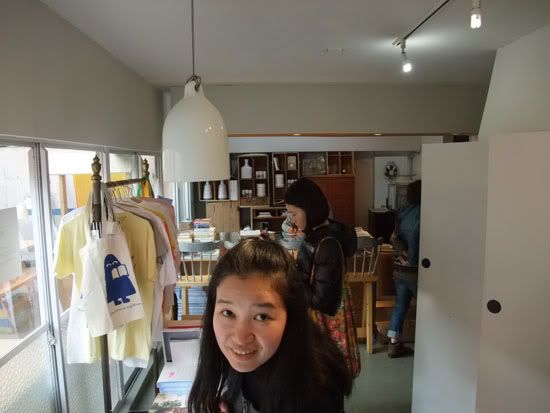 Then, taking in the new Nezu Museum and Junko Koshino's imperious building overlooking the Azabu expressway, we headed to the French Embassy in Hiroo, which has a really great show on called
No Man's Land,
a sort of art school degree show in which French and Japanese artists have been given individual rooms in a warren-like, slightly dilapidated building to make over as they see fit. It was nice to see a Love and Hate Bento Box video in one featuring Roger McDonald, and a painting by Audrey Fondecave featuring Mai Ueda and Cyril Duval as Holbein's Ambassadors in another.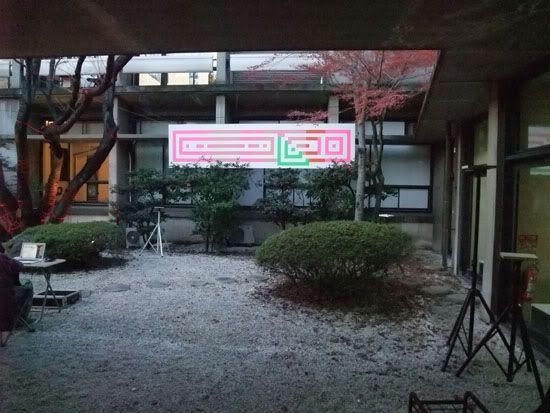 But if I love Tokyo it's the surrounding context -- the thing
producing
events and encounters like these -- that deserves the credit. You really only sense something as abstract as a context interstitially, in slipping glimpses as you scurry from appointment to appointment. And yet these glimpses contain the magic that fuels the city, and your love for it.
So here's a paragraph of those glimpses, so frail, so fragmentary and yet so forceful. The tiling in the Citibank lobby on Aoyama Dori. The wooden mailboxes outside Utrecht. A transparently delicate schoolgirl reading a book on the stairs at Ebisu subway station. The 5 o'clock music transforming Meguro into Prospero's island (Shakespeare
did
travel to Japan; one day I'll make a film about it). The sense of complete safety; I can wear the most ridiculous clothes without fear of embarrassment or assault. Never having to worry about prying hands near my wallet, even in the densest crowd. A sense of being, if not in the future, at least in a parallel world where people are quite a bit more refined, well-mannered and intelligent than I'm used to. A pervading calm inhibition. The mechanical tenderness of soothing lift music. The women, their manner, their faces, their legs, their hair.
Oh Tokyo, let me count the ways!