You know me by now; I'm Momus, the well-known web interpreter from the town of Bzrkyr in Upper Trilesian Osnia. To take a break from -- and freshen myself spiritually for -- my duties (studying the web, facilitating the improvement of my students' moral character, expounding the holy laws), I like to travel, and Japan has become a favourite destination. What I like about Japan is that it's different from Upper Trilesian Osnia, but not
too
different. Basically, today's Japanese are very much like Upper Trilesian Osnians in the 1950s.
Here I am at the "Hachiko" crossing in front of Shibuya Station. Now, a yokel would probably go crazy and dance around and say "Wow, look at the lights! Such big video screens!" But I take this crossing very much in my stride. We have a similar square in Bzrkyr with even more TV screens -- super-miniature ones the Japanese haven't even invented yet -- and even more people running around. In Bzrkyr you'd have seventeen realistic dogs yapping at your ankles rather than one lumpen statue dog sitting on a pedestal. In fact, compared to the Krsyzicnny Crossing, this place is tame and quiet; ideal for a bit of relaxation. (Give it a decade or so, though, and I expect it'll be indistinguishable from any Trilesian town.)
Ah, here's a cinema! Quaint! In Upper Trilesian Osnia we don't have these fleapits any more. We download joke videos from YouTube, household accidents, that sort of thing. If the Japanese still apparently have the attention span to sit for ninety minutes in a dark hall in a building draped with metal curtains, well, good on them, I say! They should enjoy it while they can, because -- if Upper Trilesian Osnian developments are anything to go by -- it'll soon be "curtains" for this type of entertainment.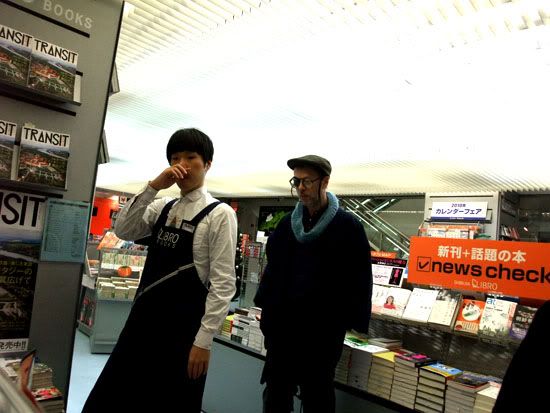 A Trilesian also gets a good waft of nostalgia entering a place like Libro Books, in the basement of the Parco department store. Both department stores and magazines long ago disappeared from Upper Trilesian Osnia, replaced by outdoor markets and word of mouth, so this kind of place feels like a museum to us. When I took the picture above the "sales assistant" asked me what I was doing and I just chuckled. I was tempted to say: "Just wait a couple of decades, my friend! Photos like this will be the only evidence that this Libro place ever existed!" But, you know, the first law of time travel is that you're not allowed to influence the past. We have to leave it to the Japanese to discover the future in their own time, and their own way.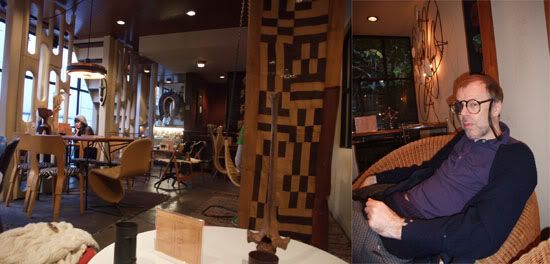 What could be nicer after a stressful day not-shopping (we Upper Trilesian Osnians are
so
over consumerism, though the Japanese are only starting to make the most tentative steps in this direction) than a cup of iced chai in a Jungle Cafe? I can't really say that without blushing a bit inside; back in the day, it's whispered, Upper Trilesian Osnia had dozens of these Jungle Cafes, places where people could escape the icy weather and indulge in fantasies of the tropics while sipping coconut juice. Later, of course, it was considered politically off-colour to talk about "the jungle" or create reductive masquerade versions of "cafes in hot places". Now in Upper Trilesian Osnia the cafes are freezing, as they bloody well ought to be. I expect Japanese cafes will be too, soon enough. In the meantime, relaxing on fantasy wicker furniture surrounded by fake jungle is, I have to confess, a bit of a guilty pleasure for me. Might as well enjoy it before the Japanese come to their senses.