A lovely Sunday afternoon with our friends Digiki and Haruna, Alin and Meta in Nishi-Shinjuku, where Antonin (
Digiki
) now has a whole house in the shadow of the skyscraper district. We ate lunch sitting on the sunny roof, then flambéed crepes in Grand Marnier in the
washitsu
room below while Hisae and Meta batted balloons about.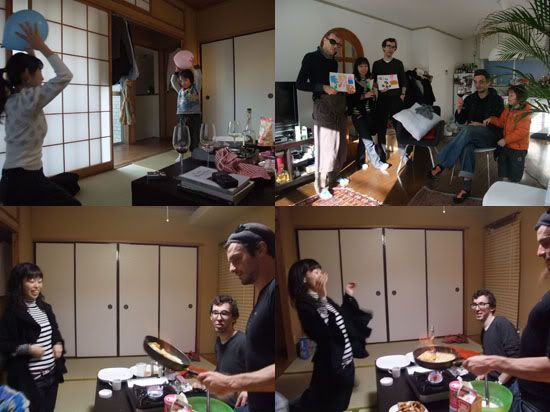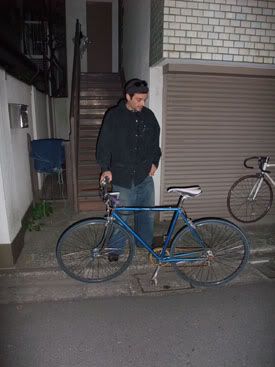 Alin then fine-tuned a spindly-racy blue bike he's letting me borrow, and we made a trip to the local bike shop to refurbish Antonin's milk-white racer. It was nearly 8pm on a Sunday evening, but the bike shops in Tokyo were all still open -- something that would be unheard of in Berlin.
The bookshops and department stores were all open too, so we headed down (five of us on three bikes) to Shibuya, where Alin and Antonin planned to show me
Shibuya Booksellers
, a fashionable new (well, new to me, anyway) art and design bookstore. It was open, but there was a presentation of some kind going on. We recognised Nakako Hayashi sitting by the window: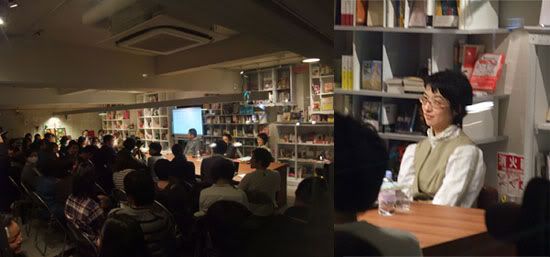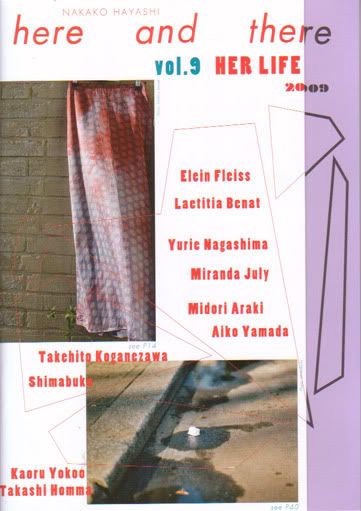 Nakako Hayashi is the editor of
Here and There
magazine, which is a wonderful and peculiar beast, a self-published magazine featuring Hayashi's small but compelling world, comprised of people like Susan Ciancolo, Elein Fleiss and Yukinori Maeda of Cosmic Wonder. It exists at the spiritual-ethical-aesthetic end of fashion.
In this interesting
TAB interview
Hayashi tells her story; how she started with Shiseido's magazine Hanatsubaki in the late 80s, then started her own magazine around the turn of the century, getting the brilliant Kazunari Hattori to do the design. The latest edition of Here and There -- launched in tandem with a show at Utrecht in September -- is
No. 9
, subtitled Her Life. Nakako also keeps
a blog
.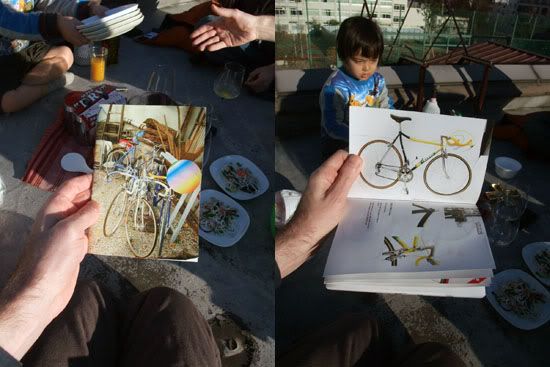 Alin Huma also showed me an elegant little publication he's made, the catalogue for his nascent bike company Fin de Cycle. Since Alin never does anything with less than impeccable visual standards, both the bicycles he's offering for sale and the catalogue itself are far beyond the call of commercial duty. I think that aestheticism-beyond-the-call-of-duty is one of the things I appreciate most here in Japan, whether it's in Alin's bike-love, Hayashi's magazine, or Shibuya Booksellers' store design. They didn't
have
to be as great as they are; nothing but love forced them.