I fly to London today for the opening of a group show at Heddon Street gallery Blow de la Barra. Click Opera readers in the London area, come along! The opening is this evening from 6pm to 8.30pm. As you can see, Lawrence Weiner and Douglas Coupland are also doing spoken word pieces, though I have no idea whether they're making the trip for the opening.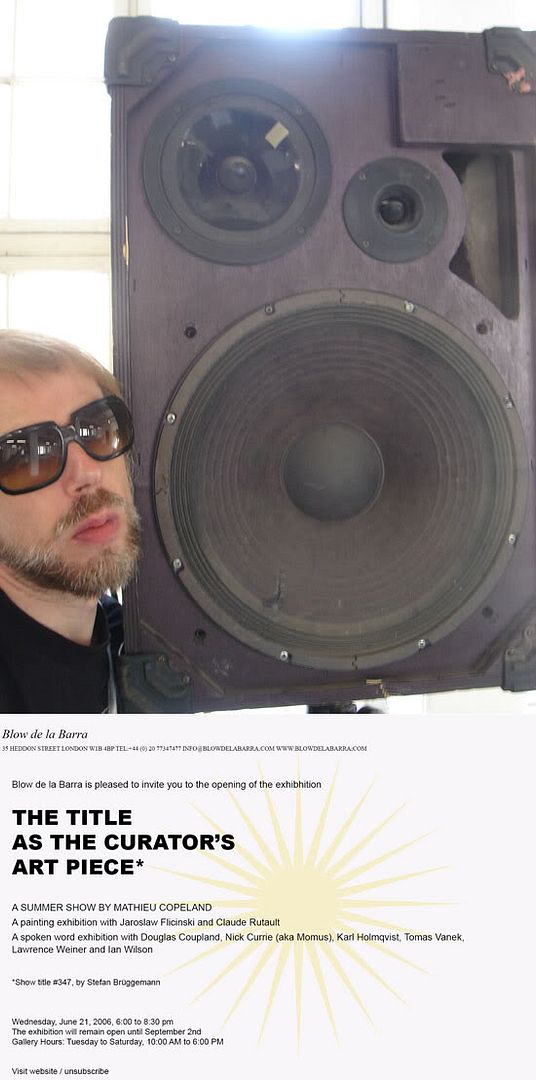 My piece is called "Whispering". It's a lot quieter than the piece I did at the Whitney Biennial. No bullhorn, no tour, not even a voice. Just breath and words. Just a label telling visitors that "Whispering" by Momus is available from the gallery staff on application. When people ask, they get a phrase I've e mailed the gallery that day whispered in their ear. Between now and September 2nd there'll be a fresh phrase daily. I'll also be asking staff to send me a mail each evening detailing one significant reaction, and that'll influence what I send.

I'll be in London for a week, mostly checking out the art school degree shows. And being really rather quiet.