One of my daily stops on the internet is a Japanese site called Qooqle Clippers. It's an interface which selects the most popular Japanese picks off YouTube. You have to sign up for it, and the application form is in Japanese only, but it's quite easily translated with web translation, and all they want is your e mail address and a password.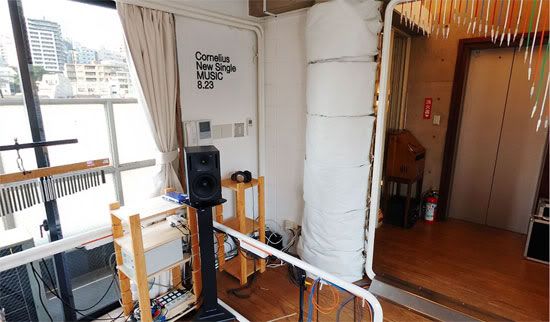 Anyway, one of the Qooqle clips yesterday was the video for the new Cornelius single, "Music". It's five years since his last album, "Point" -- and almost ten years since Cornelius dazzled us with brilliant music, in the form of 1997's (1998 in the West) "Fantasma". "Point" is known in my house as "Disappoint"; I found its clipped, tidy guitars and nebulous, so-what songs underwhelming, although in principle I appreciated the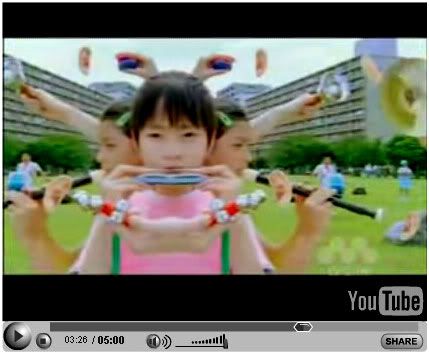 gentle, LOHAS direction, and I remember finding the transitions between the songs, when he played the album live, rather intoxicating. And of course the live visuals were brilliant.

In the five years since "Point" Cornelius hasn't been idle. He's been bringing up baby ape Milo, but he's also worked extensively with Ryuichi Sakamoto, whose Chain Music project involves artists from Haruomi Hosono to O.LAMM reworking Cornelius sounds. The extra-curricular activity doesn't seem to have bumped his style anywhere new, though. The forthcoming single sounds like an out-take from "Point". There are clipped acoustic guitar chords, plucked bass notes, 90s analog synth decorations bathed in digital delay, and long, layered vocal harmonies. Cornelius is singing about "sweet music" and, my limited Japanese tells me, that extends to celebrating "the sound of the rain". Which is all very well in a sub-John Cage, sub-Zen sort of way, but it's tempting to say that making music about music is the last refuge of a man with more love for his medium than messages to fill it with.

The first Cornelius single after five years could have been a statement of a new aesthetic, a change in direction not just for him but for the world, some discovery he'd made, some influence he'd channelled. Instead, it's simply wishy-washy and dull. One-time disciples like Damon "Gorillaz" Albarn have by now far outstripped the monkey king, stolen his crown, and run off into the jungle whooping. New arrivals like Tujiko Noriko write much better songs. And Cornelius is, literally, sitting on a song goldmine in the form of his wife, Takako Minekawa. When will she make a new album?

As an experimental control I watched a random video off YouTube, "Let's Make Love and Listen to Death From Above" by Sao Paolo's CSS (Subpop), trying to imagine it was the new Cornelius single. It would have made a better return. Hell, even a note-for-note cover of The Flipper's Guitar's Young, Alive and in Love would have been refreshing.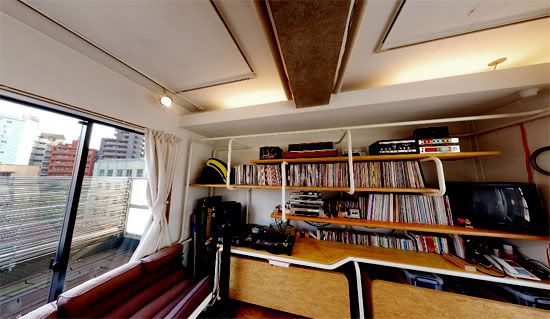 As with "Point", the best things about "Music" are visual. The video, co-incidentally, uses the same "psychedelic mirroring" effect I used in my "Frilly Military" video earlier this year. But much, much better. I'm also very impressed by the QuickTime VR movie of Cornelius' Nakameguro studio currently advertising "Music" on his website. This allows you to explore the top floor of Cornelius' management company 3D's office, the studio space he's used for all his recordings since the late 90s. It's also where I recorded the basic tracks for "Frilly Military" back in 2001 (it was originally a track for Kahimi Karie), and, as the airbells tinkle pleasantly, you can scroll your way over to the Maestro drum box I play on that track, or the Moog I played on stage with Kahimi on her 1998 tour.

Cornelius is a lovely man, shy and generous; last time I was in his studio he gave me a vinyl copy of his new record and, when I confessed I didn't have a turntable to play it on, went and found a boxed, limited edition Cornelius record player and gave me that too. I owe him an enormous amount; without his championing of my work early on, my experience of the 90s would have been dismal indeed, and my love affair with Japan would have been much more one-sided. So I wish I could tell you that his new single was a revelation rather than merely pleasant, and accompanied by great visuals.

The track listing for the EP (due on August 23rd) is:

1. MUSIC
2. GUM
3. CLAP&WHISTLE&WALKING
4. STAR SPANGLE-GAYO,TH

"Gum", apparently, has already been used in a Japanese Vodaphone commercial. One thing's for sure; with its flat, tuneless, join-the-dots vocals, "Music" won't find its way onto many karaoke machines.