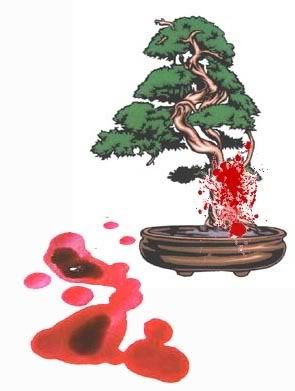 Reading this blog, you might be forgiven for thinking that its author is an amateur sociologist, poseur, journalist, traveller, self-mediating slummy fashion pin-up, cultural commentator, rentable eccentric, and so on -- yet pass over the fact that he also makes pop records. But he does, and it's the main thing he's been doing for years and years. He even released one last month, an album called Ocky Milk. Never mind what our self-mediator has declared about it, though; what are other people saying?

On the whole, they're liking it very much, whether they're bloggers, skeptical music lovers on bulletin boards, or journalists. Here's what some reviewers have said:

"Ocky Milk is supremely welcome. It's as rich and enjoyable an album as Nick Currie's made in years: warm, funny, arch in most of the right places, made with an admirable integrity and a genuine playfulness—and, at long last, surprising." Theon Weber, Stylus magazine

"What's immediately striking about the album is its quietness. Momus uses space and silence to great effect throughout the album." Brandon Bussolini, Dusted

"The pleasure of Momus's music lies in his peculiarly elegant, catchy brand of lo-fi; he's on dandy form here, as a conspiratorial, synth-pop storyteller on The Birdcatcher, camping it up on Frilly Military and blending spooky spoken-word incantations on Devil Mask, Buddha Mind." Arwa Haider, Metro

"The drifting quality of this record is very attractive, especially on the more inventive numbers such as the hazy, faintly sinister 'Dr Cat'," says Leo Chadburn in Playlouder. But his praise is qualified:

"There are, however, some mawkish moments, notably the sentimental 'Nervous Heartbeat' with its Japanese onomatopoeia... Similarly questionable is 'Count Ossie In China' on which Momus reprises the risible Jamaican accent I hoped never to hear again after his 1995 track 'The Madness of Lee Scratch Perry'."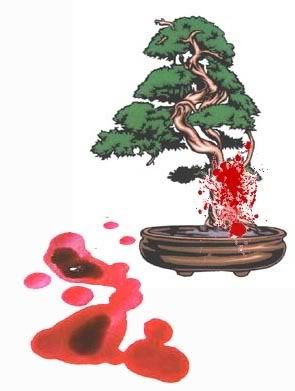 Leo might like to know that I'd planned to include another song with a bad Jamaican accent on the album, but dropped it for this very reason. I've decided to let you hear the outtake today; it's down below. As I emailed a friend at the time, "I'll probably be slaughtered by the PC for doing a (bad) Jamaican accent and implying that Jamaicans are tree-murderers with knives. But who says it's a Jamaican accent? It's Imaginaican. And therefore it's only slandering my own imagination."

Actually, listening again to "Bonsai Tree" I think it's an interesting piece. Even Ocky Milk's outtakes had something good about them. And I can explain the accent: the "Imaginaican" is Welsh, see, blud. I mean... "boyo".

Bonsai Tree (Stereo mp3 file, 3MB, 3mins 17secs.)

Update: Here's Ishimaru's Miyagi Bonsai Shop Dub Remix.