Here are my two Tokyo flatmates, Shizu and Misako, back in 2001, when we briefly all shared a small flat in Meguro. The picture ran in a photo diary Relax magazine published. "I went to an opening in Saga at the Koyama Gallery," ran the caption, "and afterwards Shizu and I ate at a Korean barbecue with Misako of the gallery staff. It's true that one thing Tokyo really lacks is a New York-style gallery scene".




Well, five years later that New York-style gallery scene came one tiny step closer when, after ten years at Koyama, Misako left to open her own gallery, Misako & Rosen. The name combines Misako's name with her husband Jeffrey Rosen's (he works at Taka Ishii gallery, and I last ran into him at Frieze Art Fair).


Misako has chosen Minami-Otsuka as the district for her gallery. While not exactly wilderness, this north Tokyo district (one stop up from Ikebukuro on the Yamanote line) is more famous for its mosque and Pakistani curry stalls than galleries. As far as I know, Misa's is the only one there.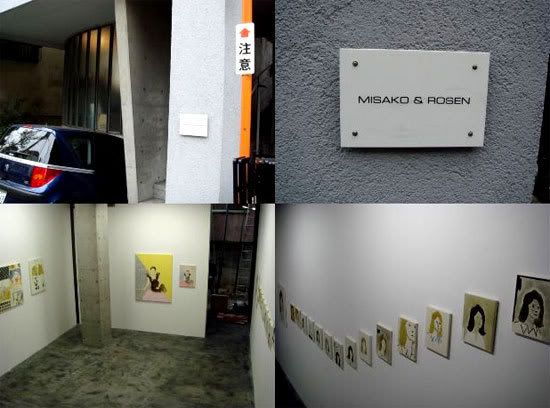 Misa launched in December with a painting show by Shimon Minamikawa. Photos of the space show a small, upstairs concrete-floored white cube. Other artists on the roster include Maya Hewitt, Nathan Hylden, Miki Mochizuka and Naotaka Hiro. The foreign names suggest a "Third Culture" approach, and Misa is featured in the January edition of that emblematically "Third Culture" magazine, the relaunched Japanese edition of Tokion. You can currently see her stall at Tokyo art fair Art@Agnes, in Room 201. Roger McDonald describes the fair here.


"As well as the usual 'Tokyo Power Galleries' -- Koyama Tomio, Koyanagi, Taka Ishii, Mizuma etc -- I was particularly interested to see works presented by new, younger galleries like takefloor and Misako + Rosen," Roger writes. "These two spaces shared a hotel room, and to my great relief, provided the only musical interlude among all the galleries - a video work showing on the hotel TV blared Jimi Hendrix songs."

Anyway, I just wanted to say yay Misa for actually following your vision through and setting up your own gallery! We'll make Tokyo an art town yet!