There's a bit of an upsurge in interest in Shibuya-kei right now -- last night I answered a bunch of questions some journalist had also sent to Marxy, and the other day Olivier Lamm asked me if I had any visuals for an article he's preparing about the 90s Japanese pop movement for a french magazine. Visuals are important in the history of record labels, especially the sort of niche coffeetable labels I've been involved with -- 4AD, el, Creation, Trattoria, Le Grand Magistery and so on.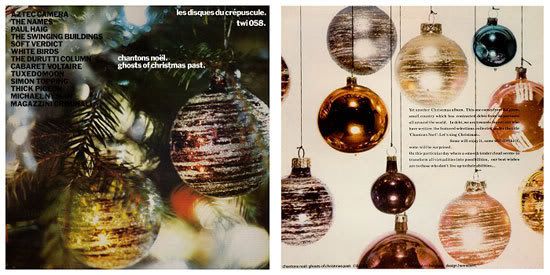 I was thinking recently about Les Disques du Crepuscule, the early 1980s cult Belgian label. Crepuscule was a classic example of the importance of design to niche coffeetable record labels, and in a way set the style for many of the Shibuya-kei labels that would follow 15 years later. It was run by Michel Duval, a Brussels entrepreneur who also owned a very chic nightclub on the Grand Place. If Interference was Duval's Hacienda Club, his Peter Saville was a fellow called Benoit Hennebert. "Peter Saville certainly defined the post-punk look which reflected the modern world that Factory Records were forcing us to confront," comments el Records supremo Mike Alway on the Crepuscule Image Bank page. "I appreciate Saville but, to be honest, if I was influenced by anyone it was Benoît Hennebert of Les Disques Du Crépuscule. Eccentric, charming and very much a genius."




Duval didn't seem to pay people, but he gave them lives in and around Interference. Louis Philippe (who helped start Shibuya-kei by curating the Fab Gear compilation in 1990) worked as the chef there, and appeared on label compilations as The Border Boys and The Arcadians. When I went to Brussels in 1984 to record the first Momus EP, "The Beast With 3 Backs", I met Benoit. This small, intense, driven man had his design studio (I remember a room full of watercolours) above Interference. Apparently he never left. He had no money, but he didn't need it -- the club downstairs could give him food, drink and company. Not a bad way to live; I remember the club being full of beautiful square-shouldered women, who all looked a bit like Sean Young in Bladerunner. "When you love music, you want everything related to it, closely or not, to be beautiful too," says Hennebert.

Those sirens may have lured Joy Division's Ian Curtis to his grave (an affair with a Brussels woman, presumably started when the band recorded Atmospheres there, played a major part in his suicide), but they also lured Josef K singer Paul Haig to Brussels. He spent six months living there in the early 80s. You can see his Brussels period in this video for his debut solo single release, a cover of Sly Stone's song Running Away:



It brings back the early 80s with a rush, that video -- Chariots of Fire (spoofed here) was the big film then, an aspirational picture about athletics set in our home town of Edinburgh, with synth music by Vangelis -- just like Bladerunner. We need to draw a line connecting three cities -- Edinburgh, Brussels and Tokyo. Somehow, what Duval and Hennebert were doing in Brussels didn't just attract Scottish musicians to Belgium. It ended up informing and feeding Shibuya-kei, and Benoit Hennebert's immaculate graphic design undoubtedly influenced the brilliant Shindo Mitsuo of Contemporary Production, the visual centrepin (with Pizzicato 5's Konishi and the photographer Tajima Kazunali) of Shibuya-kei.