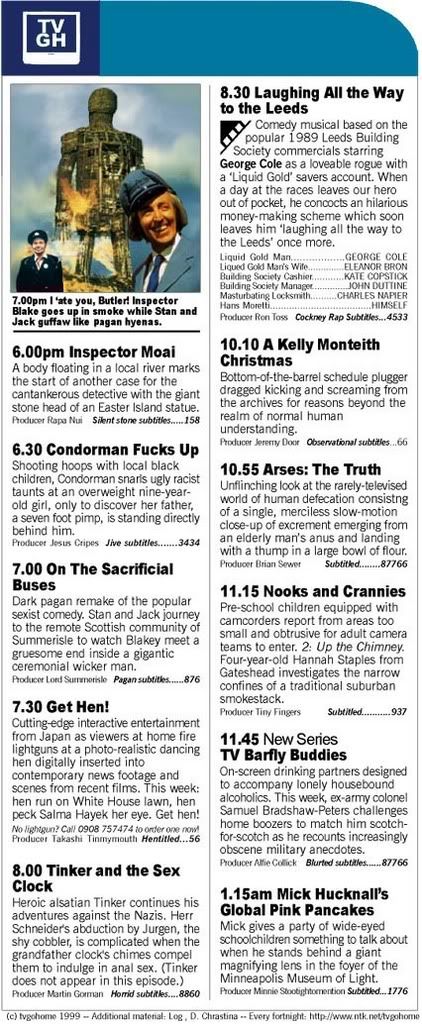 Something really quite odd has happened. I've started watching TV again. Not on my TV -- that's become a crackling grate, a display unit for a DVD I made of a log fire last month -- but on my iMac, all zoomed up full screen. Naturally, I don't watch scheduled broadcast networks. I assemble my own evening's viewing, pretty much making it up as I go along, a bit like word association in psychoanalysis. Call it "video association".

Just for fun, I tried laying out my Saturday evening viewing as if it were a TV network's listings in a TV magazine. It would make, clearly, for a pretty low-rated station. But TV Me just needs one viewer to get all the ratings it requires: me.

6.20pm: Two Short Videos by Tamy Ben-Tor
Tamy Ben-Tor is a 32 year-old Israeli performance artist. BBC Me kicks off its evening's schedule with two of her videos. In Alejandra she plays a self-centred art dealer, and in The Contractor a complaining building contractor.

6.30pm: An Artist's Talk at the Tate
Liam Gillick in conversation with Jeremy Millar at the Tate, London, 2002, when he was up for the Turner Prize. Highlights: when he attacks Sarah Kent and Adrian Searle for calling him "obfuscating", and when he describes the British habit of muttering "wanker" when someone you've been flattering walks away. Oh, and the bit where he says that the old avant garde thing was all about being the first to do something, but for his generation it's all about being the first to stop doing something.

8pm: Discovering Electronic Music
An instructional series in three parts from the early 1970s. Admire the didactic aesthetics, and wonder whether the technology merely makes new compositional techniques possible for its users, or whether it's playing them.

Discovering Electronic Music Part 1
Discovering Electronic Music Part 2
Discovering Electronic Music Part 3

8.30pm: Paul Glabicki animation
Glabicki made Daigram Film in 1978. You can see others on Ubuweb.

8.45pm: A Theme Evening: John Cage is So Soothing
During this theme evening we simply lie back and let Cage guide us through compositional technique, marvelling at how he manages to unleash such radical ideas in calm, reassuring tones rarely heard this side of Bob Ross.

1978: John Cage For the Third Time
John Cage speaks with whispering, bar-coded Richard Kostelanetz at the Center for Non-Broadcast Television at Automation House about the techniques he used in "Writing Through Finnegans Wake" (1977) and "Writing for the Second Time Through Finnegans Wake" (1977).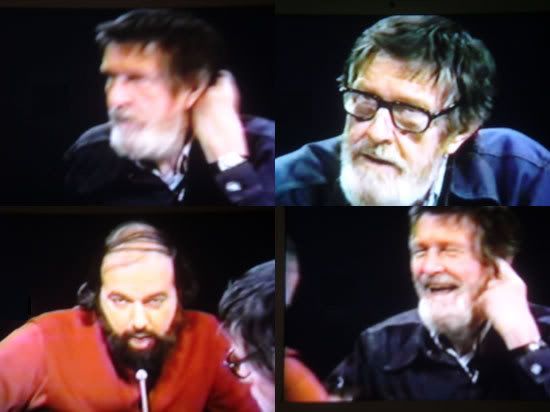 John Cage and Raashan Roland Kirk - Sound?? 1966
This is a classic piece of hipster cinema, in which Cage and Kirk fail to meet (except at the splice edits) in Swinging London.

Two late John Cage interviews, 1991
In Love With Another Sound
A Buttle of Coke
Cage says that no two Coke bottles are the same, because different lighting and the passage of time between our perception of one and the other make them different experiences; all that stops us hearing old music freshly is the memory of our first experience of it.

4'33"
This full orchestral performance of 4'33", performed at London's Barbican Centre in 2004, is rather extraordinary. First of all, the Barbican lights have a nice buzz. Secondly, not many people cough. And thirdly, you see two simultaneous violences: the violence of Cage telling the orchestral tradition that it's irrelevant, and the violence of the orchestral tradition saying "We can take this on, buddy. You're in the canon now, so shut up!" And the band "played" on...

Finally, Margaret Leng Tan plays In the Name of the Holocaust, a Cage prepared piano piece from 1942. It doesn't refer to the Holocaust then going on in Germany, but to a Joycean pun on "holy ghost".

11.45pm: Animation by Jan Svankmajer
We round off the evening's viewing with the great Czech animator's 1966 work, Et Cetera. Lovely lettering.

Stay tuned to BBC Me: tomorrow we'll be watching Jordan Fish's vlog entries, the new video from DJ Elephant Power (from his forthcoming album "Scratch the Hulu"), Japanese horror film Dark Water, Toog interviewing the bird artist Cagesan, and Paris fashion collective Andrea Crews making a couture collection out of secondhand clothes.