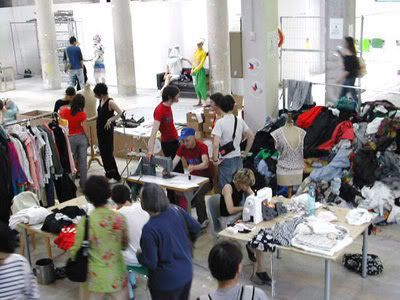 My fashion contacts tell me that this week Hedi Slimane got kicked out of Dior Homme. I wish him all good fortune for his future projects, I really do. But for me, the big Paris fashion story of the last five years isn't that rather boring 60s-retro skinny black suit and tie look. It's Andrea Crews, a fashion collective grouped behind a fictitious persona and operated from a threatened Belleville atelier-squat called La Generale.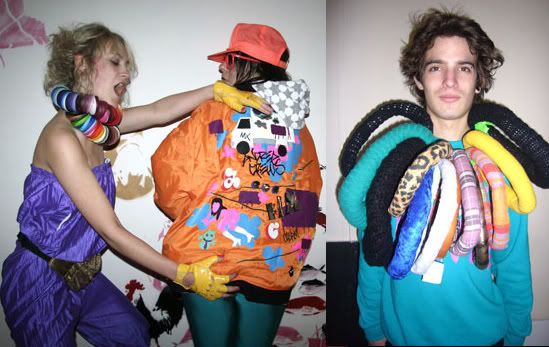 Andrea Crews -- the brainchild of Maroussia Rebecq, an art school grad from Bordeaux -- is a recycling clothes label. Working closely with charity shops like Emmaus, the Crews crew cuts up and repurposes huge heaps of secondhand clothes, re-investing dead and ugly heaps of cloth with playful panache. They stage big fun events where dozens of amateur models are transformed into garish and sometimes grotesque creatures, and all the clothes are given away to the audience at the end of the show. Most importantly, and against all the odds, many of their creations actually look excitingly good. It's a philosopher's stone sort of deal -- Andrea Crews recycles base materials into pure fashion gold.




I went to one of their Berlin shows back in early 2003, an event called Berlin M'Excite held in a warehouse in Kreuzberg, and did a bit of DJing as the clothes were chopped up and playfully repurposed (by, amongst others, Jean-Marc of label Pelagique). It was actually one of the most fun things I've seen in Berlin -- some guerilla fashionistas called Additional came up and restitched my eyepatch with pink thread as I played. Above all, there was a sense of people having fun with clothes, and emboldening each other to pull off ever more ridiculous, splashy, weird and flamboyant looks. It's the kind of thing I do in thrift stores like Humana anyway, but it was nice to meet people who took it further. (And I don't tend to chop stuff up -- my splicing all happens at the original seams.)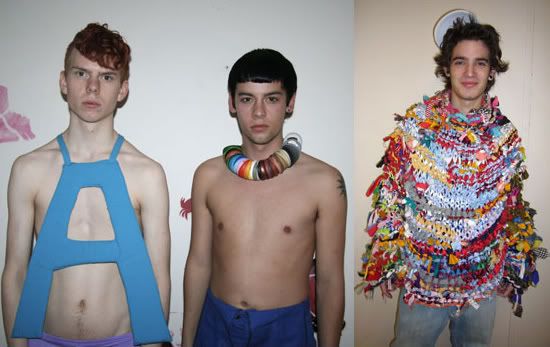 "Andrea Crews values creative energy more than form," declares the Crews website, but I think that's perhaps unduly modest. And while there's lots of talk of social concern, ethical fashion, sustainable development, alternatives to consumer society, and even relational aesthetics (the Crews people were invited to take over the temple of RA, the Palais de Tokyo, as you can see in a video on their MySpace page), I think that's merely the ethical icing on the aesthetic cake. Many of these spliced secondhand clothes are simply fun, inspiring and desirable -- covetable enough to warrant the rather high prices they're pegged at on the Crews website.





While more elitist fashion houses hold their defilés in central Paris in the presence of invited guests and the world's press, Andrea Crews holds theirs out on the street in Belleville -- and gives the clothes away at the end, as you can see in the videos on this page. Just like in "real" fashion shows, there's a bride in a white dress to end the show. Crews also has a widow's veil -- but she's a bloody merry widow, naked and primed for fun.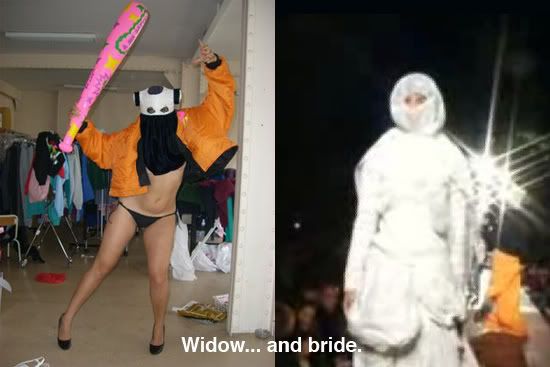 President-presumptive Nicolas Sarkozy doesn't like Andrea or her kind -- he's been cracking down on Paris squats and "doesn't give a shit about artists," according to this Guardian piece about La Generale and its troubles. But gay Paris mayor Bernard Delanoe does, and the threatened takeover of the collective's headquarters has been averted -- for now.




La Generale gets no subsidy of any kind, though, and survives thanks to donations from the people who work in its lofty spaces, and bar takings from the odd event -- so maybe that's why the prices for Andrea Crews bomber jackets are as high as they are. (They're still a lot cheaper than Bape.)

In the longterm, though, the authorities plan to turn La Generale into a mental hospital. If, like sarky Sarkozy, you hate these people with their parties, their ethical aesthetics, and their garish colours, if you think their ateliers de creation need to be cleaned out with Karsher, well, there's a set-up for your punchline right there.