It's a Wired column day, and today's -- Culture Flows Through English Channels, but Not for Long -- deals with the ideas I hashed out here in the pieces about UNESCO and the application of airline route models to cultural flow. I wanted to get some of those shocking statistics about national cinema, book translation and internet language usage out there. My conclusion this time, though, is a bit more free market-friendly; Bollywood, the Japanese film industry and the burgeoning use of Chinese on the internet are what will loosen the current Anglo stranglehold on culture. (It's worth pointing out, though, that India, China and Japan all use cultural protectionism to nurture their local successes. Even super-vigorous Bollywood depends on it.)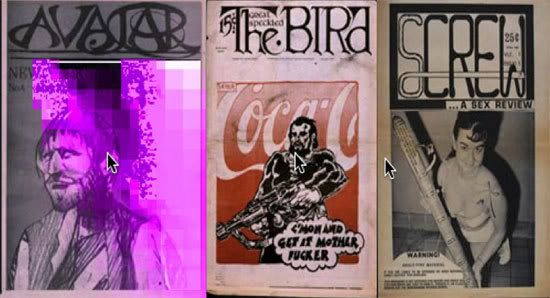 What I wanted to talk about today, though, is something slightly different -- though inevitably related. I just last night turned in a new article ("Confessions of a Magazine Pervert") to the other online publication I write for, AIGA Voice, about my love of books about the magazines of the past.

It's interesting -- after the Wired site's recent (and, I think, very successful) redesign, Wired News and AIGA Voice look increasingly like each other -- they both use Apollonian serifs and grids. In Wired's case it's a final repudiation of the 90s Wired / Hotwired look, which actually gets a nostalgic commemoration in one of the books I was talking about in my piece for AIGA, "The Secret Sense of Japanese Magazine Design" (they examine the Japanese edition of Wired, which ran between 1994 and 1998).

It felt very much on-message, but also rather cheeky, to be sending this article to my AIGA Voice editor Steve Heller, since, as the fantastic podcasts on his website reveal, he knows so much more about the history of magazine design than -- well, than just about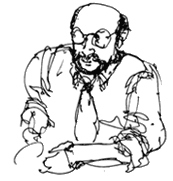 anybody on the planet. The podcasts are recordings, accompanied by slides, of lectures given as part of his MFA course The Designer as Author at School of Visual Arts, New York.

The one that particularly excited me was Steven Heller discusses 60s youth culture, psychedelia, underground publications, and his early art direction, which the images above (interesting glitches!) are taken from. Here Steve takes us on a guided tour of the 60s New York underground press (where he seems to have been the only one not on drugs, which didn't stop him being imprisoned or starting several sex magazines). There's also a wonderful survey of the posters of Lucien Bernhard which traces the plakatstil designer from Berlin to New York (a cultural trajectory as interesting to watch as Kurt Weill's) and a short film about Milton Glaser in which the design doyen sets forth the idea that New York is a semi-autonomous republic rather than a part of America (which really shifts the meaning of his famous "I love New York" design in an interesting direction).




This might be a good time to announce that I've been booked by AIGA to address their 2007 Conference -- titled "Next" -- in Denver Colorado between October 11th and 14th. My talk is just a twenty minute thing on "the future of texture", so you may not want to pay the $925 attendance fee they're charging non-members just to see me, unless you think $50 a minute to hear a non-designer speculating wildly is a good deal. The Click Opera coverage will be free, though.