I don't know much about Toru Takemitsu, but when I was about 20 I bought a vinyl LP of his music in a secondhand shop in Edinburgh. I found some of his orchestration disappointingly Western (Debussy is the main influence, though some Webern creeps through, especially in the guitar arrangements), but loved the pieces where he updates the spooky ancient Japanese traditional sound of gagaku.

It turns out that David Sylvian stumbled across Takemitsu in much the same way, buying a secondhand record by the diminutive composer in the late 70s. He took things much further than me, though, actually befriending Takemitsu and incorporating the man's style (via a sample on "Backwaters" and some influence on the guitar style and string arrangements) in his own records.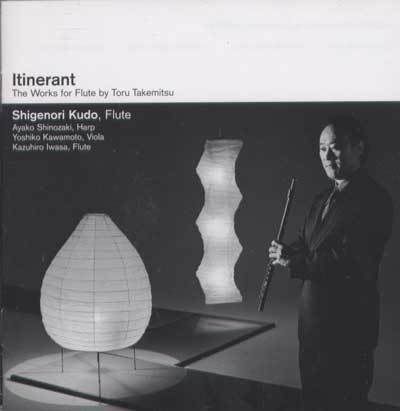 Sylvian has a lot to say in the excellent BBC Radio 3 documentary about Takemitsu that went out last Sunday, and due to the BBC's policy of only archiving for seven days, will disappear from their site later today. So I've decided to host it a bit longer here:

Enter the Garden: Toru Takemitsu (Stereo mp3 file, 45 mins, 40.6MB). (There's a little 30 second silence half way through; think of it as an intermission.)

There's quite a lot of Takemitsu-related stuff on YouTube. Here's a French documentary showing Takemitsu at work on the soundtrack of Oshima's 1978 film "The Empire of Passion":



And here's a short Japanese TV appearance where he's standing in the middle of a field, talking about hearing French chanson:



Takemitsu liked Western pop music, making his own sensual, subtle arrangements of songs like "Yesterday". "He liked David Sylvian, of course!" adds his daughter. Here's Judicael Perroy playing a Takemitsu guitar piece called "Equinox". You can almost imagine it as a piece on "Blemish":



From Takemitsu to shakuhachi (which is both the Japanese flute and a Japanese slang term for fellatio). If you're in Berlin this evening, come check out a daring performance of a piece called "56 Minutes" by David Woodard. It's at 8pm at COMA, Leipziger Strasse 36 in Mitte. The score is here. Basically, David has cast four friends as Beethoven, Spengler, Nietzsche and Hitler. Playing violin, piano, cello and electronic tones, these actors are fellated to climax by a fifth, a woman in stilettos, while they improvise in ways "dissettlingly pensive, frenzied, ruminative" and then "resolvingly pensive".

I was originally asked to be one of these actors (I'm not sure which of the German anti-heroes David had in mind for me), but Hisae didn't feel too comfortable with the idea of someone playing my shakuhachi. I believe David has since modified the project: this is the "Angelic version" of the piece, which I think means that the fellatio happens in a black and white film projected above the performers' heads. Anyway, this evening's performance will probably confirm that Debussy-esque string arrangements aren't the only way to bring sensuality into your music.