Wherein I shall readily observe that:

1. Coming to Japan just for a holiday is not really a sustainable lifestyle, no matter how much electricity it generates in your soul.

2. Mr Terunobu "tea in the trees" Fujimori currently has his entire Venice Architecture Biennale show playing at Tokyo Opera City. Lots of 1:1 scale sustainable wattle huts that you can pop in and out of. Excitement!




3. Nadiff (the Harajuku one will move soon to a new, undisclosed, location) has gone all New Age, with a tent in which you listen to quad sound surrounded by crystals and twigs. Much better is a book of angular ice cream-coloured paintings (from publishers Bluemark) by conceptual manga man Yokoyama Yuichi.


4. The new ArtIt is acrackle with excitement about the Asian artists in the Venice Biennale, as I am myself. But it's not very sustainable, all this biennale-hopping (especially wearing those heavy bunny ears)!

5. There's also a big feature on hamster girl Sako Kojima in the magazine, which one reads at Cafe FOB, positioned to watch girls entering La Foret.

6. Marquee magazine has a great big family tree of everything leading up to and following Shibuya-kei, with a twiddly, fiddly diagram by editor MMMatsumoto. That's me in the corner!


7. The other Matsumoto, the comedian from Downtown -- perhaps Japan's most familiar television face, he's singlehandedly made shaved heads and too-long suit sleeves cool -- has directed a film which is getting very good reviews. It's called Dai Nippon Jin and you can watch a trailer here (second button from the left). It's about big-body Japanese people who shoot up to Godzilla size and fight with monsters. Music is by Towa Tei, and UA is in it.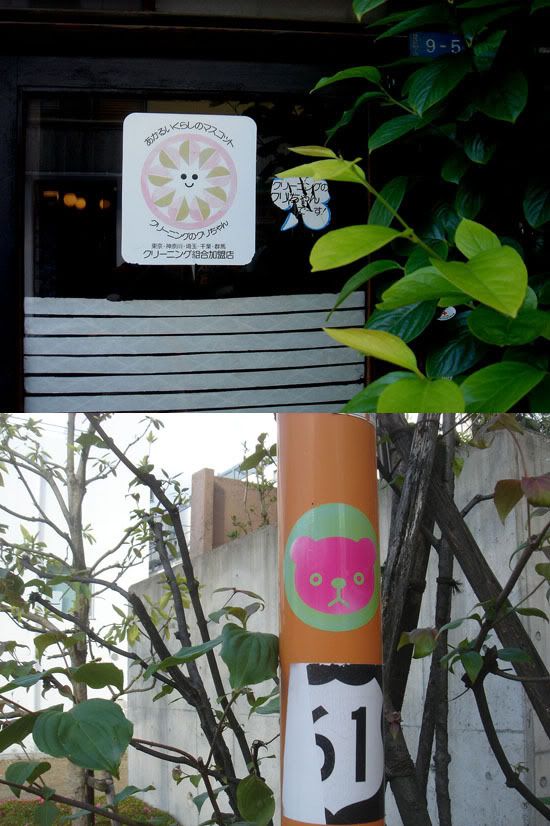 8. Bright Life Mascot Cleaning's Kuri-Chan says: "I am your dry cleaning mascot!"

9. One dines in Naka-Meguro with one's ex, Shizu, and husband David, both in fine fettle, which rhymes with kettle.

10. One buys a vibro-massager in the shape of a Mutant Ninja Turtle's back at Donki at, like, one in the morning. The store also sells cushions in the shape of human breasts. Perhaps sustainable?

11. One watches a one-hour documentary about hosts in Osaka on Google video. These spiky-heads are surrounded by girls who pay them enormous sums to flatter and fuck them. And it's a sad nightmare.

12. One will spend the next two days visiting Florian Perret in sleepy pacific Kamakura, Slow Life on Sea. Sustainable!