Rusty Santos -- best-known for his production work on early Animal Collective records -- recorded large parts of my Ocky Milk album, and I co-wrote and narrated a lurking, murky track on his last solo album, Eternity Spans (released on UUAR). Rusty was in Berlin this month, performing at the Goldmund Festival and working on some music.




When Hisae and I met up with Rusty and his girlfriend Mina at Kauf Dich Glucklich on Oderberger Strasse the day before he flew back to New York, Rusty told me he'd been record-shopping at nearby Dense (the best Berlin record shop) and had bought a vinyl copy of Holger Hiller's Oben Im Eck album. I reminded him that the album's title track had been in an iTunes playlist I'd made entitled "Stuff to play Rusty" when he arrived to work on my album in November 2005. "Oben im Eck" is one of my favourite songs ever. It's a mysterious, surreal, plodding, detached art song, a sort of Paul Celan poem set to sampled harps, with a sinuous, wandering melody line and the disembodied warbling of Billy McKenzie behind Hiller's light, octaved vocals. The result is utterly lovely, but really stands outside any sort of pop or rock tradition. Perhaps it could be one of Bjork's gentler, more experimental moments. It certainly sounds "nordic" in some way, and ancient, and intriguingly strange.

"Oben Im Eck" is also rather unique in Hiller's own ouevre, which more often consists of bank after bank of frantic samples, often taken from musique concrete or 20th century classical music. I thought today I'd just do a "who is Holger Hiller?" entry, because one of my favourite musicians still doesn't have a Wikipedia entry and is still far too little known. I've structured it as "10 little facts".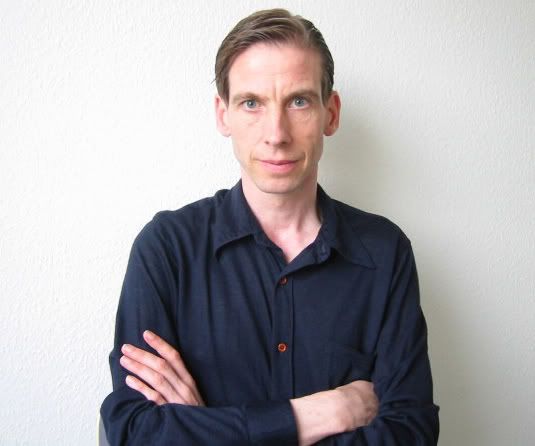 1. Despite having worked with several people Hiller also worked with -- Nicki Kefalas, for instance, who really introduced me to Hiller's work, or the Cherry Red label, who put his first album out, or photographer Chris Garnham, who shot Hiller's second album sleeve and died in the Marchioness disaster a week before he was due to shoot pictures for my Don't Stop The Night cover -- I've never met Holger Hiller. A Vogue journalist once gave me his number in Berlin, but I didn't like to cold-call him.

2. One day I'd like to interview Hiller, though. Index magazine turned down a proposal a few years back -- Hiller was just too obscure a figure for their American readership. Perhaps I'll suggest it to 032c, the Berlin magazine I feel closest to (I just met editor Joerg Koch yesterday -- he personally delivered a crate full of copies of IDEA magazine for an article I'm writing for 032c about the Japanese design magazine).

3. I'd also like to get Cherry Red to re-release their Hiller album, his first solo album, 1984's A Bunch Of Foulness In The Pit (BRED59). Like me, Hiller left Cherry Red in the mid-80s -- he went to Mute, who released his Japanese album Hyperprism as Oben Im Eck in 1986. This is the record of Hiller's I like best, followed by the 1991 and 1992 pairing of As Is and its remix cousin Demixed. (Full Hiller discographies here and here).

4. Here's one speculation on why Hiller's records have been so hard to find: "the aesthetic," says one anonymous Hiller fan on messageboard Rumori, "is complete timbral change every 10-20 seconds, the more jarring and violent the juxtaposition the better. And these aren't fragmentary samples; they'll include 4 whole bars of something, a familiar techno record, tribal recording, vintage musique concrete, relatively untransformed -- but over the course of the 3 minute song, move through a dozen other sounds as well. A neat example of artistically justified use of extended and recognizable samples, because the overall result is clearly a new work.... Now that I've finally got it here and can hear the 60 second Prince/Family song, James Brown yelps, Kraftwerk's 'Numbers', among other major label properties, it's easy to guess why no one's ever heard of this record -- in the early nineties, underground dj's were innocently and unselfconsciously working with untransformed fragments, and perhaps Mute assumed such a project would fly under the radar much as other similar works had done in the past. But by the time the project came together, the climate had changed enough to have made it clear to Mute that this was an completely unreleaseable record. Impossible to remix or edit down to anything longer than thirty seconds. License the samples? By 1992, a 5 second James Brown sample was costing Public Enemy $20,000. Kraftwerk, Prince, etc... all this for a minor project by a relatively obscure, low-sales artist. Too expensive to release."

5. Hiller seems, in many ways, retired and reclusive. But he does have a net presence -- a MySpace page and a website. On the MySpace page you can hear "Neighbours" and "Count" from Demixed, and "Koeninginnen" from As Is, suggesting that the early 90s is Hiller's own favourite section of his career. There's nothing from his 2000 Mute album, the eponymous Holger Hiller, a disappointing attempt to commercialize Hiller's abstract sounds by the application of drum'n'bass and industrial beats. For once, Hiller sounded behind rather than ahead of everyone else. He's released nothing since.

6. Hiller's website has a biography cobbled together from other people's press releases. The News page is particularly startling to me: its only item is a picture of my Stars Forever sleeve and a link to my gothic-absurdist short story 7 Lies About Holger Hiller. I'm pleased that Hiller seems to have liked the story enough to endorse it, but can this be his only news?



7. Hiller comes from Hamburg. He was born there in the late 1950s. In the mid-70s he befriended an old lady who'd been a pupil of gebrauchsmusik composer Paul Hindemith. She taught him concept improvisation. In 1980 he co-founded one of the most interesting of the NDW bands, Palais Schaumburg, members of whom graduated to The Orb and Einstürzende Neubauten. Hiller left after their first album -- which sounds a bit like A Certain Ratio, and has great lyrics, but isn't really a very satisfying listen. Early solo releases included a cassette-only release on Ata Tak, a collaboration with Thomas Fehlman which remains one of my favourite records of all time -- Hiller's reading of Paul Hindemith's operetta for children, Wir Bauen Eine Stadt. This -- and tracks like "Koeninginnen" -- sound like much more texturally-rich and musically sophisticated versions of what, years later, I would call Analog Baroque. Listen to clips from the operetta here.


8. Hiller has many intriguing Japanese connections. He lived in Tokyo for a while in the mid-80s, marrying Izumi "Mimi" Kobayashi. An ex-member of Parachute, Kobayashi composed the theme song to the manga "Urusei Yatsura" and later worked with Mathilde Santing. Hiller and Kobayashi had a son, Kentaro, and Hiller's most charming album is his 1995 horspiel Little Present, a record of a trip to Tokyo to see his son which combines ambient sounds -- train stations, TV commercials, his son playing -- with compositions built out of samples from Hiller's DAT recorder. One of Hiller's best productions is the 1989 album he made with Kobayashi, iK.i. This anticipates the school of Japanese pop I've called Matsuri-kei. Hiller worked on his mid-80s albums with vocalist Kaori Kano. In 1988, under the name The Three, he collaborated with another Japanese woman, video artist Akiko Hada, who filmed him and Karl Bonnie bashing various objects then edited the sounds into music simply by cutting the video. "Ohi Ho Bang Bang" (it sounds like a late Beckett play) is a rare example of perfect synchronization between beats and visual edits.



8. Kind people over the years have sent me ultra-rare Hiller items -- his world music projects (he's made records in Cuba, or the faux-Vietnamese EP Ha't Voi Que Huong) or his horspiels for German radio, the best of which is Keischlahuwe, made, I think, for WDR sometime in the late 90s. Here's the Introduction and here's Part 2.

9. I think it might be time for Hiller's sound to be re-assessed and appreciated. Not just because hot producers like Rusty Santos are suddenly taking an interest, but because the 80s is back, and with it an appreciation of the gleefully reckless, epic and arty sample pop of, say, The Art of Noise's "Close to the Edit". If you get that far, delve a little further into the art of noise: track down some Hiller. As Paul Morley might say, he's where Nam June Paik meets Frank Zappa, where Fluxus and the Futurists meet... well, late period me.

10. A little anecdote. In 1991 I wasn't getting on too well with Creation Records. So my manager made me demo for Mute. Daniel Miller said he'd be interested only if I were going to be an ultra-commercial synthpop act, not an obscure arty act. He tended to keep a few of those around if they were friends, but I wasn't a friend; I'd be a cash cow or nothing. So some demo time was booked in the Mute studio on the Harrow Road. I turned up, to be confronted by an empty room, an unfamiliar mixing desk, and a bunch of outboard I didn't even know how to switch on. Nobody arrived to help me, and finally I just packed up my tapes of "cash cow" material (the cassette is labelled "Demos for the Mute LP Shyness") and went home. It was one of the most humiliating days of my life. Who was the resident Mute engineer at the time, the missing man, the shy guy who stymied my Shyness album (an album I ended up making with The Poison Girlfriend for Nippon Columbia instead) by not showing up for the session? It was none other than Holger Hiller.