OK is a shop on Berlin's fashionable Alte Schönhauser Straße which sells cheap but carefully-selected 3rd world goods -- "objects of everyday's life are presented which might not compete with common german product quality standards, but which fascinate by means of design and creativity," says the shop's website. "Whether handcrafted or industrially mass produced, all items are originally produced for their local markets. None of the producers intended to export these goods to the West".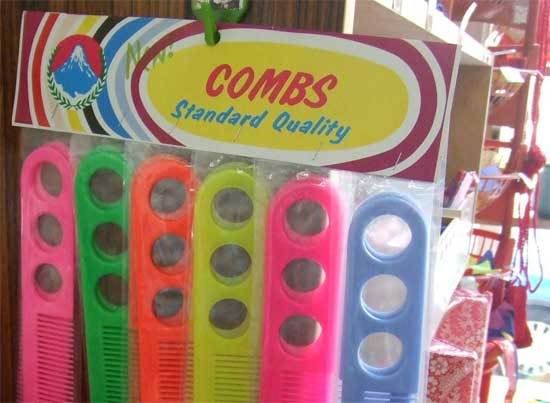 That foreignness was apparent to me yesterday when I snapped this packet of combs at OK. I think they're made in India. What interested me was the brightly-coloured plastic, the unusual and elegant form of the combs, but also the tremendously generic and honest labeling of the packet. Marketing in the West rarely calls a spade a spade, a comb a comb, or standard quality "standard quality".

Describing the difficulty of buying a cup of coffee in the West, literary critic Stanley Fish complained in the International Herald Tribune recently about "a drink with more parts than an internal combustion engine", whose elements have to be specified by the customer in a painfully-acquired Starbuckian babble: double shot, skinny, breve, grande, au lait, all packaged in a size system skewed, illogically, to bigness. Short, Tall, Grande, Venti goes the scale, with no regular, standard or normal in sight. You could say, in fact, that the Starbucks philosophy is the opposite of the rush to middle ground seen in politics (a trend which eradicates choice). In the coffee business, in contrast, the trend is to make the middle ground disappear entirely, and sink the consumer in a mire of options.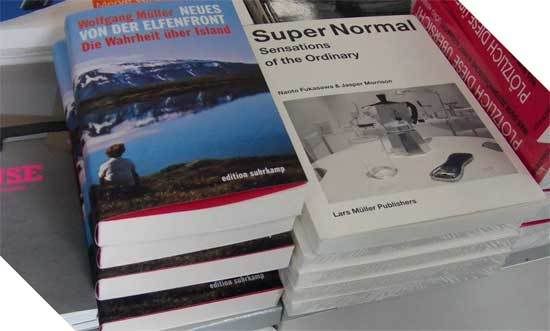 After noting the refreshingly "standard quality combs" at OK, I saw a book at ProQM which seemed to click with the theme, and to suggest that -- as so often happens -- 3rd world pragmatists and the anti-design theoreticians of advanced nations are thinking alike. Super Normal: Sensations of the Ordinary is a new book by Naoto Fukasawa and Jasper Morrison. It's a compilation of text and photos of 204 everyday objects which exemplify what Fukasawa and Morrison have called "super normal design".

Super normal design means design which, instead of trying to stand out by making a statement or being "stimulating", blends into the background, becoming unobtrusive but indispensable. (It's no surprise that Fukasawa has worked for Muji, whose "no brand goods" aspire to exactly this sort of unflashy normality.)

"When people hear the word "design," they think "special"; creating "special" things is what everyone, designers and users alike, assume design is all about," explains Fukasawa. "In fact, both sides are playing out a mutal fantasy far removed from real life. I'd like us to explore whatever we might conceive as Super Normal. I take an interest in collecting such things. I want to share the fun, the pleasure of reconfirming an appeal in things we'd disregarded as "naff." Not that I propose sticking "Certified Super Normal" product design award labels on things. It's much more of a quietly seen unseen, a refreshing surprise that awakens the person who had thought of looking for something obviously special in design by instead reconfirming what we already hold important and so perhaps letting us break free of our current design paradigm straitjacket. When I'm true to my feelings, I really "get" Super Normal."




Writing in the International Herald Tribune about the pair, Alice Rawsthorn defined the element of critique which makes this a sort of anti-design: "Both Fukasawa and Morrison resent the mediatisation of design and the tendency of young designers, in particular, to fall into the trap of creating superficially spectacular objects to generate media coverage, rather than to be used. They are equally critical of the tendency of designers and manufacturers to churn out a new version of existing products, simply by restyling them to make them seem more exciting, without considering whether or not they are needed." (The International Herald Tribune had good reason to cover Super Normal; their newspaper was included as an example of good Super Normal design in the Super Normal exhibition which forms the basis for the book.)

There's a protestant dimension to the concept of Super Normality (only Swiss graphics and a monochromatic photo would do for the cover of the book!), but also a reference to the "satisfying economy" built into a lot of Japanese thinking about design, from the Muji concept through the new Japanese art I've dubbed Supereveryday.

You could relate Super Normal to the concept of shibui, defined by novelist Trevanian (who calls the aesthetic "shibumi") as "great refinement underlying commonplace appearances... a statement so correct that it does not have to be bold, so poignant it does not have to be pretty, so true it does not have to be real."

Wikipedia defines shibui as "events, performances, people or objects that are beautiful in a direct and simple way, without being flashy... a particular aesthetic of simple, subtle, and unobtrusive beauty. Like other Japanese aesthetic terms, such as iki and wabi-sabi, shibui can apply to a wide variety of subjects, not just art or fashion. Originating in the Muromachi period (1333-1568) as shibushi, the term originally referred to a sour or astringent taste, such as that of an unripe persimmon. Shibui maintains that literal meaning still, and remains the antonym of amai (甘い), meaning 'sweet'."

With Super Normal, we reach a number of interesting paradoxes. That the 3rd world and the design avant garde of the 1st world might be thinking along the same lines. That normal might be the new special, and that standard might be better than exceptional. That the marketing vocabularies of couture and pret-a-porter might have traded places. That it's precisely the bland middlebrow middle classes who want to call everything "extraordinary", and that it takes someone quite aristocratic to want to champion the virtues of the normal and the standard. That utility might secretly be a decorative value too. That things stand out by blending in. That the designer, having won the right to be a superstar auteur, might suddenly want to be a butler.

"How would you like your coffee, sir?"

"Oh, normal, please, Jeeves, and hold the sugar."