It's autumn 2007. We should be getting the gist, by now, of what the style of this decade -- what the Lyon biennale is calling "a decade that has not yet been named" -- has been all about. I tend to cotton onto decades around about the eighth year. If you'll allow me to jump in a couple of months early, I'll give you my barometric reading of the noughties now. I think this decade has essentially been about the dialectic between guilt and exuberance. The polarities flicker, complementing and contradicting each other.

Basically, this flicker thing is the result of a debate we're having with ourselves about consumerism and responsibility: should we try to act responsibly and pioneer an ethical consumerism of "controlled shrinkage", or should we fiddle while Rome burns -- grabbing other people's oilfields and melting the poles in the process? Should we go the way of recycling, fair trade and organic ingredients, or the way of brash colours and drugs and hedonistic oblivion? The answer, so far this decade, is "both". Back in April I laid the style dialectic out in a piece called A conversation between Apollo and Dionysus which put the Bape-like jackets of CassettePlaya next to the controlled graphic design of magazines like Monocle and Fantastic Man.





The sort of plain designs covered in Fukasawa and Morrison's Super Normal book have their origins in the late 80s, when everything from Mac computers to Coke got rebranded as "Classic" -- the unique selling point being a fetishized reversion to a "timeless" plain vanilla form of things, an ethical investment in solid, sensible practicality. This Apollonian-Vanilla "return to simplicity and utility" (super-protestant, eco-conservative, but also a kind of ancestor worship) ties in with consumer guilt about excess -- it's the anorexic antithesis to consumerist bulimia. It reduces, slims down, strips away. It's like someone with a headache who can't stand too much noise. To the extent that guilt is very much present in our unnamed decade, Apollo-Vanilla moralism (think of Katherine Hamnett) still speaks to us. But the yin to its yang is the style being described variously as Nu-Rave or The New Ugly. For convenience, let's call it Ugly Nu-Rave.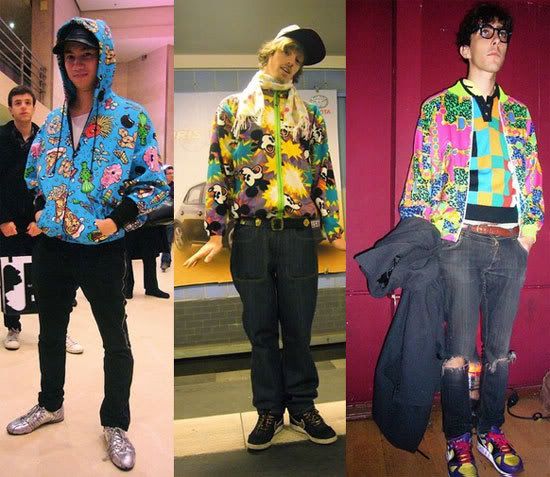 Ugly Nu-Rave is all about brashness. It draws inspiration not from guilty, conservative 80s "classic vanilla" culture but from the acidic club culture of the early 90s. It's unapologetically ugly; beauty is just yesterday's brash energy turned tame, formulaic, canonical and predictable. If organic, ethical, conservative Apollo-Vanilla is the anti-folk movement, Ugly Nu-Rave launches, this decade, with Electroclash -- Fischerspooner, Chicks on Speed, Exchpoptrue. It's a party style, not a proddy style. It's all about embracing energy and colour, rejecting guilt. It revives the drugs-and-hedonism of early 90s acid house club culture. Of course, this can be combined with ecological awareness -- think of Paris collective Andrea Crews, who party hard but make a virtue of recycling secondhand clothes and working closely with charities like Emmaus. So Ugly Nu-Rave works well with Apollo-Vanilla.




Take graphic design. If the Apollo-Vanilla look of Monocle and Fantastic Man is rooted in Purple magazine's late-90s "return to order" (Times type and sensible layouts!), Ugly Nu-Rave worships a different ancestor in the same era: David Carson's cluttered, exuberant Raygun style. In August, Creative Review ran a feature on The New Ugly which nested the basic dialectic in the question: "Stretched type, day-glo colours and a flagrant disregard for the rules: are we witnessing a knee-jerk reaction to the slick sameness of so much design or a genuine cultural shift?"


Creative Review focuses on the controversially stretched type Mike Meiré made for his redesign of 032c magazine recently, and Meiré is an interesting case, because his Brand Eins design, earlier in the decade, very much took the tidy Times route -- he seems to have switched from Apollo-Vanilla to Ugly Nu-Rave out of sheer boredom. But if I'm right that this isn't so much an opposition as a dialectic (and-and rather than either-or), well, why not go from one to the other and back again? I'd say some of the more interesting of today's bands (Thieves Like Us, Battles, Hot Chip) are both "stretching type" and being neo-classicist. Think of the "novelty" vocals in Battles' Atlas, or think of Bjork's double whammy -- her Nu-Rave sleeve for "Volta" and her eco theme in first single "Earth Intruders".

Another example of a nice balance between Apollo-Vanilla and Ugly Nu-Rave (between responsibility and brashness) is my current favourite fashion blog, Merry Daily. Tokyo Bopper, where these bloggers work, is a shoe and fashion store in Harajuku selling hiking boots with brightly-coloured laces. They're fascinated by "classic" camping and hiking designs like rucksacks, or folk-trad designs like tartan. There's clearly a conservative-conservational, ethical and ecological message in that, but they want to be brash and colourful too -- you see that in the high-contrast colours, the laces, and in the graphic design on their style sample books; no Muji-style plain white backgrounds here! The too-conservative, ethical and ecological themes of Apollo-Vanilla are balanced by Ugly Nu-Rave's redeeming transformative power. As artist Thomas Hirschhorn puts it: "Energy, yes! Quality, no!"