There's a fairly standard piece of Berlin hype in today's Observer. What interests me about it is that whenever a city gets super-creative, the reference point (for both convergences and divergences) is New York, as if the Big Apple were the eternal gold standard of hip.




The Observer piece quotes the New York Times: "Berlin is like New York City in the 1980s. Rents are cheap, graffiti is everywhere and the air crackles with a creativity that comes only from a city in transition." After his recent trip to the city, my friend Roddy Schrock made a similar observation:

"Berlin is... a living city constantly rubbing out little bits of its historical scars, but never fully erasing them, trying to forget but afraid to at the same time. And within that process an incomparable ecological system of culture and art is currently thriving. I can only imagine that it is similar to what downtown New York must have been in the 70's. But without the crime and grit and with an urban infrastructure that seems to work nearly flawlessly." A few days later Roddy still hadn't got over Berlin.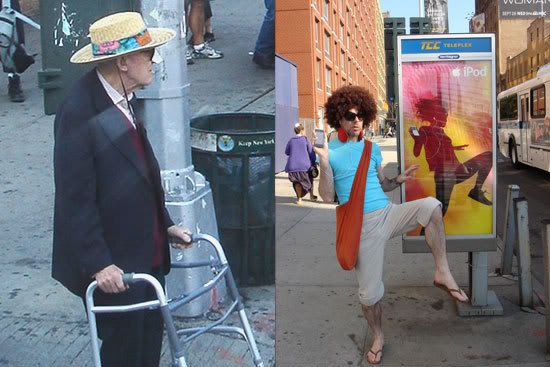 I went yesterday to the Japan Society, where there's a very good exhibition called Making a Home: Japanese Contemporary Artists in New York. There are pieces by my friend Hiroshi Sunairi, by zany dollhouse-maker Misaki Kawai, and by Yoshiaki Kaihatsu. The labels next to the pieces list the date the Japanese artists came to live in New York, but omit the date they left. The label next to Kaihatsu's polystyrene teahouse, for instance, says: "Made his home in New York in 1998 at the age of 32". It doesn't mention that Kaihatsu now lives in Berlin. Maybe he moved because, to quote Damaso Reyes in the Observer article, "gone are the days when up-and-coming painters such as Jasper Johns and Robert Rauschenberg could rent a huge loft in Manhattan for just a few hundred dollars a month".

I had dinner last night with my ex-wife Shazna, now very happily married to an American called Ron. Ron and Shaz came to Berlin in February and are still talking about it. They think about moving to the city. It's understandable -- the rent on their (beautiful) apartment near Wall Street is over $3000 a month. In Berlin, I just have to scrape together a couple of hundred euros. I must say I had to laugh when Shazna told me with a sigh: "This area used to be a good place to live, but now all these jocks in blue shirts -- financial workers -- have moved in."

"Wait, you're living more or less on Wall Street and you complain about financial workers moving in?"

Shazna explained that, while the financial workers have always worked in the area, they haven't always lived there. Now the streets are full of ribald, rich jocks. "Shiver me timbers!" a knot of them shouted at me as I made my way between the taxi and Shazna's door. All around towered bank buildings, their air conditioning filling the cavernous streets with a constant flat din. The new towers under construction are residential ones. My timbers shiver to think what the rent will be.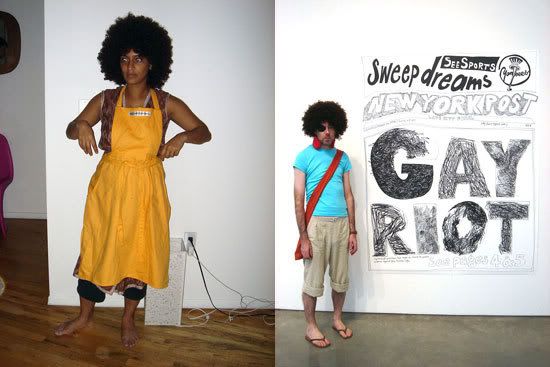 After dinner Shaz and Ron took me in a taxi to a fashion blog launch in Williamsburg. The atmosphere in the back room did feel Berlinesque -- a big painting of an ape woman hung behind the bar, and the fashionistas wore tiny top hats perched on their heads. Quickly, though, it became apparent that the event lacked something. The girl behind The Shiny Squirrel came over to Ron and me. "I just want to make sure you have cards," she said, making it quite plain that her mission was to give us the card bearing the blog's URL then move on. I got the impression that there wasn't much going on at the party beyond marketing.

When I got home I fished out the card and dutifully hit the website. I was confronted with a range of items I could purchase. Those in-your-face "purchase" buttons are pretty much what today's New York is all about. They're essential, of course, because rent in the city is steep. But they make New York life a bit predictable. Roddy Schrock puts his finger on it when he says (of San Francisco after his Berlin trip): "I'm not quite sure where to find surprise... Where are the unknowns?"

The name of the bar we were at in Williamsburg? Supreme Trading. Maybe these days New York is just the gold standard for, well, gold.