You'd think I'd have OD'd on art biennials after spending three days in Venice. But no, apparently not. Apparently I'm an art biennials "junkie" who needs his art biennials "fix". This weekend I was back to the "habit", warming the art biennials "spoon" over the art biennials "candle", ready to plunge yet another "syringe" full of art biennial "horse" into my "arm". The "stuff" in question was the Göteborg International Biennial for Contemporary Art, rejoicing in the splendidly post-protestant title "Rethinking Dissent -- on the limitations of politics and the possibilities of resistance". It was "high-grade heroin" indeed.




Okay, let's junk the silly heroin metaphors -- exactly the kind of talk I was criticizing in my Down With Fun lecture-cum-Scottish-country-dance-performance on Friday. Biennials are great not because they're addictive, but because they needle and probe a bit deeper than the decorative, fun stuff on display in commercial galleries and municipal museums. They're the conscience of the modern city, the closest thing we have to sermons. They're serious and thoughtful, and art is a good way to think, a chaotic and charismatic way that comes up with some unexpected combinations and conclusions.




So while I also visited and enjoyed the lighter, more pretty, decorative and consumer-friendly art on show in Gothenburg's commerical galleries -- the Ragnar Persson show at Box, for instance, or the enormous and hilarious David Shrigley show at the Malmo Konsthalle -- it was the Gothenburg Biennial, spread out across four venues, that really interested me, precisely for its sermonizing, its high -- if you will -- "horse".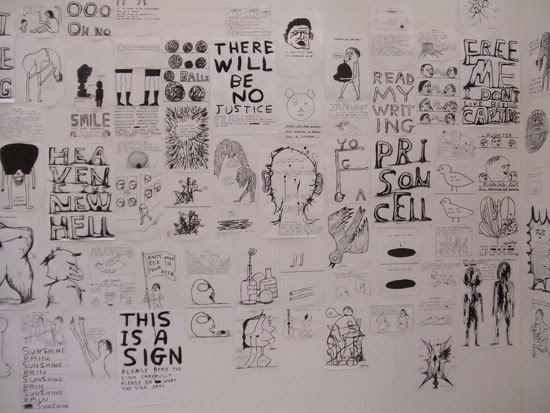 Here's how the blurb runs: "The title, Rethinking Dissent, is meant to encourage reflection on the meaning of 'Dissent' in a time characterized by the dominance of global capital, operating on a level above politics. A "scoundrel time", according to the philosopher and sociologist Slavoj Zizek, when even the political left has adjusted to the functioning of a globalized market economy and thus ceased to offer any real political alternative. Moreover, a time in which our lives and our understanding of the world are affected by a continuous state of war -- a war that is widely presented and explained to us as a clash between traditionalist Islamic fundamentalism and modern liberal democracy. Is this supposed ideological antagonism the main reason behind today's transnational conflicts? If not, what is this global war really about and what are the consequences of a prolonged state of emergency, legitimizing increased surveillance and a curbing of civil freedoms and rights?" Yes! Or should I say, No! Pump that negativity into my arm, minister, curator, or whoever you are! Because without it a city is just shops, flats and offices. A body without a soul, a mind without a heart, losing every part, woah woah!

Rethinking Dissent offered lots of video art about the Israeli-Palestine problem (Mario Rizzi's "Neighbours", for instance) and the Israel-Lebanon war (Beirut artist Lamia Joreige's "Objects of War"). It synced very aptly with the concerns of the city; I arrived at the Rote Sten, the biggest biennial venue (a warehouse under a bridge), in a taxi driven by an Ethiopian who told me about racial tensions in Sweden. A sound piece at the door, modeled on the notes to US visa application forms, proclaimd a long list of people who weren't allowed to enter -- a list that finally included every possible category of human being. It felt very much like a continuation of the conversation I'd been having with the taxi driver.




In other biennials news, the participants list for the 2008 Whitney was announced earlier this month. I was really pleased to see the inclusion of Dexter Sinister (David Reinfurt and Stuart Bailey of Dot Dot Dot magazine), Omer Fast, Mika Rottenberg (responsible for amazing installation performances, like the fat lady one shown above), DJ Olive, Phoebe Washburn and -- particularly -- Mika Tajima of New Humans and Luke Fishbeck of Lucky Dragons.



Despite the inclusion of these wonderful artists (not to mention people like Spike Lee and Gang Gang Dance), this next Whitney looks a tad more twee-decorative, a tad less dissident-truculent than the last one. The 2006 was called "Day For Night". Next year's doesn't have a title, but the 2008 Berlin Biennial is called "Day and Night". What a junk title! They should have asked me, I'd have come up with something much better. How about "High on Horse"?