Today Current TV -- the Emmy-winning interactive TV network set up by Al Gore and Joel Hyatt -- is supposed to be running a promo video from me in its New Icons section all day. I can't find the video anywhere on their site. Perhaps it'll go up later on the main page, replacing the girl squirting milk into her mouth from a cow's udder. Or perhaps it's on the cable TV network rather than the website? But anyway, let's talk about matters utterly other than udders. Let's talk about interactive TV.




Current began, as a concept, shortly after Gore's disastrous experience in the 2000 US elections. He wasn't happy with cable networks like CNN, but the original idea was to make something quite similar -- a cable TV network. This is what launched on August 1st 2005: the first 24-hour network based around viewer-created content.

This is what I find interesting about the network, whether it's on TV or the web. I don't really watch terrestrial TV any more at all -- can't stand the stuff. I mostly watch YouTube -- last night, for instance, I came in from a bunch of Berlin art openings and watched James Kalm's videos of New York art openings for an hour or so.

YouTube is great, but it can be a bit random -- or do I mean not random enough? You tailor your viewing entirely to your personal whims when searching for stuff on YouTube (I followed James Kalm's artcam with a lovely Krtek the Mole animation). Basically, on YouTube you are your own network controller, deciding what to watch and when. The service is making leaps and bounds towards a different structure, though -- click the picture full screen and you'll see they've added a clusters key next to the play button. The clusters key turns related videos into bubbles drifting through space, which gives you a new way to make jumps from one piece of content to another. I discovered it the other evening searching for a video of Toshiko Oiwa, a Paris-based Japanese dancer who's in town just now. I got a cluster of related dance pieces that looked like this:




Now, obviously no terrestrial network is going to lay out, in the form of drifting space bubbles, an instant proposal for a themed evening of dance television tailored to the arrival of my friend's girlfriend in Berlin. But there's something quite good about old terrestrial television -- the way people chose what to tell you, and made reports about things, and were able to create new interests rather than responding to pre-existing ones.

That's more what Current does. It's intermediate between old media television (terrestrial) and new (web). The concept centers on what Current calls vc2 -- viewer-created content. That's structured into pods, journalism, promos and v-cams. Pods are "short videos that tell a story, profile a character and/or share an idea". They tend to be amateur content filmed with a fixed webcam. Journalism is "news segments made by VC2 producers who follow our highest journalistic standards". Promos are ads for the network itself, made by users. V-CAMs are amateur-made adverts for corporations like Toyota. Yes, the users of this network made the ads themselves. They earn anything from $1000 to $50,000 per ad, depending on where it's shown.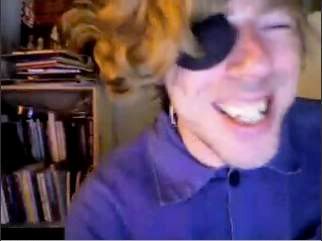 Ordinary web users also write the news bulletins on Current. Since October, Current has added amateur news clips to its professional news reports. You can comment on a video report with a video report. Of course you could upload news reports to YouTube, but because it doesn't really have any editorial flow (or any accompanying cable network) your news would get lost there, sitting on your YouTube page, waiting for people to search the relevant tags and keywords. Current is slightly more push than that, slightly more old-school and top-down. But its mixing of different levels of professionalism, and its payments to amateurs, makes for a radical and interesting structure. It kind of reminds me of Fabrica, Benetton's art school-cum-ad agency. If you're selected (based on your portfolio), you can study at Fabrica free. But any work you do there can be used by Benetton's ad agency in its campaigns.

Current has some interesting reports made by professional producers. Scribes of Bollywood, for instance, looks at the scriptwriting hopefuls who hang around the Mumbai film studios hoping to sell a script for a paltry $5000 or so -- or even have the "privilege" of seeing their ideas stolen for no money at all. Billy the Racist looks at an anti-discrimination campaign that ran in Denver recently, only to provoke complaints that it was, itself, racist: the only negative character was a white guy.

Producers making these reports get paid $2,500 for them. That sounds okay, but Current has a currency problem: the dollar's purchasing power is shrinking. As the International Herald Tribune reports, some producers based outside the US are starting to feel that it's hardly worth the effort.

"Josh Soski moved from San Francisco to Barcelona in September to start a freelance video production company that supplies clients like Current TV in the United States with short video features on European stories," the newspaper reports. "These days, he said, he finds himself sitting on his bed, with his head in his hands, obsessively checking currency rates on his laptop. "They pay us $2,500 for a piece, and you cash it in and it's €1,400 or less. That's shocking," said Soskin, who finds himself debating whether to splurge on a €3.50 bottle of water at the airport or indulge in a can of his favorite Mexican black beans at €4."

"To survive and hedge currencies, Soskin is now scouting for European clients who will pay him in euros. Other self-employed workers - from medical translators to online entrepreneurs - are simply cutting off their American clients because it is no longer worth working for them."

America -- home of strong ideas and a weak currency. It wouldn't have happened under Gore.