"Hey," came the message, "I'm a Brit in Berlin, making a film about Brits moving to Berlin for Current TV. Would you consider giving me an interview about the reasons for your move here, comparisons between London living / Berlin living?" Well, sure, why not? But it's a bit of a convoluted picture. I wonder what I'd say? British I may be, but I didn't move to Berlin from Britain, I moved here from Japan. And I experience Berlin in a highly specific way: I live, you see -- almost exclusively these days -- in the city's Japanese Bubble. It's a tiny world, a subset of a subset, with hardly any supporting infrastructure. But I enjoy it a lot.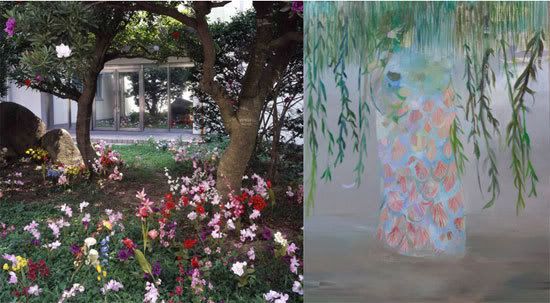 This week, for example. There was Aya Onodera's painting show finissage party on Sunday, ramen at Cocolo Ramen in Mitte with Jason Forrest and Jen Ray on Monday, and on Wednesday night a music show featuring Daisuke Ishida, Lambent and Hisako, part of an exhibition featuring six Japanese artists. The show's curators, Shintaro Miyazaki and Eri Kawamura, call themselves La Condition Japonaise and define their mission as "a neverending search of the state of contemporary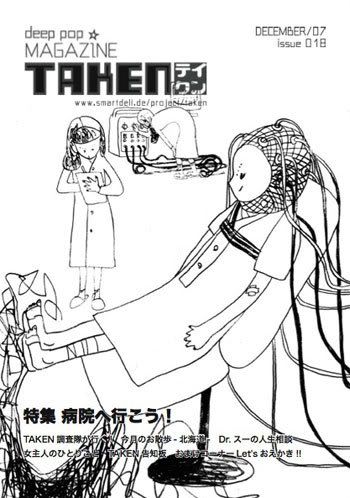 Japanese arts... seeking for a more accurate view on the diversity of contemporary Japanese culture and society... The center of our activity is Berlin." Bang in the middle of the city's Japanese bubble, in fact.

It's still a small community. There's no Japanese supermarket here (for that you have to go to Dusseldorf), no Japanese bookstore. (Well, there is one in Charlottenburg, a damp little place with a few manga books, warmed by an electric heater. But nothing like the magnificent ones in Paris.) There's no Japanese infrastructure because there's no Japanese business community here -- just a bunch of artists and musicians. So there are some art businesses. There's a Japanese record label, Onpa, run by Habu Kazuhito. They've been here almost a year. There's a small Japanese-language magazine, Taken, run by Yumi Son of Smart Deli Project. There's a Japanese Club, Koi Klub, that does the odd party. There's a Japanese art gallery, Murata and Friends, up a staircase at the back of a courtyard in Mitte.




But because these art businesses cater to such a small community -- the Japanese people in Berlin, and their non-Japanese friends -- and because those of us in the bubble don't really have much money (we're hardly an identifiable consumer market worth targeting), they're a bit wobbly, a bit unstable. Koi Klub has moved three times since I've been going, and doesn't seem to have a party scheduled right now. Yumi tells me the new edition of Taken magazine will be the last (you can still download pdfs of all the old ones on her website).



Milling around last night at General Public, the Berlin gallery hosting the Japanese art show, I asked a few of the familiar faces there how they felt about Berlin's Japanese bubble. Art student Yoshito Maeoka told me it was all about UDK, the huge Berlin art school which has quite a few Japanese students and two Japanese teachers. Electronic musician Daisuke Ishida told me it was pleasantly unusual to see Japanese people getting together outside Japan -- usually, he laughed, they ignore other Japanese they see abroad. "Ha, I'm like that in Japan," I said, "I want to be the only foreigner there!" (The-Only-Gay-In-This-Village Syndrome, we could call it, or Gaijin Royale).




"It's good that it's such a small community, it makes for closer connections between the people," Habu from Onpa Records told me. "There are so many Japanese people living in Berlin who are artists and musicians, working for art. More people than other cities in Germany. I'm running my label in Berlin since last April. Before I was in Frankfurt am Main. The Japanese people in Frankfurt are very different."

His label is releasing music by Japanese artists. Why here and not in Japan? It's partly because life is cheaper here than in Japan, Habu says. But it's also because here you don't have to fit into the Japanese music industry. "It's easier to stand out here. And it's easier to get press in Japan if you're based in Germany than if you're based in Japan!" So you can be a big fish in a small pool? "Exactly! A big koi in a small pool!"




Of course, it isn't just Japanese people in the bubble. There are foreigners who just love and are attracted to Japanese culture, have Japanese partners, go to Japan as often as they can afford. There's me, of course, and there's designer Jan Lindenberg, the guy with the beard in the photo above. At General Public I talked to another designer I see at all these bubble events, Andreas Rupprecht. "Especially for art and electronic music, there is a bubble," he told me. "I go to other events too, but Japanese friends of mine are involved in art and music. There's more Japanese community now, it's growing a lot, month to month... Some returning Japanese tell me they find it hard to fit into the hierarchy back in Japan."

This is what I've called elsewhere an emerging third culture, a hybrid of the local and the global. A "super collider" culture, we could call it. It involves Japanophile foreigners in diasporan Japanese bubbles in cities like Berlin, Paris, London. It involves expat Japanese. But it also involves people of mixed nationality. Murata from gallery Murata and Friends is half-German, half-Japanese. Shintaro Miyazaki was born to Japanese parents in Berlin in 1980, brought up in Basel, and came back to Berlin to study at the university and work with Murata. Here's a video of his work, made with the Super Collider program:



I think it's interesting that someone who is, himself, a kind of cultural collision should use a program called Super Collider. It's also interesting that he uses the favoured style of the Berlin Japanese Bubble -- formalist digital abstraction assembled on laptops, avoiding language or specific, explicit cultural references, but still recognizably "Japanese". It's a sonic language which smoothes harsh juxtapositions, in a sense healing them. This is the style Daisuke Ishida and Seiji Morimoto favour too, and the style Ryuichi Sakamoto uses when he's in town, collaborating with Carsten Nicolai. (The rumour is that Sakamoto is moving permanently to Berlin.) In 2006 I wrote a piece called Fatal MEETS vital which suggested that the "international" element being fused with Japanese local elements to make a hybrid was now digital culture rather than Western culture. Whereas in the 80s and early 90s Japanese artists would have proved their cosmopolitanism by injecting American or European elements into their work, they now tend to use the esperanto of digital soup instead. Check out Fadheit on Miyazaki's MySpace page -- all dusty rumbles, surface noise, high-pitched sine waves, white noise.


The visual artists seem to collide a little more specifically with their host culture: Megumi Fukuda plants red tulips in Berlin gardens and titles the result "Eternal Garden: Berlin as a Stranger". Taro Furukata explores the possibilities of the Tannenbaum, the German Christmas tree. A video by Seiji Morimoto points at the grass as he crosses a field, recording the sound of his feet on the objects he steps over. The work engages with Berlin environments, but the emphasis on plants (in all three cases) is rather Japanese, I think.

In my Mukokuseki Diasporans piece I wondered what would become of Tokion Japan, launched just over a year ago as "the first glocal magazine". Well, Tokion's current edition, a Glocal Spot Special released December 17th, will be the last. "Seems like the magazine hasn't been doing so well for a while now, so the end doesn't come as a big surprise," Jean Snow commented on his blog. Rewinding to its launch, it's worth remembering what Marxy said at the time: "The new Tokion is not so much about this messianistic mission of exporting Japanese cool, but looking at the local culture arising from the contemporary mix between foreigners and Japanese... My only concern is whether "we foreign Tokyo residents" are actually so interesting or dynamic to warrant such coverage."

It seems that the answer to that, from the public and from advertisers, was a resounding no. What the Berlin community proves, though, is that the bubble doesn't need much commercial infrastructure to fly. In fact, the less money and the fewer people there are involved, the higher this super collider seems to go.