My first experience of Hamburg's St Pauli district came in 1987. I was on tour supporting Primal Scream, and we were booked into a hotel in the red light district. While Bobby and the rest of the band larked about daring each other to throw a TV set out of the window ("because Keith Richards had done it"), I retreated to my room and watched hardcore porn -- the first I'd ever seen (it was officially banned in the UK). The following morning I got up early and went out for a walk. There was some sort of dramatic confrontation going on at the docks; barricaded squats on the Haffenstrasse, black flags aflutter and big dogs at the ready, were under seige by the police. Thinking Bobby, with his interest in politics and rebellion, would be interested in this, I went back to the hotel to bring him to see it. He told me he'd rather sleep.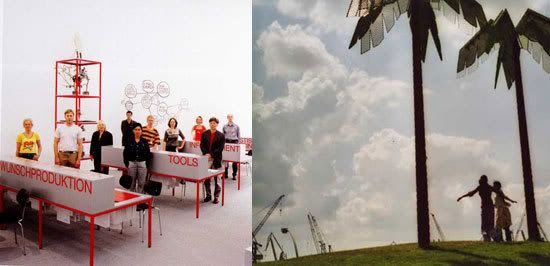 Exactly twenty years later I played Hamburg again, at the Golden Pudel Klub right next to those same squats. I met Felix Kubin, who gave me a copy of his fantastic song There Is A Garden. In fact, it could be the theme song of the St Pauli district itself. A lot has changed in twenty years, and not the least of those changes is the emergence, on prime real estate overlooking the docks, of a people's garden, the result of a decade-long political and aesthetic project by a collective of artists calling themselves Park Fiction.





It would be tempting, given my Primal Scream anecdote, to say that it was visual art activism that saved St Pauli, while rock and roll rolled over and slumbered. But actually, the Golden Pudel Klub itself is at the heart of the struggle to green St Pauli with grass and trees rather than money and commercial development. Bands like Schwabinggrad Ballet, Die Goldenen Zitronen and Die Sterne joined with the artists and filmmakers of the Park Fiction collective to protect the squats and the club and create a sort of fantasy garden next to it with "the fulness of an Arabic paradise garden, soft orange glow from a deep green".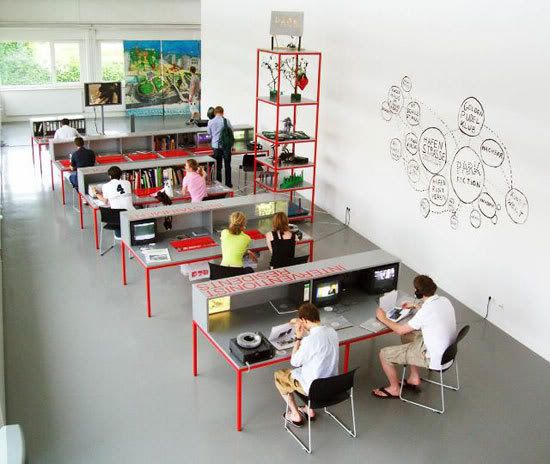 The Park Fiction group began in 1994, just asking local residents what kind of garden they'd like to see. A Turkish girl suggested a youth cafe with letter boxes for kids whose mail is monitored by their parents. A Russian couple wanted an avenue of friendship lined with rose bushes. The artists coined slogans: "Desire will leave the house and the realm of boredom, bringing the administration of misery to an end" and "Art and politics make each other more clever". They planned strawberry-shaped treehouses, treehouses with bathtubs in them, a swimming pool in the docks, poodle-shaped boxwood hedges, an open-air cinema, a hedge maze, a pirate well, an open-air Solarium, a flying carpet of wavy turf, and artificial floating islands with palm trees.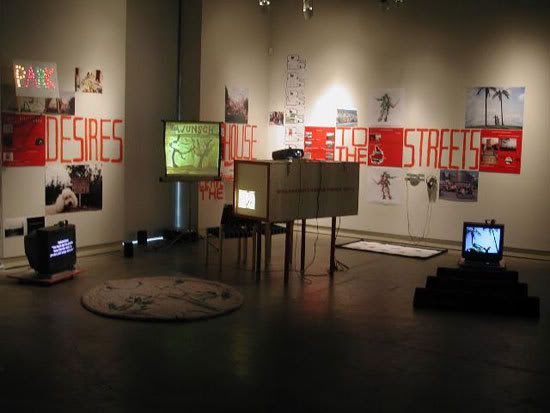 Their plans became first a film by Margit Czenki then an installation in the 2002 Documenta shaped like a cross between a Russian Constructivist urbanism archive and a 1970s language lab. There were different sections entitled Interventionist Residents, Desire Production, Tools and Infotainment.





Most surprisingly of all, though, these dreams have now resulted in an actual park. I've just checked it on Google Maps, and I can tell you that people are sunbathing there, in the shade of two metal palm trees. "There is a garden full of beauty," sang Felix Kubin, "There is a garden I will never see". Well, thanks to a combination of art and urban activism, you can see it now. Park fiction is park fact.