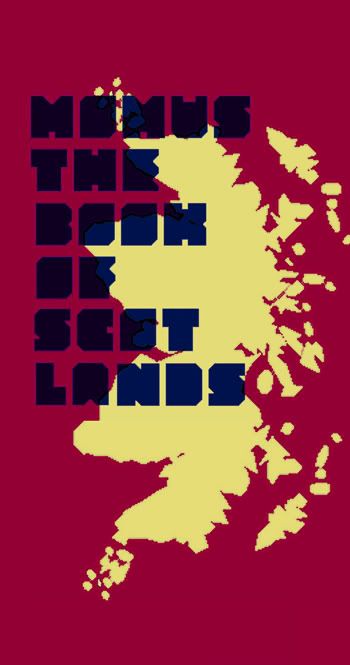 Momus
The Book of Scotlands
(Sternberg Press, Berlin, 2009)

The Book of Scotlands will outline, in a numbered sequence, one thousand Scotlands which don't currently exist anywhere, even in the most visionary speeches of politicians. At a time when functional independence seems to be a real possibility for Scotland -- and yet nobody is quite sure what that will mean -- a delirium of visions, realistic and absurd, seems called for.

The Book of Scotlands, published by Sternberg Press under the editorship of Ingo Niermann, will provide one answer to this requirement for focused dreaming about possible and parallel world Scotlands. Its author, Momus, is a Scottish artist who's been in voluntary exile from his homeland for over twenty years, living in Paris, New York, Tokyo and now Berlin. Paradoxically, of course, there's nothing more Scottish than leaving Scotland. Typically too, the further a Scot travels from Scotland, the more clear and powerful his "inner Scotland" becomes; in Tokyo, for instance, Momus found himself composing songs about 20th century Scottish vaudevillians, and in Berlin he made an album inspired by the parallel pagan Scotland depicted in cult horror film The Wicker Man.

In the spirit of Italo Calvino, Bruno Schulz and French animation series Les Shadoks (using any language, that is, except the "wooden tongue" of official discourse), The Book of Scotlands will brainstorm a thousand "possible Scotlands" and lay out the quiet frenzy of its imaginings in carefully-polished paragraphs. Did you hear about the Scotland that spent fifty years at war with Austria, perfecting its weaponry by sending spies to the Tyrolian republic? Or about the Scotland covered in equatorial rainforest and populated by cloned lemurs? Did you hear about the futuristic Shinto Scotland which models itself on the Japan of the Heian period? Or about Nova Caledonia, a lifeship suspended in geostationary orbit exactly 35,786 kilometers above Perth?

You probably didn't, but they'll all be in The Book of Scotlands.