I'm now safely back in Berlin (and we'll return to the significance of that "safely" in a moment) after being treated like a king by Candice Breitz and MUDAM in Luxembourg for four days. Or should I say "treated like a Grand Duke"? Apparently when I.M. Pei designed the pyramid-ish, cathedral-ish museum he was asked to create a special balcony from which the Grand Duke could survey both his principality and the art on display. Below you can see the view I got from this balcony when I transformed it into a sort of pirate-crooner's crow's nest:





Okay, here's why I stressed the safe return bit. I asked the very sympatico director of MUDAM, Marie-Claude Beaud, who the most famous artist from Luxembourg was. She said Michel Majerus, but that he'd left Luxembourg to live in Berlin, and then died in a crash on a Luxair flight between Berlin and Luxembourg -- exactly the flight I'd just arrived on, in fact! In 2002 Majerus' Fokker F50 crashed in thick fog on its approach to Luxembourg airport. The crew had mistakenly switched the propellers into reverse. Majerus was just 35. One of his works -- a curved canvas big enough to be used as a skate ramp -- was called, spookily, If We Are Dead, So It Is.




Other art tattle gathered here and there over the weekend: David Elliot, who was replaced by his Japanese second-in-command Fumio Nanjo at the MORI Museum in Tokyo in late 2006, then took up a post at the Istanbul Modern Art Museum only to resign ten months later ("musical differences" with the museum directors, apparently), may have a new job in America.

Similar turbulence is creating "interesting times" for Modern Painters magazine, whose new editor Susan Morris sat dutifully through all the Call and Response sessions. I remember her from her appearances on BBC 2's The Late Show in the 90s. Now she's remaking Modern Painters -- her first issue is devoted to artists' responses to the Iraq war. The magazine was bought by LTB media (who publish Art & Auction, Gallery Guide, Museums Magazine) and relocated from London to New York in mid-2006, though it still keeps its "co.uk" domain name. Some would say it's lost its way somewhat since losing a circulation and advertising war with Frieze circa the creation of the Frieze art fair. The new edition of the magazine looks distressingly anorexic -- less than 100 pages, compared to Frieze's 200. Susan Morris is the second new editor since the move to New York -- let's hope she can pull the Painters into useful shape. I'll keep reading it for Matthew Collings' musings, anyway.


Susan told me a terrible story about how Peter Fuller, the Marxist (but then conservative) art critic who created Modern Painters, died. Just three years after founding Modern Painters, Fuller, 42 at the time, crashed on the M4. His car burst into flames with Fuller trapped inside it. His political shift rightwards can be measured by the bellwether of his attitudes to the great John Berger: in 1981 Fuller published a book called Seeing Berger (about the excellent book and TV series Ways of Seeing). In 1988 Fuller revisited Berger, but this time the book was entitled Seeing Through Berger, and sported a cover with Berger's name scored out in the style of the blackboard erasures in Godard's film La Chinoise.

I also met a Swiss curator hero of mine in Luxembourg -- Hans-Ulrich Obrist. I was a bit bashful as I shook his hand. Obrist was talking on his cellphone at the time, so I just thanked him for his energy -- an energy that's energised me, in turn, over the last decade or so. The man is physically and intellectually tireless -- he only sleeps four hours a night -- but also restlessly curious, recording and publishing interviews with all the artists he meets, and helping to mediate Asian art to the West. Along with Rem Koolhaas he was responsible for the great Cities on the Move exhibition, and he was in Luxembourg talking about the big Chinese art show at MUDAM and introducing the artists. He lives in London these days, directing the Serpentine Gallery, but mentioned that he rents a flat in Berlin just for his books. He buys so many of them they need their own house.





One thing that amazed me, watching artists present their work off laptops all weekend, was how few of them -- despite the super-advanced feats of digital manipulation they were displaying -- knew the keyboard commands for entering full screen mode in Apple video software. Maybe it's because Quicktime uses Apple + F whereas DVD Player uses Apple + 0. So, if you're not quite sure which program you're in, you have to fiddle around with the drop-down menus. The same artists who could digitally erase a whole character from a feature film didn't seem to know that the floating control pad in DVD Player only leaves the screen when you move the pointer off it.

French artist Pierre Bismuth (he co-wrote Eternal Sunshine of the Spotless Mind) used this very public privacy to make a funny conceptual joke for us. We'd spent the whole weekend looking at other people's computers projected onto the auditorium screen, wincing for them as they fiddled around with DVDs and left a room of a hundred people gazing at their tax returns, flight schedules and jpg files. Bismuth's desktop was greeted with a subliminal, growing peel of giggles -- it contained files entitled "Cory Arcangel is a son of a bitch.doc", "and Jonathan Monk.doc", "and what about Gabriel Lester.doc". All three artists were in the auditorium. When the laughter started to drown out his talk, Bismuth casually dragged the insults to the trash.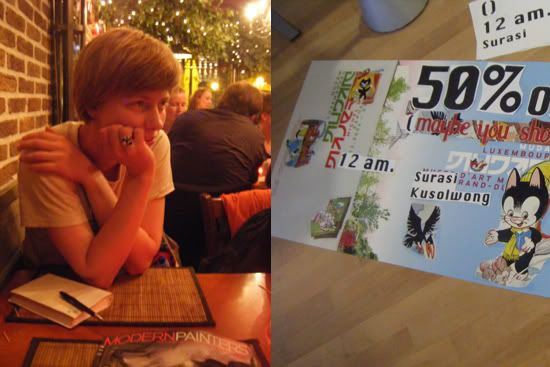 Another funny moment was Jonathan Monk's screening of various interpretations (in book and film, in America and China) of a silly story by Ed Ruscha, Crackers. The tale is pretty ridiculous; a rich man arranges a huge salad on a hotel bed, directly on the sheets. He then picks up a girl, brings her back to the hotel, and gets her to strip and lie down in the salad, whereupon he douses her with vinaigrette sauce. That's when he remembers he's forgotten the crackers. He goes to a grocery store in his chauffeur-driven limousine, leaving the girl lying there in the salad, buys the crackers, then goes to a completely different (and much better) hotel and, in a weird auto-erotic gourmet act, changes into a dressing gown and eats them alone.

In the question and answer session after this film the bolshy feminist girl who'd been challenging just about everyone throughout the conference (there's always one, and they often turn out to be the smartest person there) asked "Do you like this story?" Monk -- who's obsessively collected a dozen copies of the photo book it's based on and even made his own Chinese version -- coolly replied "I quite like it". The girl kicked up a meta-fuss in the final session, questioning the gender quotas (there were almost no women artists present), the arrangement of the chairs, and the over-formal division of artists from non-artists. Later, at dinner, I told her about a pamphlet I'd read when I was a fiercely critical student myself: The Tyranny of Structurelessness. It's about how even alternative movements -- particularly alternative movements -- need structure. "The pamphlet by Jo Freeman? I just read it two weeks ago," she said. "But have you read The Tyranny of Tyranny?" I hadn't, but the student enlightened me: the left may provide structure, but it's male structure. Ah well.