It's the last weekend of June, 2008. You're standing outside the National Theatre on London's South Bank listening to a couple of tour guides talking through loud-hailers. One is a skinny Western male, the other a Japanese female. Apparently it's a tour called London as Tokyo, and it's part of the Hide and Seek Festival, an event celebrating something they're calling pervasive urban gaming. Adults become kids, reality becomes fantasy, work becomes play, the city becomes a playground, one place gets mapped to another, that kind of idea.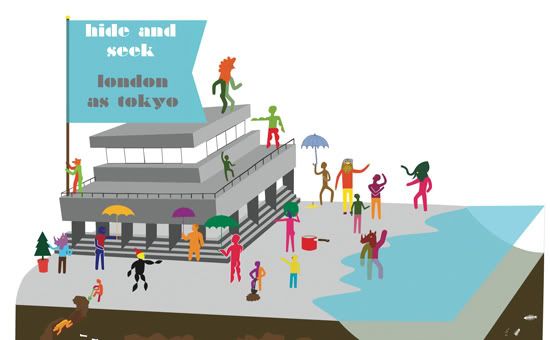 The tour guides are dressed in immaculate white aprons with hip-slung cream pouches containing leaflets about Tokyo. The lower parts of their bodies evoke waitstaff and information bureaux, the upper parts suggest bus conductors. The man informs a party of curious passersby that the building clearly labeled "National Theatre" is, in fact, La Foret, a multi-level fashion warren containing over a hundred independent fashion boutiques. We're standing, apparently, on the corner of Meiji Dori and Omote Sando in central Tokyo. Who knew?






Pointing across at a group of Spanish tourists snapping each other outside the National Film Theatre, the guide explains that they're actually Japanese teenagers who've come here specifically to be photographed by street fashion photographers. The Japanese woman then breaks in, excitedly informing the audience that Yama-Sama, the eccentric fashion icon who works at day-glo pseudo-Tyrolian hiking boot store Tokyo Bopper -- just round the corner on Cat Street! -- has been spotted wearing something polka-dotted. The audience whips round but sees only a family on a day trip from Leeds.

At this point, their consumerist appetites whetted, a few salivating stragglers break away from the tour and enter "La Foret", only to discover themselves in the 1970s ambience of a British theatre lobby. Instead of green glass trees designed by Klein Dytham they see faded red carpets. Middle-aged British people wearing rain capes are sitting by the windows eating overpriced salmon paste sandwiches. The splinter group steps back outside to find out what's going on, but the tour guides have moved upstream. They're heading for the London Eye, which they'll reveal to be, in reality, the elevated pedestrian walkways surrounding Shinjuku station -- a miracle of concrete transport planning carrying three million pedestrians per day in complete safety. They catch up just in time to learn about Japan Rail's earthquake drills and hear the story of Mr Sato, the gaffertape folk hero.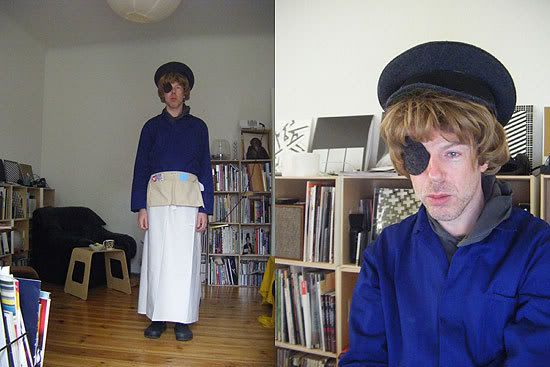 London-as-Tokyo
Momus and Hisae Mizutani
12:00pm to 6:00pm, Saturday 28th to Sunday 29th June, outside near the Southbank Centre, London

The London-as-Tokyo Tour is an action by Momus and his Japanese girlfriend Hisae Mizutani in which they'll ply up and down the pedestrian walkways of the South Bank dressed as tour guides, speaking through loudhailers about the buildings and sights as if they were places in Tokyo. Momus gave his first 'Unreliable Tour' in 2006, when he was invited to participate in the Whitney Biennial in New York, circulating daily through the galleries giving invented (and often absurd) accounts of the art on show. During Hide and Seek, Momus and Mizutani will transform London into Tokyo - a city they both know well - using nothing more than language and the collective power of imagination.