Accounts of our weekend as Tokyo guides in London are now all over the blogosphere, from
kineticfactory's description and Flickr page (Kineticfactory is an Australian called Andrew who lives in London) via Ross Hawkins' account on his blog The Ideal Tiger (Ross is an Englishman living in Toronto who makes music under the name Idle Tigers, pay attention at the back there!) to Among the Aisles, which even includes a little video embed of our performance. And in Andrew's photo here you see an amazingly similar idea we discovered at the Royal College of Art on Friday, a London-as-Tokyo piece by Sayako Ishida.


On Saturday night we were lucky enough to catch a rare performance by The Idle Tigers, a gig at a private birthday party held at an obscure nautically-themed pub down an alley in the dead London district dedicated to heraldry, yeomanry and inns-at-court. Idle Tigers recently signed with Matt Jacobson's label Le Grand Magistery, releasing a most original electronic vaudeville long-playing record entitled The Spirit Salon, available through Darla and via the iTunes store in America. I believe the Idle Tigers came to Matt's attention via an entry on Click Opera last year which described the band as occupying the intriguing place where "Lewis Carroll meets Brian Eno, music hall meets the avant garde, and the breezy meets the zany".

The show was great, and I videoed "the second best song I've ever written about Lord Byron":



Here, from Hawkins' own YouTube page, is "Light Entertainer in Prison":



We also met the charming Edine from London / Hong Kong indie band Marshmallow Kisses, and, after quaffing a jug of Pimms fruit punch on the hot South Bank superturf, we ended up dining with her and Andrew and bringing them to see the Idle Tigers show.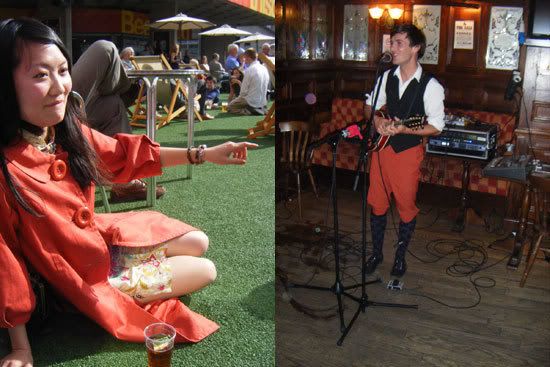 Here are a couple of video glimpses of Marshmallow Kisses. This is Everyone Else Is Ahead, Far Ahead:



And here's Alapati: