We've all heard of Balearic Beat, the jubilant, incessant 4/4 thump that makes people living in Valencia yell at people in Ibiza: "Keep that bloody racket down!" But what about Balearic graphics? Just back from a weekend in Vilanova i la Geltrú, I'd like to present a portrait of the town through its graphic design. Inevitably, we'll come back to Saturday's topic, Microsoft's Comic Sans, which has ravaged and reduced this town's once-rich graphic heritage. But let's start with happier sights.




These chemist's shop and hairdresser signs date, I'd say, from the 1940s, though I may be wrong. I really adore the letterforms here, Modernist but still quirky.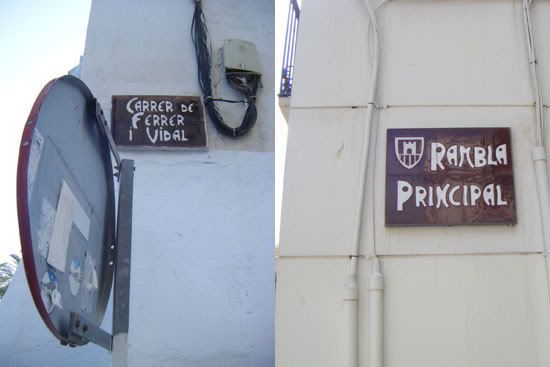 The tiled street signs are magnificent. I'd date these to the 1890s; they're clearly influenced by Toulouse-Lautrec theatre posters, the Paris metro, and Art Nouveau.




Train and restaurant graphics from the 1920s and 30s. High Modernism is all mixed up, in Italy and Spain, with Mussolini and Franco. It must be difficult for Spanish to admire Modernist graphics without thinking of these dictators.





Then again, I can't look at Comic Sans -- woefully popular these days in Vilanova -- without thinking of contemporary "dictators" and their "evil empires".





Even worse than Comic Sans on a Spanish cafe blind is Comic Sans condensed on a van or a supermercat Staff Wanted sign.




Microsoft paranoia began to set in at this point: could the writers of political graffiti also be using Comic Sans?




Here's a fascinating example of uniformity in the service of diversity: the same paper, with the same Helvetica graphics and the same stories, but two different language editions, a Spanish and a Catalan one, distinguished only by the red and blue tops. The lead story is about linguistic diversity, but the paper's title is wonderfully generic: The Periodical.




No Parking graphics from "the age of the car".




Some nicely-fatigued signs at the train museum, demonstrating that even where mechanical type systems strip a town of quirk and diversity, the weather can bring it back.





Our hotel had a splendidly non-harmonised series of monograms on towels and sheets.





Some nautical references in a fish shop and a block of flats on the seafront.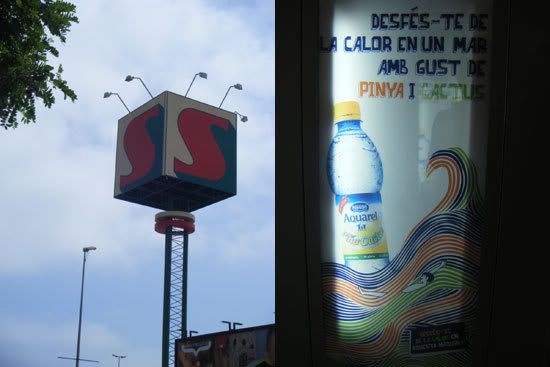 Finally, postmodernism gives us some big, bland drive-in graphics and a half-hearted attempt to revive the kind of hand-lettering -- and therefore the kind of personal, local, quirky charm -- its reductive uniformities of global logistics and standardization threaten.

But let's not forget that when it's fatigued, discontinued, safely historical, all this -- and even Comic Sans -- will take its place in the rich tapestry of graphic design's endless diversity. The rehabilitation of Comic Sans, as we saw the other day, has already begun. The dictator becomes, in the end, just another citizen, the crushing weight just another geological layer.