My latest columns touch on the subject of the relationship of art to money. Satirizing Luxury introduces New York Times readers to Chim↑Pom's "reverse auctions" and Michael Portnoy's "abstract gambling", both satires on financial procedures. Meanwhile, Genuinely Rude in Frieze considers whether rudeness in art journalism is healthy, and generally answers the question by saying that "the big yes" means little unless it's accompanied by "the big no", especially when advertising and PR is generally so unbelievably positive.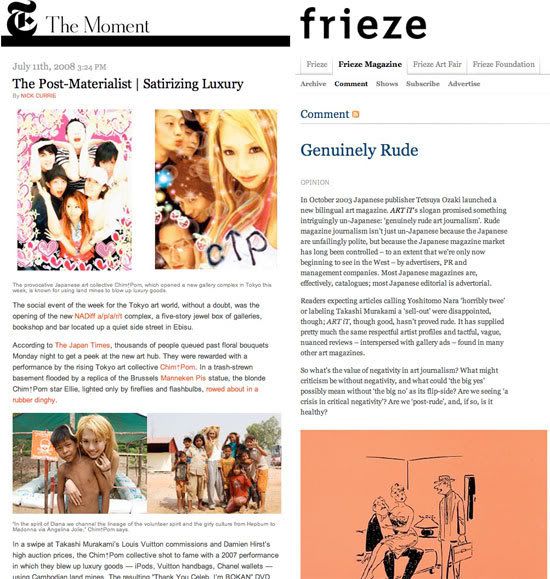 There's a passing reference in the Frieze piece to Don Thompson's assertion, in his book "The $12 Million Stuffed Shark: The Curious Economics of Contemporary Art", that broadsheet reviews have zero effect on the prices of contemporary art. Thompson's book presents a freakonomics-style list of strange-but-true facts about the financial structure of the art world. I quote a few of them from New Yorker András Szántó's summary in the Artworld Salon blog:

• Eight of ten works purchased directly from an artist and half the works purchased at auction will never again resell at their purchase price.
• For a branded dealer in a strong market, there is little financial risk in opening additional galleries. When paintings sell for $50,000-100,000, three sold-out shows pay for leasing and renovating the new gallery.
• Conventional wisdom in the art world is that four out of five new contemporary art galleries will fail within five years. Ten percent of galleries established for more than five years also close each year.
• Only one artist in 200 – and that is 200 established artists – will reach a point where her work is ever offered at Christie's or Sotheby's auctions.
• The past twenty-five years have seen a hundred new museums around the world, each intent on acquiring, on average, 2,000 works of art.
• The world of contemporary art is not that big. There are about 10,000 museums, art institutions and public collections worldwide, 1,500 auction houses and about 250 annual art fairs and shows. There are 17,000 commercial galleries worldwide, 70 percent of which are in North America and Western Europe. Average turnover per gallery is about $650,000, implying gross sales for the primary market and part of the secondary market of about $11 billion – of which $7 billion could be considered contemporary art.
• There are approximately 40,000 artists resident in London, and about the same number in New York. Of the total 80,000, seventy-five are superstar artists with a seven-figure income.
• In 2006, 810 works of art – all art, not just contemporary art – were auctioned for more than $1 million; of these 801 were sold at one or other of the two main auction houses.
• The $135 million paid by Ron Lauder for Klimt's "Portrait of Adele Bloch Bauer I" equals the price of a fully equipped Boeing 787 Dreamliner, an aircraft capable of holding 300 passengers.
• The number of wealthy collectors is probably twenty times larger today than it was before the 1990 crash.
• Fewer than half of the modern and contemporary artists listed in a Christie's or a Sotheby's modern and contemporary auction catalogue twenty-five years ago are still offered at any major auction.

Personally, I find artists playing with the rites of money (auctions and gambling, for instance) a lot more interesting than money facts about the art world. I wonder if disgraced Société Générale trader and "digital surrealist" Jérôme Kerviel -- who generated €1.4 billion in SocGen profits in 2007, then lost them €4.9 billion in three days in January -- has become an artist yet?