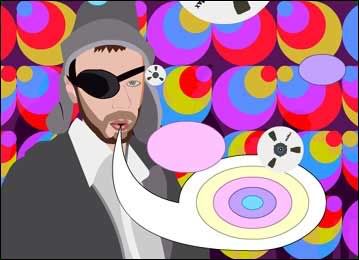 Getting ready for next week's shows in Berlin, Newcastle and Glasgow, I've been programming some new backing tracks for old songs. Some of them I've never performed before live. The retro format started when Craig Wilson, who's organised the Newcastle show, asked me to make quite a long, intimate, cabaret-ish show, something like "An Evening with Momus". So I decided to do a song from each of my eighteen (soon to be nineteen) studio albums. The Berlin warm-up will feature the same set, but will be "An Auction with Momus and Michael Portnoy", with Michael haggling my prices down between the songs, dressed as a fish auctioneer. The Glasgow show will concentrate on the future, featuring a live collaboration with Joe Howe, who's working with me on "Mr Proctor" or "Cig Jam" or "Joemus" or whatever we end up calling the new one.

Here's the Berlin / Newcastle set-list -- with a glimpse of me, slightly drunk, singing a scratch version of The Cheque's in the Post.


1. King Solomon's Song and Mine
(from the 1986 album Circus Maximus)
A new version of a song I now realize was very influenced by The Passage. The "Alison" in the lyric is Ali Smith, with whom I was hopelessly smitten at university, and who's now one of Britain's most famous novelists. Ali was one of the first people I sent a copy of Circus Maximus when it came out. Having never much liked my poetry in the Creative Writing Group, she was surprised by how well it turned out!


2. Violets
(from the 1987 album The Poison Boyfriend)
I've often been rather passive-aggressive about songs people like, preferring to make them listen to the songs of mine I like instead. Violets was the song on The Poison Boyfriend people who didn't really like my other stuff liked. And actually, now it's had the rather cheesy session accordion licks removed, I really like it too! Especially the end, where I go all Paolo Conte.


3. The Angels are Voyeurs
(from the 1988 album Tender Pervert)
Done as a piano song, this is from the height of my Mishima Period (when I was so abject I could only afford sperm- and blood-coloured paint). Something about the arrangement of this one (very cabaret) makes me dream of a West End musical arranged around my songs. It would be a hell of a lot more spunky than Mamma Mia!


4. The Hairstyle of the Devil
(from the 1989 album Don't Stop the Night)
My big hit! And I've played it surprisingly little. Passive aggression again, perhaps, but I don't really think the tune is strong enough. Good lyric, though. It's a Brazilian soap opera, really.


5. What will Death Be Like?
(from the 1990 album Monsters of Love)
There are various new versions of this song floating around -- an acapella version will be released at some point on a record associated with the Great Pyramid project in Germany. This is the backing track from my performance at the Pyramid Gala at HAU1 in Kreuzberg a couple of months ago, dominated by a fuzzy distorted bass.


6. Marquis of Sadness
(from the 1991 album Hippopotamomus)
I actually picked this because it's the favourite song ever of Phespirit, who runs the excellent Momus lyrics website (which has been a great resource as I re-learned these old songs). "The Marquis of Sadness remains the greatest of all Momus's character creations; Phespirit's ideal fantasy lifestyle," the man says.


7. Summer Holiday 1999
(from the 1992 album Voyager)
This is a spooky mid-noughties remake of my contribution to the 1990 Fab Gear compilation (the founding record, some say, of Shibuya-kei), and my love song to my very first Japanese girlfriend, Junko Shoji. I'm particularly fond of the central Asian bagpipes on this one, a weirdly-tuned sample I made in Tokyo while recording Oskar Tennis Champion.


8. The Cheque's in the Post
(from the 1992 album The Ultraconformist)
A new backing track for one of the more personal songs on the neo-cabaret record I made in 1992 for Mike Alway's Richmond label (in defiance of my Creation contract, which is why we had to pretend it was a live record). I remember (with half a tingle, half a cringe) each episode, each sin, each girlfriend detailed in this song.




9. Platinum
(from the 1993 album Timelord)
This backing track is actually the original demo, rediscovered on an old cassette tape, of the song. It's got all sorts of key changes which didn't make it through to the album version, and will probably trip me up when I do it live.


10. Red Pyjamas
(from the 1995 album The Philosophy of Momus)
This song is a hidden gem, and this version of it packs more punch than the one on the record, though it comes from the same session. The sounds are mostly from a Nintendo GameBoy; after my first two trips to Japan I wanted to make a computer game-sounding record, and this comes from a 1993 session in my flat on Cleveland Street. The mix between sentimental themes and this tiny robotic music is one I still find poignant.


11. London 1888
(from the 1996 album 20 Vodka Jellies)
Time Travel and Japan feature big here: I'm rediscovering London from a Japanese point of view. More specifically, a gay Japanese point of view (the Marquis Matsugae is a gay socialite who comes to London to meet Oscar Wilde and, he hopes, Sherlock Holmes).


12. His Majesty the Baby
(from the 1997 album Ping Pong)
Perennially popular with people who hate -- and, oddly enough, people who love -- babies. I recently met the man who shouts out "Nick, you're a legend!" on the record, on the street in Berlin. He's called John Quin and he writes for Map, the Scottish art magazine, now.


13. Born to be Adored
(from the 1998 album The Little Red Songbook)
I should probably have chosen a never-performed song from TLRS, maybe "A White Oriental Flower". If I have time I'll program a backing for that.


14. Stefano Zarelli
(from the 1999 album Stars Forever)

microworlds will be happy to see this one, but I chose it because it's one of the better pop songs on Stars Forever, and there's something really exhilarating about singing it. Maybe it's all the falsetto!


15. Going for a Walk with a Line
(from the 2001 album Folktronic)
One of my own favourite of my songs ever, the lyrics in this one are based on Paul Klee's diaries and painting titles. "Robert the devil" was the name of his favourite paintbrush, and "An Elderly Phoenix" is a typically-brilliant Klee canvas title.


16. A Lapdog
(from the 2003 album Oskar Tennis Champion)
I still find Oskar an intriguingly odd album, sort of Eislerian, filled with Tokyo postmodernism. This song was written after I had dinner with a very beautiful woman who fawned over a lapdog rather than me, so I suppose it's a sort of song-cousin to His Majesty the Baby, fuelled by a similar "pathetic jealousy".


17. Lady Fancy Knickers
(from the 2004 album Otto Spooky)
This is a pop song heightened to lurid garishness in the mind of a madman. Actually, it comes out of the Tokyo Oskar sessions, not the Berlin Otto sessions. The lyrics were gathered from descriptions of art in a copy of Frieze (little did I know I'd be writing them one day!). I really love singing lines like "spooky foxgloves at the pink pine igloo" and "the etiquette of public information display".

(Additional pop fact: The "lady fancy knickers" of the title is Geraldine Ferraro, the American politician who made waves recently by saying Obama owed everything to being black. She owned the Lafayette Street building housing secondhand clothes shop Smylonylon in New York, and when her rent increases forced English eccentric Chris Brick out, he scrawled "Lady Fancy Knickers, gee up, ya ya!" in the shop window as an insult to Ferraro.)


18. Nervous Heartbeat
(from the 2006 album Ocky Milk)
This has become a live favourite, accompanied by a Marcel Marceau-like mime in which I turn saluting and wiping away tears into the same slow gesture. I don't think I've ever got the lyrics right, which shows that if you want to learn Japanese, writing mneumonic songs probably isn't going to help.


19. The Mouth Organ
(from the forthcoming album)
This song originally appeared on the 2003 Milky album Travels with a Donkey. For the Joemus album I've made a completely new version, very wonky and lurchy, and it's one of my favourites from the new sessions. It's an anti-car song, and I ended it onstage at the Faraday Festival saying "One day we'll live in a post-car world". The sentiment got a surprisingly big cheer.