Two things Click Opera is always banging on about -- how money doesn't equal happiness, and how life in the Anglosphere sucks (largely because money doesn't equal happiness) -- were underlined this week by two reports about the quality of life in Britain and America. First, on Wednesday, U-Switch released their European Quality of Life Index, a survey of life in ten European countries ranking them according to 19 variables, including income, tax, the cost of essential goods and services, and the weather. Despite having the highest household incomes in Europe, Britain and Ireland were ranked lowest for quality of life, at 9 and 10 respectively. France and Spain came highest.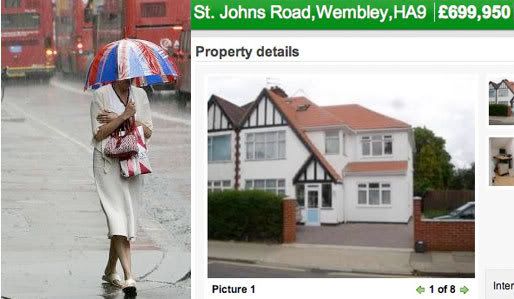 Life in Europe's two English-speaking countries -- which both saw huge market-driven economic booms over the last decade -- was rendered miserable not just by poor weather (Britain gets 17% less sunshine than the European average) but by diesel prices 18% above average, Europe's second-highest unleaded fuel prices and its third highest gas (49% higher than the European average) and electricity prices, as well as by Europe's highest food and property prices. So although British families earned £35,730 (more than £10,000 above the European average of £25,404) per household per year, high prices ended up putting them way behind the lower-earners on the continent in terms of quality of life. Winning the money race, it seems, isn't at all the same thing as winning at life.

Of course, how you spend your money is key. Britain spends less on health and education than its European neighbours; just 8.1% of British GDP goes on health, compared with over 10% in France and Germany. As a result, Britain has only 2.5 doctors per 1000 residents, compared with 3.4 in France and 3.5 in Germany. As for education, Britain puts 5.5% of GDP towards that; the Danes, for instance, spend 8.6%. British people retire later than anyone else in Europe and get fewer holidays (just 28 days a year, compared with Spain's 36). They live shorter lives -- life expectancy in the UK is 78.9 years, compared with 80.9 in France and 80.7 in Spain.

So there it is. Britain and Ireland have the highest average incomes in Europe, but come bottom in terms of quality of life. British households earn £35,730 but are miserable. Spanish households earn on average just £16,800 a year, but low taxation and cheaper prices make that money go a lot further, and other factors -- sunshine and a whole different approach to priorities, let's call it l'art de vivre -- make life much better in the Latin countries. "Clearly, when it comes to the good life, income is less important than free time, sunshine and cheap commodities," concluded one report of the findings.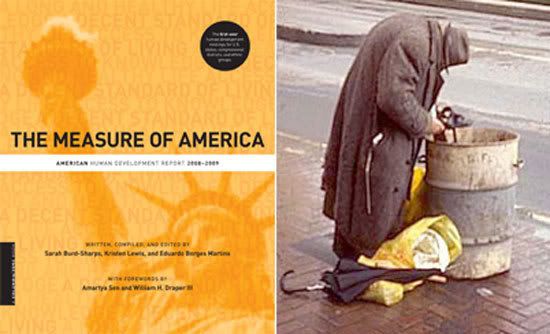 America also scored poorly this week, this time in a report entitled The Measure of America funded by Oxfam America, the Rockefeller Foundation and the Conrad Hilton Foundation. In a piece entitled US slips down development index, the BBC summarised the report: "Americans live shorter lives than citizens of almost every other developed nation... the US ranked 42nd in the world for life expectancy despite spending more on health care per person than any other country." The US has a life expectancy of 78 (the same as Britain's), but vast inequality between its richest and poorest groups. It has more children (15%) living in poverty than any other advanced nation, and the most people in prison. One in four Americans are now officially obese. They also underperform educationally: "25% of 15-year-old students performed at or below the lowest level in an international maths test -- worse than Canada, France, Germany and Japan".

"Some Americans are living anywhere from 30 to 50 years behind others when it comes to issues we all care about: health, education and standard of living," wrote Sarah Burd-Sharps, the report's author. Asian-American males have the best quality of life and black Americans the lowest. The place with the highest human development index in the US is Manhattan, the place with the lowest is Mississippi -- which also happens to be the state with the highest obesity levels.

The exact relationship of money to the problem is ambiguous. For American website ZDNet Healthcare "the bottom line is that in the U.S. your lifespan is closely correlated with your bank balance". For UK newspaper The Independent, "despite an almost cult-like devotion to the belief that unfettered free enterprise is the best way to lift Americans out of poverty, the report points to a rigged system that does little to lessen inequalities".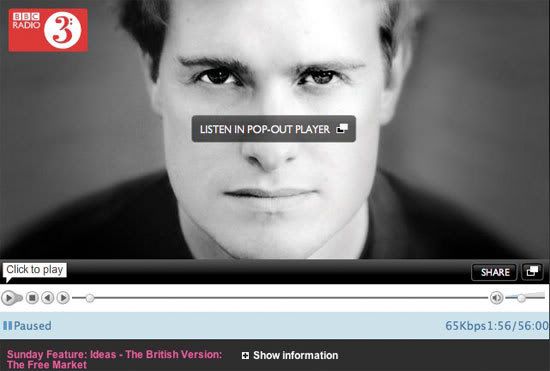 What the newspaper reports didn't go into is the wider question of how philosophy has shaped these results -- specifically the philosophy underpinning Anglo-Saxon capitalism. For that, you need to turn to Tristram Hunt's BBC Radio 3 Sunday Feature about Adam Smith, Ideas -- The British Version: The Free Market. Standing in front of Bank station and the Bank of England, Hunt describes "a landscape of commerce and enterprise -- high end restaurants, chic retail boutiques, corporate HQs, and the sense of money at work. What this landscape is about is the free market.... The wheels of commerce are at work; a de-regulated process of exchange and contract that's creating wealth all around me." It's also creating poverty, and not just the financial kind.