A slight dearth of entries at the moment because I'm recording music for the forthcoming Momus / Joemus album. No, wait, it's the other way around! I'm usually blogging simply because I'm not making music!




I think I now have a final running order for the record, which should be delivered to the various record labels in September, for release... well, when they see fit, really.

I think it's officially called Mr Proctor (or possibly Vaudevillian or possibly Punky Like a Tribble) and I think it runs something like this:

1. Birocracy (2.59): Lots of backing vocals, kind of glam nonsense lyrics, Joe blipping and drumming and taking the solos with samples jumping out all over the place. "I would play my big bassoon on the moon... to glitter the culture".

2. Widow Twanky (3.12): Basically inspired by Cliff Richard and big melodramatic 1950s ballads, this is the tale of a man who becomes a transvestite in order to incorporate the lost woman he loves. Joe blows a plastic sax solo in the middle. There's already an Idle Tigers cover version of this, though it's a bloody odd one.

3. Mr Proctor (2.37): This one -- the title track -- you know, because it's already on YouTube. It's also on THRASH'R, the new album from Germlin, Joe's solo project on ADAADAT records, though the version on the Momus record is a bit different.



There's a character coming through on the slow bits (my bits) in Mr Proctor, someone who sounds like Tony Newley. This character emerges in some other songs on the album, which turns out to be persona-driven, and to use lots of electronic processing on my voice -- as well as Cockney and Scottish accents -- in order to bring these characters to the fore.

4. Thatness and Thereness (3.09): This one is also already on YouTube. It's my cover of Ryuichi Sakamoto's 1980 song, and I like it enough to put it on my own record. But rather than post that here again, I want to post this wonderful cover sung by a Yamaha Vocaloid 2 song robot called Miku Hatsune. The video is by Jahshaka. Gorgeous! Reminds me of Delaware's Graphic Designin' in the Rain, somehow.



5. The Jah Wise Hammer of the Babylon King (3.51): This sounds like 8-bit T. Rex. Joe made it without even knowing about it, because it's bits of another song we made together chopped up and spliced together in a completely new order (a starting point for quite a few songs on the album, in fact) with new lyrics and melody on top. The lyrics are inspired by the film Rockers, and the walks of the various reggae musicians who play themselves. Many of them are named in the song.

6. The Next Time (2.57): My cover of the ballad Cliff sings in the Summer Holiday movie. I don't know why this song became so important to me in the run-up to making this album, but it's something to do with wanting to be torchy and sentimental-absurdist.



7. The Cooper o' Fife (2.58): The folk song called the Cooper of Fife was something I remember loving in music lessons at the Edinburgh Academy. Miss Newman sang it to us with such articulation -- this story of a man who married a lady too refined to work. My version is more The Wife of Bath's tale; it's a jig (resembling a folk song played by a computerised Bay City Rollers) about someone who "married the man with the handicap that put St Andrews on the map" -- and about fifty other men too, including said cooper.

8. Ichabod Crane (3.14): The legend of sleepy hollow set to music that Howard Devoto's magazine might have made in 1979. The first version was just a Spiral Scratch parody, but I couldn't get the Manchester-punk accent right. There's a great Joe prog-blip hoedown at the end. Every time you think it's ended it pipes up again.

9. Strewf (2.46): This is Cockney rhyming song, sort of Chas and Dave in a Victorian workhouse singing road gang songs. If they made bubbling, clicking digital musicals, this one would be in a Lionel Bart Dickens adaptation. As the song says, "Who'd put it past a plastic person tugging on the larmey jacket? Spilled all yer elly kippens darlin, porrocked 'em over yer ciggy packet".

10. Dracula (4.18): Momus and Kyoka (who has a new album out!) enact some kind of vampire sex scene, except the vampire is too old to get it up and Kyoka is "the kind of girl who does not take rejection lying down". As thunderstorms flicker and Kyoka "has orgasm in Kyoto", the odd couple try to get even -- until the song suddenly becomes a sort of batcave dance from the Prince Batman soundtrack.

11. The Mouth Organ (2.57): This is a new version of a song that appeared on the Milky album I made in New York with my ex-wife Shazna. It's about a witness in court describing a hit-and-run accident using only a mouth organ, and it's about the difficulty of ushering in a post-car age, as well as the difficulty of recreating human experience using words or anything else, for that matter. The arrangement is wonderfully quirky-staggery, yet the melody ensures it never loses its balance.

12. The Man You'll Never Be (5.56): The newest song on the album -- written and recorded this morning, in fact -- is the one I like best at the moment (but the latest always is). Over a Pachelbel-like cycle of fifths, a woman (me in electronic voice drag, as I was in Widow Twanky) tells a man that she doesn't care who he is or what he does, because to her he'll always be "the man you'll never be". Because of the uniqueness of who he'll never be, she tells him, she loves No Other -- and No Other's brother, and the art school lab technician too.

13. Fade to White (4.28): Imagine an 80s Italian disco diva reciting T.S. Eliot while mouldering in an early grave. That's what this song sounds like. Stabbing, nagging synth riffs never sounded so decadent and delicate.

14. The Vaudevillian (4.24): Another very recent song (last weekend). This song takes the music hall cliché of the sad clown who bids his audience adieu forever into grimly grotesque parody. It's the final appearance of the Tony Newley character who first appeared in the Mr Proctor song, in fact. As he rots into the sunset, lying in his red plush coffin, the character leaves an ear-worm in your head even as the worms start to consume his own flesh. "Some lament while others disinfect".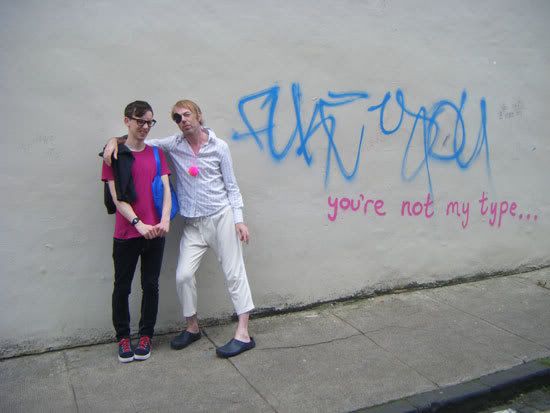 And there it is, nearing completion, fourteen songs, fifty minutes, from fast to slow and back again, the eighteenth studio album from Momus. Co-written and co-produced by Germlin, aka Joe Howe, a young Glaswegian (from Perth, actually, and soon Aberdeen) born the same year Momus was (1984), and 24 years after Nick Currie popped out of his mother's womb in Paisley.