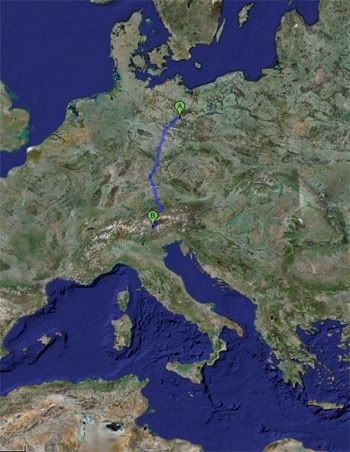 Hisae and I are driving south today in a rented VW Fox. Yes, I can drive! Nobody ever believes I can! I don't like cars, but sometimes I rent them!

There seemed a pretty good reason to go by car this time. Manifesta 7, the European Biennial of Contemporary Art, is happening in a cluster of towns -- Bolzano, Fortezza, Trento, Roverto -- in the South Tyrolian mountains of northern Italy. We'll spend the next three days there, looking at art in a series of pre- and post-industrial spaces in these Italian mountain towns.

Manifesta 7 is curated by Adam Budak and the Raqs Media Collective, three curator-artists from Delhi. If you click Budak's link there, you'll find out how his idea of "critical regionalism" led to Manifesta's use of industrial spaces recently vacated by tobacco, cacao and textile workers (not to mention squatters), and how the Indian curators, with their interest in developing societies, are filling the old regional labour void in this part of Italy with images of new global labour. We're hoping to stay for free in a gallery in Bolzano which has been made available to artists -- I don't expect there's much in the way of hotels in a little non-touristic town of 35,000 souls, stuck up in the mountains. Click Opera updates, as usual, will happen if there's open wifi to be had.

You can see Vernissage TV video of the show here (part 1) and here (part 2). "I want to see my mountains", by the way, is the title of a Josef Beuys piece, Voglio vedere le mie montagne. The Italian title comes from the last words of Italian painter Giovanni Segantini. On his deathbed in Switzerland, the 19th century painter asked to be brought closer to the window so he could see the mountains outside. For Beuys, mountains were "a high pitch of consciousness". We all need a glimpse of our "inner mountains... the mountains of the self" from time to time.

Update: Joe and Emma are coming too. And I think we're going to visit the Bauhaus at Dessau on the way.