Coming over like a cross between Lim Soo Jung's nutjob character in I'm a Cyborg But That's OK and 80s irony idol Togawa Jun, Miyuki Torii is a "woman comedian in Japan" and -- for Parisians Kumisolo and O.Lamm -- "boom de la semaine".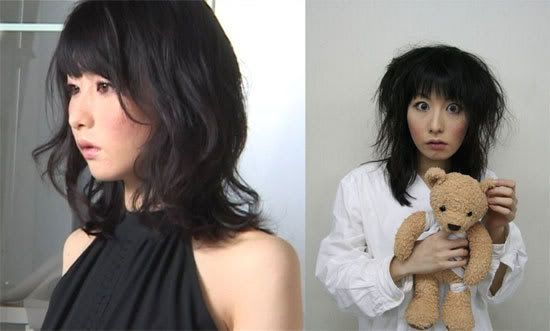 Her characters run through a rapid gamut of emotions, from barking mad to fraught to ditzy to gormless to childish to neurotic to skittishly kittenish to manic and back to barking. Her sketches portray women not so much "on the verge of a nervous breakdown" as over the edge. There's pyjama-clad, teddy bear-clutching Masako, the delusional dreamer. Or the fallen angel, born in heaven but growing up in hell. Or the pregnant woman who loses her baby after a bit too much belly-pummeling then dreams about ripping a replacement baby out of rival Mayumi Onodera's belly (the name recalls Mayumi Ono, to whom Torii lost a talent competition in 2001).



"Her words-selection in her comedy is very original and vivid, and often even intellectual," says Akio Kobayashi on Hook Hand blog. "I like her story about 60s Japanese Red Army, based on Little Red Riding Hood."

The 27 year-old from Akita -- who cites Klaus Kinski and The Ramones as influences -- is a fixture in mainstream women's magazine JJ today, but back in 2005 she made a soft porn gravure video in which, rather than stretching her eyes and raving, she acted demure and coy as she stripped to her underwear. Deleted, the DVD now changes hands for hundreds of dollars. Much of her material continues to be too-hot-for-TV, which doesn't hurt her live shows -- tickets for "National Miyuki Torii Funeral Feast to Seal World-Mania" sold out in seconds when they went on sale in April. She's also released a (reportedly underwhelming) DVD this year, Happy Monday, which sets her characters against a pastiche horror backdrop. YouTube viral mashups include this one, which pits Torii against Shibuya-kei revivalists Capsule.

I'll leave you with some of her sketches (which obviously won't make much sense to those who don't speak Japanese, or don't have kind Japanese girlfriends willing to explain what's going on):

Sketch: Wedding

The character hides inside a wedding cake at the wedding of Mayumi Onodera, her office colleague, who's marrying the boss -- Torii's ex-lover. She leaps out of the cake and rips open Onodera's belly, from which an army of salarymen pours forth. Or is it all a dream?

Sketch: Funeral

She's lost with friends at a "funeral feast" -- possibly her own.

Sketch: Maiko

Meeting her boyfriend for the first time in ages, Maiko plans to cook him a meal, but doubts her own abilities to get it right. So she decides, instead, to keep him by getting pregnant, laying out her plans in a morale-boosting military-style song (buy the condom, pinch a hole in it with a needle...). Unfortunately, when she's three months pregnant, her man decides he isn't interested, and tells his other girlfriend that Maiko only has three months to live.

Sketch: Chieko

Tomorrow Chieko has to sit an exam, but she's too sleepy and too easily-distracted. Her worried mother comes to visit her in the form of an American short-haired cat, bringing coffee containing sleeping pills.

Sketch: Fallen Angel

Born in heaven but living in hell, the angel lists all the unreasonable things that happen in everyday life.