Quite a lot has happened since I last spoke to you (Sunday), dearlings. First, we now have a release date for the Joemus album: November 24th. I put the sleeve together at the weekend, combining Stefan Sadler's double portrait with the Joemus font specially designed by Stijn Segers, from Werkmannen (Stijn also has a Casio orchestra, Casio Nostra, who are looking for places to play in Berlin).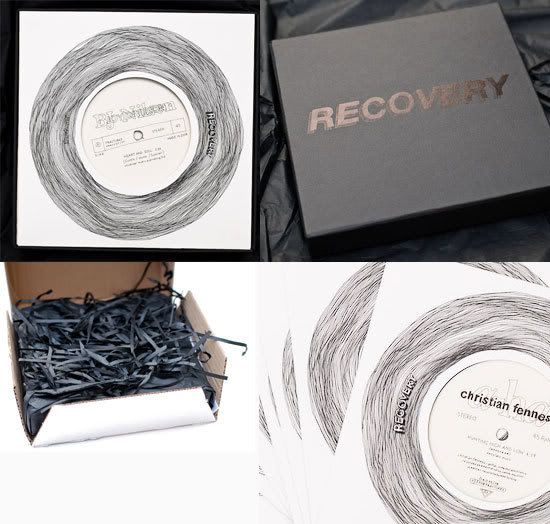 Secondly, the Recovery box set has come out. This box set is the reason Joe and I got together in the first place. Put together by Kamal Ackarie, it's the first release on a new label, Fractured, an imprint which will specialize in one-off editions and artists' projects. Recovery consists of ten vinyl 7-inch singles in a box, and it's limited to 500 copies. Basically, it's the only place you're going to hear Foetus singing "Warm Leatherette", Fennesz covering Norwegian pop idols Aha, Jason Forrest's take on 10cc, Matmos singing Bow Wow Wow, Throbbing Gristle remaking Pink Floyd, or Ryoji Ikeda going AC/DC... Check out the Pitchfork news story for the full track listing.

Out in the blogosphere, people have been marvelling at the box set's appropriationist packaging (by Graham Dolphin), or wondering whether "when the avant-garde do mainstream, do they become mainstream?" and calling the project a "guilty secret". You can hear short mp3 samples of all the tracks here (click the song titles).

Me and Joe did Bowie's "Ashes to Ashes", "not so much a pop song as a ping pong match between Coco the Clown and Major Tom," as I put it in the sleeve notes. "Batted by the paddles of inner and outer space, drugs and travel, the 60s and the 80s, pop and paranoia, verse and chorus, call and response, mumble and screech, episode and sequel, capsule and ground, the celluloid ball bops back and forth with a series of satistfying thwack and plock and boiiiiiing noises."



It was these satisfying thwacks, plocks and boings which led me to invite Joe to make a whole album. "Ashes to Ashes" isn't on Joemus, but I want to present the cover today in the form of a YouTube video, a collaboration between me and Jordan Fish. Enjoy!

Update: A different edit of the video, in higher resolution and quicker to load than the YouTube one currently is, can be seen here.