Come with me to Sennichimae, in the Namba district of Osaka. We're in the Misono building, a decayed 1950s office block housing a faded hotel, tacky cabaret and sleazy sento, now increasingly a magnet for funky young art and music people.



On the second floor there's this bar run by Isao Sano, otherwise known as breakcore eccentric Ove-Naxx (photo by Filastine):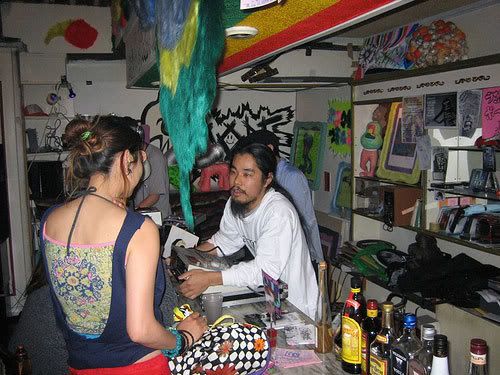 Ove-Naxx is part of the same extended breakcore family as the Adaadat people (he's recorded for the label, and looks scary on their website) and therefore connects to Joe Germlin, and therefore, more tenuously, to me (I'm also a part-time Osakan via Hisae, though we haven't yet been to the Misono Building on our annual Osaka trips).


Creative abuse of the Akai MPC 2000 sequencer-sampler is a core part of this sound -- Ove-Naxx even has a track called Once Upon A Time in MPC. But he adds something Residents-like, an underground-from-the-underground whackiness I find appealing. Since I'm scribbling Scotlands at the moment (as well as a ton of journalism -- including a semi-serious piece about Matsuri-kei for Playground), I'll just embed a couple of Ove-Naxx films here, starting with Ovekeyashiki and Donga's Monsta Circus:





And here he is doing something more conventionally breakcore-ish -- and masturbating over his audience, at least in spirit.



I guess Osaka always was a little more uninhibited than Tokyo. Something in the water.