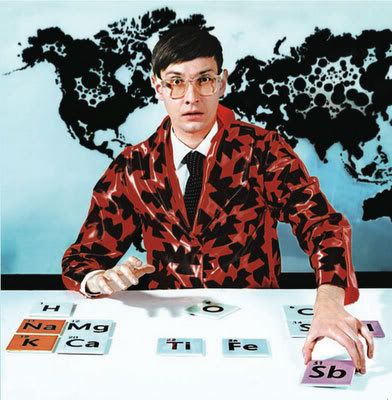 1/The Dewey Decimal System is a system for classifying books.

2/Today, however, I would like to classify the English singer Simon Bookish, who has a new album out next week, his third, "Everything/Everything" (Tomlab), "a big band song cycle about science and information".

3/The Devo-ish sleeve (which is very good) is by Anthony Stephinson.

4/Before Bookish released Everything/Everything he released Unfair/Funfair (2006) and Trainwreck/Raincheck (2007). Generic titles containing consistently quirky punctuation are good.

5/Simon Bookish is the stage name of Leo Chadburn. Leo/Simon (as I expect he would enjoy being called) is very tall and always looks more interesting than anyone else in the room.

6/Pitchfork called him "the long-lost son of Jarvis Cocker".

7/Other people (I still love you, powpowpow!) have said "he thinks he's Momus" and "but Simon Bookish is quite a bit better than anything he's done in years". Grrr!

8/Tracks on the Simon Bookish Myspace page make it seem as if this new album -- played by a fifteen piece band rather than Bookish's usual digital synths -- is a great leap forward, a coming-of-age.

9/It is therefore time to say some things about Simon Bookish.

10/But first, let's watch him performing a song called Interview, from his previous album.



11/ I like the way the backing track is almost Brian Eno's Golden Hours, which is probably my favourite Brian Eno song ever.

12/ The repeated refrain "Queen Victoria", and Bookish's outlandish garb, make me think of him as a futuristic "New Victorian Dandy" type.

13/A typical Bookish lyric: "the royal meteorologist's expression is pained". This is refreshing as a break from "let's hump and grind one more time", but not refreshing if you set your watch by Divine Comedy lyrics.

14/Reviewing Ocky Milk, Simon Bookish SLASH Leo Chadburn kindly called me "one of the most ingenious, pranksterishly self-aware musicians around". He criticized my Jamaican accent (correctly), though, and thought some of my friendly songs were mawkish.

15/If I might be allowed to criticize back, I would say that I find something emotionally attenuated (not mawkish enough) in Simon Bookish songs. Where, gentlemen, is the soul?

16/If Interview has the sound of Golden Hours, it certainly doesn't have the soulfulness of the Eno song.

17/People Simon Bookish has been compared to in reviews: Pulp, The Divine Comedy, Momus, Steve Reich, Marc Almond, David Bowie, Laurie Anderson.

18/People I would compare him to: David Cunningham, Wire, Penguin Cafe Orchestra, The Books, Dickon Edwards, Idle Tigers.


19/Artists I would not compare him to, but might compare to each other (because they're all out of control, dark, subconscious, soulful and fascinating to me): PiL, Tricky, No Bra.

20/No Bra's Susanne Oberbeck might be the only person in the room more extraordinary-looking than Simon Bookish, if a room were to exist where they both were.

21/I don't know why, but No Bra songs like She Was A Butcher and Doherfuckher touch me in a way Simon Bookish songs don't. Perhaps because, as Susanne says, "for me music is about relating emotion". There's something vulnerable and dangerous there. No Bra songs are "bad", but in a good way.

22/Boomkat classifies the new Simon Bookish album as "laptop folk / americana", which is completely weird, especially since the American empire has this week officially fallen. Laptop folk / Americana is the category my Folktronic belongs in, but not his Everything/Everything.

23/Simon Bookish asked John Talaga -- Fashion Flesh -- to do a remix for him for a single called Leo Being Simon Bookish.

24/Simon attended the Guildhall School of Drama and Music in the Barbican.

25/In 2004 Simon presented Fear of Music, a deconstruction of the work of Talking Heads at Limehouse Town Hall.

26/David Byrne played a track from Everything/Everything on his podcast recently.

27/Not Wanting To Say Anything About John Cage is an art piece Simon Bookish has presented.

28/He has also made a new score for Bertolt Brecht's The Caucasian Chalk CIrcle at the National Theatre, and appeared in the production as The Singer.

29/I would like to inform you that I approve of Simon Bookish's new Tomlab release wholemindedly.

30/But perhaps not, alas, wholeheartedly.