How do you know when something's unpop? When it takes ages to load on YouTube. The Web 2.0 application streams low-rated videos much slower than high-rated ones. This interview with Yximalloo on the Chris Manz Show, for instance, takes considerably longer than its 7.33 duration to load on my computer, so you might as well start it loading now, pause it, and read the rest of this while the red line creeps right.



Next week, American label ESP releases Yximalloo's new album, Unpop. It's his first new release in nine years, and features art by Jad Fair and a four-page Momus essay on the concept of Unpop (which I recently contrasted with "the ideology of the iconic" in a lecture at London's Architectural Association, poster below).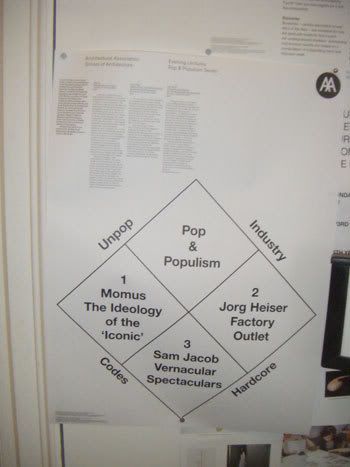 You might get the wrong impression of Unpop from the YouTube video -- the album doesn't sound like the jazz improv stuff Chris and Nao are jamming for fun in between their chats. But it will give you an idea of this 53 year-old's youthful energy, and his feelings about the formulaic development of the Japanese noise scene.

Yximalloo's Unpop album is not one of those creative dins you listen to once and then file under "interesting... in theory". It's actually a highly satisfying sequence of light, spare, pleasantly-deranged tracks, a late masterpiece in this outsider musician's career, poised in the exact sweet spot between repetition and variation, between the blues and microsound, between Japan and Jamaica, between clutter and space.

I want to stress that I don't just approve of this record in the abstract, I recommend it to you highly as a salty and addictive listen. I've found (and god knows this is rare enough for me) it's a record I want to play over and over. It does good things to my brain as it clicks and pops out of my computer. It's a great record to work and surf to, for some reason, probably to do with the balance it allows you to create between the right and left hemispheres of your brain.


There's something very toothsome about Unpop's clickety-pops, and the way they're mated to distorted bluesy growls just works. This is divergent and gently unexpected music, distorted without being violent, experimental without being irritating, formalist yet soulful. It's like Yximalloo has gone back to the lab and reinvented the Blues for the 21st century -- an electronic blues which buzzes and ticks and never gets maudlin.

Unpop is a big success -- the kind of big success you can score in Unpop, anyway: an artistic success, a charismatic success, a musical success. I just hope it gets to be a succès d'estime too. I hope, in other words, that some punters out there listen to it, and some critics out there review it, because this is a great album.

Have a listen to track 2, a track where Yximalloo sounds like a microsound Beefheart, a cruising railroad hobo repeating, in a strangled voice, what sounds like: "Jah Rasta, how nice to be a cum bum rasta tonight!" while a background whisper echoes a big refrain of "BUM ASSHOLE!" It's like a gay Japanese Harry Partch made a record with Rechenzentrum.

Yximalloo: Linie Voezo (stereo mp3 file, 6 mins 18 secs, 5.8MB)