Last night -- just as I was being driven to the airport to fly back to Berlin, unfortunately -- was the Vienna premiere of the new film by Heinz Emigholz, Loos Ornamental.

Emigholz -- who teaches at the Berlin art school -- makes documentaries about architects which just show their buildings, in order of construction, as they are today, with no commentary whatsoever, but with immaculately-captured field recordings of their ambient sound. I've written about him before here on Click Opera, covering his films about Schindler and Goff. He's also made films about Sullivan, Maillart and Kiesler, and plans films about Luis Barragán in Mexico, Auguste Perret in France and Algeria, Pier Luigi Nervi in Italy and Ulrich Müther in Germany.

I look forward to Emigholz's architectural films more than anyone else's. They're quiet and simple, but they pack more atmosphere, beauty and interest than anything. We see places, we hear sounds, we sense the lives lived in the buildings as well as the lives of their makers.

As Emigholz puts it: "Architecture projects space into this world. Cinema photography translates that space into pictures projected in time. Cinema then is used in a completely new way: as a space to meditate on buildings." It's a meditation I've come to love, a new, quiet cinema, ambient cinema, spiritual cinema. It's also what I responded to in Hermann Huber's video of Cairo's Tiring Building, and I spent time with Huber in Vienna this week, and will write something for his forthcoming book about the Tiring Building, whose Viennese counterpart I also saw this week.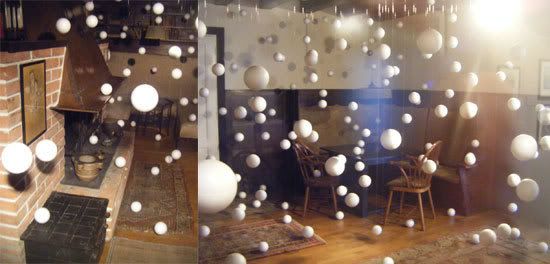 To see Emigholz's film about Loos, the Vienna architect and critic who famously declared ornament "crime" at the start of the Modernist period (and who therefore progressively simplified it in his buildings) in Vienna would have been perfect. Alas, I had to rush to the airport. But I did manage to soak up some Loos this trip in the shape of the mock-up Loos room in the Vienna Museum.




There was a catch: right now, the Loos room is full of snow. Designer Robert Stadler has made an "intervention" which turns the heavy, cosy, dark space into a snow globe full of suspended polystyrene snowflakes, drawing attention to "the bizarre freezing of a living environment". That's something nobody could accuse Heinz Emigholz of doing.