End of the year Critics' Lists are doomed to fail: nobody has listened to every music release during the past twelve months. Instead, what they tend to reflect is networks, relationships, spheres of influence and what I've called matterzones; things matter differently in different zones. Sure, sure, sure, The Guardian Rock Critics' Poll likes TV on the Radio and the unbearably emo Bon Iver, but the question on everyone's lips this year must surely have been: Was there a song released in 2008 as good as Fad Gadget's Collapsing New People?



The answer to that, alas, is no. The year began with a hail of praise for preppy Columbia grads Vampire Weekend, whom I told, apparently, to bugger off when they made the mistake of writing me some gushing fan mail and sending me their album. That's how it was reported in a million college papers, anyway; all I recall is being less than overwhelmed by the whelps' short and punchy album, but in February anything short of adulation was considered treachery. The Vampires placed duly high in the critics' year-end lists; December still felt warm and fuzzy about January.


My own 2008 album, Joemus, was released a bit late to dent any year-end charts -- a couple of people on blogs ranked it high, though, and it's currently at number one in the Darla top sellers chart (My Morning Jacket and Piano Magic albums always prevented this happening before, but it also seems like Joemus has more commercial appeal than anything I've released this decade -- which isn't saying much, of course). Joemus is probably the record that gave me most pleasure this year, but that doesn't count.

Somewhat in the manner of the Pitchfork artists' poll -- though without, I'm sure, any content overlap -- I thought I'd give you my ten records of 2008. Don't expect The Mountain Goats, and don't expect Scarlett Johansson; they're not my cup of tea. Neither is Sebastien Tellier's Sexuality album, or Beach Party by Gothenburg's Air France. So what is on my "universal, definitive, objective and final" list? Let's see.

Universally, definitively, objectively and finally, the best records of 2008

1. Max Tundra
Parallax Error Beheads You
(Domino)

The most interesting record I heard in 2008. Ben Jacobs, aka Max Tundra, impressed me right away when I heard a track from his first album in an Other Music newsletter back in 2000. This is only his third album, but it's incredibly non-generic, forward-looking and creative music. It sounds a bit like Scritti Politti collaborating with Steely Dan; all jazzy and hyperactive and yet strangely tranquil. Parallax Error Beheads You is an enormous achievement, one that expands the syntax of the medium (as well, we hope, as Max's matterzone). He cooks a pretty mean chicken soup too: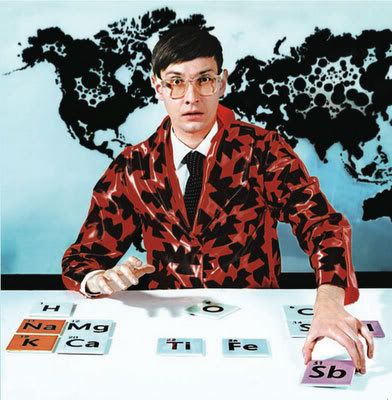 2. Simon Bookish
Everything / Everything
(Tomlab)

I already made ten decimal points about Simon Bookish here on Click Opera; all I'll add is that, having immersed myself in this album since writing that, any reservations I had then have vanished. It's great.

3. Yximalloo
Unpop
(ESP)

As I reported last month, "Yximalloo's Unpop album is not one of those creative dins you listen to once and then file under "interesting... in theory". It's actually a highly satisfying sequence of light, spare, pleasantly-deranged tracks, a late masterpiece in this outsider musician's career, poised in the exact sweet spot between repetition and variation, between the blues and microsound, between Japan and Jamaica, between clutter and space. I want to stress that I don't just approve of this record in the abstract, I recommend it to you highly as a salty and addictive listen."




4. Ursula Bogner
Recordings 1969 to 1988
(Faitiche)

As I surmised in a recent column for Playground, Ursula Bogner is really Jan Jelinek, and these recordings are actually from the present rather than the past. What makes this record so enjoyable is the friendly minimalism of the sounds. It's hard not to imagine it being performed by Barbapapa on the moon. Well, not that hard, but still... The whole album is online here, so go listen.


5. Oorutaichi
Drifting My Folklore
(Okimi)

Okay, this came out two months shy of 2008. But you can always claim Japanese releases came out in the West later than they did in Japan. Or you can claim that they're the future of music, as I did in August of this album: "His music sounds new to me, now, the way Neu! and La Dusseldorf and Can and Faust probably sounded to David Bowie in 1977. Oorutaichi light-signals an eccentric but credible way pop music could get out of its tedious retro necro rut: by developing a new formal vocabulary which would make all comparisons with the past immaterial."

6. Gustav
Verlass die Stadt
(Chicks on Speed)

I heard Total Quality Woman in a cafe in Vienna, loved it and not only bought the album but made an unofficial video for the song:



And while there's nothing on Verlass die Stadt that grabs me the way Total Quality Woman does (maybe the language barrier gets in the way; the songs are mostly in German), releasing this is the best thing Chicks on Speed have done in years. Their new single Super Surfer Girl is just toe-clenchingly bad.


7. Idle Tigers
The Spirit Salon
(Le Grand Magistery)

Ross Hawkins' musical project, Idle Tigers, is "delicate with a purpose," as Ross says of his friend Anne Marie Varella, "like all atmospheric art". I called them "gently deviant" on first encountering them in July 2007, adding: "Hawkins seems to be a young man suffused with delicate, carefully-structured lust, a neo-Victorian from Bradford, England who's relocated -- possibly for the purpose of study -- to Toronto, Canada. The world of his songs, though, has stayed rooted in England, or rather, the imaginary, filtered England that rises up in the spirit of an exile, replacing the reality with something more mythical. Here Lewis Carroll meets Brian Eno, and music hall meets the avant garde... the odd place where the breezy meets the zany".

I was lucky enough to meet Ross this summer, and see one of his rare live shows. His current MySpace page is here, but his historic one has some really interesting songs on it too. I particularly like Tigershark.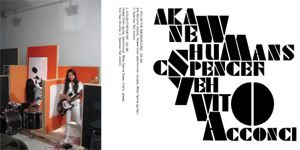 8. New Humans
AKA - Vito Acconci / New Humans / C. Spencer Yeh
(Semishigure)

Artist Mika Tajima (I covered her Berlin painting show here) makes music -- minimal dark feedback drones, spoken word and rounded bass beats and art performances -- with guitarist Howie Chen and drummer Eric Tsai. On this, their fourth release, they're joined by one of my biggest art heroes, Vito Acconci, who reads texts. C. Spencer Yeh (aka Burning Star Core) plays fragmentary violin clusters. The album commemorates two concerts given in a New York gallery in 2007. New Humans also contributed relics of their live events to the Whitney Biennial this year. I love their sleeves; this one makes reference to (or is even by, I don't know) the work of artist Frances Stark.

9. Best of the Rest
Various


I'm going to cheat here, because there are so many other pieces of music I want to mention. Like Kyoka's album Ufunfunfufu, which I enjoyed. There were also lots of albums I didn't hear in their entirety, but which sounded promising. The Chap's Mega Breakfast is one I'd probably like. The MGMT album Oracular Spectacular impressed me, via glimpses. Hot Chip's Made in the Dark was probably pretty good.

I liked Germlin's Thrash'r album, but it doesn't appear to have been released yet. Neither has the long-trailed Kumisolo album My Love For You Is A Cheap Pop Song, mainly because Active Suspension is more suspension than active these days. I'm also chomping at the bit in anticipation of the Sonore debut by DODDODO, the leading light of Matsuri-kei.

The Mr Oizo album Lambs Anger has some nice sounds but is probably a bit repetitive (which is the point, no?). Emmy the Great's album First Love is due in February 2009 and will probably be terribly twee, alas, but she remains totally hot, and made a nice collaboration with Norman Cook's Brighton Port Authority. I plugged Anathallo then got put off when I heard they were devout Christians (the same way Beck's Scientology puts me off investigating his probably-quite-good 2008 album Modern Guilt).

My favourite single of the year was probably Paper Planes by Mathangi "Maya" Arulpragasam, aka M.I.A., which ratcheted up a staggering 27 million views on YouTube -- not bad going for a St Martin's grad who was deported from the US a couple of years ago as a suspected terrorist. But the song I probably liked most in 2008 was...





10. Henning Christiansen
The Horse Sacrifice

I heard this in an art museum in the Danish town of Aarhus, where it accompanied a video by Lene Adler Petersen of a horse being ritually slaughtered out on a frozen lake. I was appalled by the killing, but somehow fascinated by the totally non-modern way of thinking the video conveyed. The song feels as ancient as that sacrifice, and I can't dismiss the idea that being disturbed by the imagery is what made the simple song so haunting.