I've been watching two film fictions set in the Himalayas. Frank Capra's Lost Horizon (1937) was the most expensive film of its day, and popularised the idea of Shangri-La, a sheltered valley established centuries ago by (Christian) monks from Belgium, and entirely cut off from both the storms raging around it and the rest of the world (which, in 1937, had storms of its own to contend with).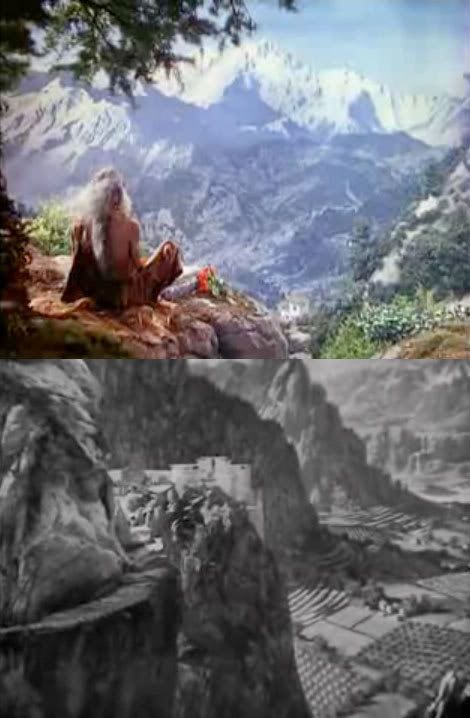 Shangri-La is a utopian community ruled by the Golden Mean (moderation in all things, including moderation), in which people live vastly expanded lifespans. The architecture has a League of Nations feel to it, a series of conference centres balanced amongst vineyards and stepped orchards. Shangri-La is like Summerisle without the human sacrifice. Sections of the film have gone missing, and have been replaced with slide sequences which add to the strangeness, giving the film levels of ostranenie normally found only in art video.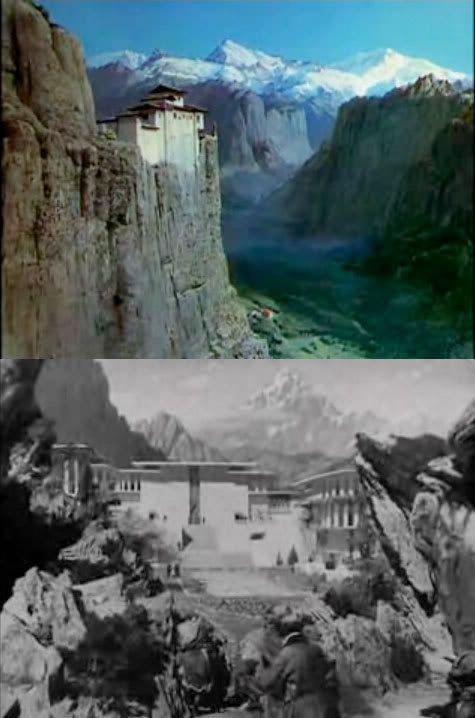 My other Himalayan excursion was filmed just ten years later, in colour. Powell and Pressburger's Black Narcissus (1947) is a much richer world, visually. Again we're in a Christian environment, this time a nunnery perched high in the mountains. Black Narcissus is one of the most beautiful films ever made, with its rich early colour photography. It concerns human sensuality tugging at the respectable habits of life in a religious retreat, and sublimation being defeated by the arrival of spring, the incursions of various impudently sexy outsiders, and the gorgeous Himalayan scenery itself.