Dressed in a golden wig and sailor suit with clogs, holding a homemade cardboard megaphone, I told the audience at Mu on Friday night -- jokingly, seriously -- that a glorious new cultural era had dawned, the era of the Altermodern.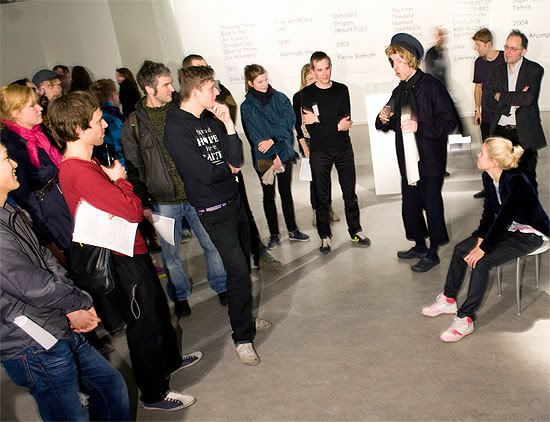 I have such a lot to say about the whole enterprise of the Altermodern -- curator Nicolas Bourriaud's bold attempt to name a new cultural era, and the title of the current Tate Triennial -- that I need five days. So pack your sandwich boxes and fill your Thermos flasks; this will be Altermodern Week on Click Opera. For the next five days I'll be examining various aspects of the "attempted new cultural era". The schedule of events looks like this:

DAY ONE: INTRODUCTION, A NEW CULTURAL ERA
DAY TWO: DEFINITIONS OF THE ALTERMODERN (CURATORS AND THE PRESS)
DAY THREE: CONDEMNATION OF THE ENTERPRISE IN THE UK PRESS
DAY FOUR: SUGGESTED REASONS FOR THIS HOSTILITY, COLLECTED FROM SPECIALIST ART PRESS
DAY FIVE: MATERIALS ON ARTISTS AND WORKS ALREADY BEING DESCRIBED AS ALTERMODERN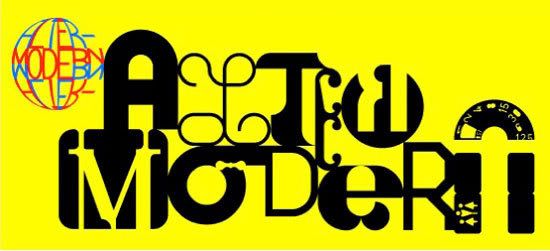 Okay, this is Day One. Introduction, hopes for success.

Why should you care, why should I care? Writing this blog entry, I created a new page and gave it a title and a subject. In fact, I proposed five new pages on the same subject. I haven't written them yet, but it's important that I make a space for them, give them titles. It's a bit like writing a song: when you choose a title, you're already thinking of a theme, promising a song, and beginning to see in your mind how it might be. If your title contains an idea that interests you, the song will certainly come to fruition, and have enough energy to exist in the world.

What is the interesting energy within the idea of the Altermodern? Well, first of all, there's a need for a new cultural era now. We're at an early point in a new century. One hundred years ago exactly, the cultural idea that came to be known as Modernism was starting to gel. Now, sure, it's possible that the era we've been in for the last fifty years or so -- which Charles Jencks, from the late 1970s onwards, influenced others to call Postmodernism -- could just hang around forever. From inside its palace of mirrors I've often wondered how on earth we could escape from its mechanisms: irony, quotation, the collapse of high and low, here and there, now and then, art and commerce. Postmodernism was so slippery, so able to glom on new styles from any era or any culture and make them part of itself, so "right" for our age of global consumerism, that it seemed to me that we'd need Islamic revolution, or communist revolution, to break its grip.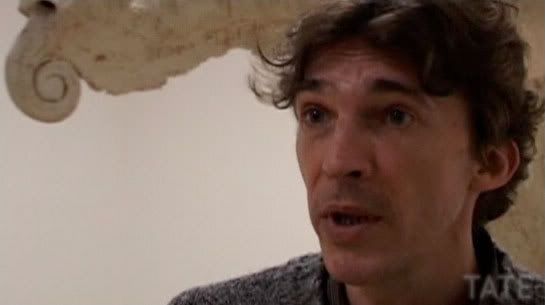 What's the problem with Postmodernism? In some ways I love Postmodernism; my Wikipedia entry (and I have no idea who wrote it) squeezes the word "postmodern" into the second sentence: "Most of his songs are self-referential or postmodern." I actually think this was completely unnecessary to say, though, because every pop musician recording in capitalist countries between 1957 and 2007 has been postmodern. The form of pop music we've known has been absolutely central to postmodernism's whole enterprise. Recently, I've had a strong sense that the medium of pop music has died, drowning in the abyss of ubiquity -- exhausted by attempts to match its former glories, yet unable to turn the page and reinvent itself. One thing that could revitalize pop music and other cultural forms exhausted by their own continuous vampirism of other times, other cultures, and, finally, desperately, their own past, is that act of page-turning. I have decided to take Nicolas Bourriaud's declaration that postmodernism is dead very seriously indeed, precisely because I think it comes at the right time, and there's a need to declare this now.



The economic meltdown is making a Year Zero possible. You always need a major event, a global shakedown, to launch a new cultural era. Modernism really comes out of the brutal sweep of the First World War. Postmodernism is a phenomenon of the post-war Baby Boom, the arrival of the teenager, of affluent consumerism, the dominance and hegemony of the US, and new electronic forms of communication. The meltdown of the global financial system we're currently living through is the thing that will definitively end Postmodernism and make a new cultural era necessary and, in fact, inevitable. George Soros said last week that the world financial system has effectively disintegrated, that the resulting crisis is more severe than the Great Depression, and should instead be compared with the demise of the Soviet Union. The "Soviet Union" in this instance is us. Now, we won't die. The people who were citizens of the Soviet Union twenty years ago are still around. The buildings built by that era still stand -- I see them here in Berlin every time I go out. But they keep their otherness: they were built by a currency that no longer exists, generated by a social system that has vanished. There are already signs that this is happening: the skyline of Dubai is already looking rather like the Berlin TV Tower and the vesotka skyscrapers of Moscow, as Dubai becomes a ghost town. Style mag articles about Dubai as "the coming thing" (like this Monocle feature from 2007) already sound Pravda-esque. It's over, though the buildings still stand.

These are the real world conditions which are making a new cultural era possible and, in fact, inevitable. I think calling it "the altermodern" is fine, but it doesn't really matter if a different label emerges. The point is that we are currently crossing a threshold, entering a new phase in the history of culture. Exciting times.

Tomorrow we'll start looking at the definitions of Altermodern that have emerged so far.