Mostly visual stuff for you today. Galerie Dennis Cooper (actually an imaginary art gallery that consists of novelist Dennis Cooper posting stuff on his blog) presents, intriguingly enough, an exhibition of Benoit Hennebert's sleeves for Brussels record label Les Disques du Crepuscule (1981-1987) this week.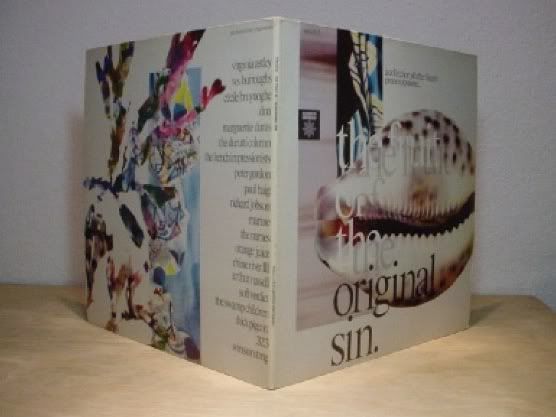 Hennebert was a huge influence on Mike Alway, and on my own 1982 sleeve for my first album with The Happy Family, which employed Clarendon type and big asterisks and the kind of tweaked 60s retro Hennebert was so good at (and I wasn't).

Cooper has added a row of videos of Crepuscule acts which really makes me think of Brussels as the site of an alternative, parallel history of the New Wave, a much more interesting history than the authorised version. It reminds me of the marginal modernisms happening in regions like Brazil, and how, in some way, you can learn more about modernism from them than from mainstream accounts. Or perhaps I mean there's more juice and character in these provincial scenes; they're more interesting to rummage through, and their strangeness brings them to life as something yet-to-be-accommodated.

The Crepuscule repertoire was very eclectic, but there's something Lynchian and off-kilter about everything which ties it together. That, the high cheekbones and the immaculate sleeves.

The next thing I want to talk about today is Composite magazine. I wasn't quite sure whether this Japanese culture and fashion mag still existed (I mean, that's true of just about any magazine these days and quite a few newspapers too), but Hisae told me it had morphed into a new title called Ecocolo in early 2007. Ecocolo focuses on ecological issues and Slow Life, and has so far published 35 editions.




Composite billed itself as a "stylebook of real creative people around the world", but I think of it as essentially a Shibuya-kei title, and what interests me is how it's gone green, because I think of Shibuya-kei as a movement celebrating the global reach of 1990s consumerism, whereas eco-consumerism is about contracting consumerism and going local. A lot of the people (editors, producers, art directors, musicians) associated with Shibuya-kei in the 90s veered towards Slow Life, LOHAS and the ecological movement in the 00s, and I can only explain this apparent reversal by saying that eclectic global consumerism was to the last decade what ethical local consumerism is to this one. They're both the cutting edge of bourgeois consumer refinement, even if they seem to be moving in different directions.

In 2008 Sugatsuke Masanobu, ex-editor of Composite, told Japan Journal: "Right now, no fashion trend could emerge or last very long without giving a big bow to the environment. In Japan, whatever is wasteful, excessive or selfish just won't cut it anymore, no matter how snazzy the design."




We mentioned Fareeza Terunuma the other day -- she's been appearing in a self-objectifying installation at young art fair Geisai 12, sitting on a toilet surrounded by self-portraits as a porn star. A little research (I do it so you don't have to) reveals that Terunuma actually is a porn star, as her blog Yuka Osawa in Wonderland reveals. Here you'll find vegetables as anal probes, tentacle rape fantasies, and vast actionist paintings made of vegetable dye sprayed out of Terunuma's enema-charged anus.

Fareeza Terunuma (her unusual first name comes from the fact that her father is Turkish) is a "splash queen", veteran of movies with names like Tokyo Slimy Night, Splash Girl and Non Stop Orgasm. After a long string of movies for AV companies like Moodys and Kuki, she's trying to launch a somewhat spurious art career, and the rumour is that she doesn't really shoot her own self-portraits. Anyway, she impressed some of the judges at Geisai; Lily Franky (best-selling author of Tokyo Tower) gave her a prize, and apparently Aida Makoto loved her piece too.

A more interesting self-objectifier -- and a much more talented artist -- is Naoto Kawahara, a painter who depicts her own frail, bare body in the erotic poses of classical Western paintings.




Represented by Taka Ishii Gallery, Kawahara gives her work a photo-realistic finish, but drains it of colour. Knives are often present, and intimations of murder and violation, though not quite on the scale of Rape of the Sabines. Make a virtual visit to one of her gallery shows here. It's crepuscular stuff (I like the recreation of Munch's Puberty and her almost-cheerful remake of The Suicide of Lucretia).

Oh, wait, Naoto Kawahara is a man!